Voters haven't been this dissatisfied with candidate choices in 20 years. Could an outsider shake up the election?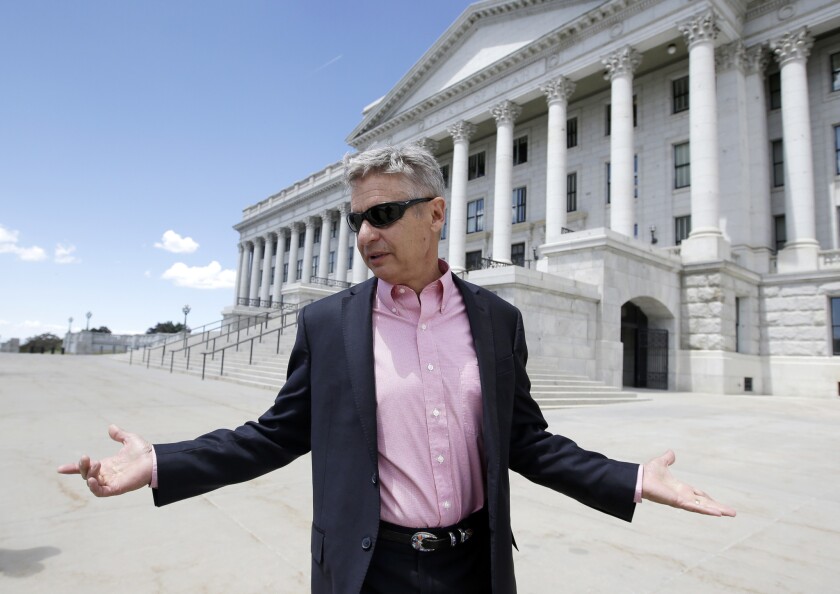 A growing contingent of dissatisfied voters could pledge their support to candidates other than a Republican or Democrat come November.
Green Party nominee Jill Stein and Libertarian nominee Gary Johnson are the top third-party candidates drawing attention from conservatives and liberals who have rejected Hillary Clinton and Donald Trump. Both outsiders ran for president in 2012, but neither amassed enough votes to change the outcome of the race between Mitt Romney and President Obama.
This time around, could the results be different? According to Pew Research Center, overall satisfaction with the majority party candidates has hit its lowest point in 20 years.
Stein and Johnson will need 15% of support in polls to debate on the main stage.
The last time a third-party candidate made it to the debate stage was in 1992, when Ross Perot faced off with then-President George H.W. Bush and then-Gov. Bill Clinton. Perot went on to earn 19% of the popular vote, Bush received 37% and Clinton was elected president with 43% of the vote.
The Commission on Presidential Debates was founded in 1987. It set the rule that in order to partake in an official debate, a candidate must earn 15% of support in national polls and appear on enough state ballots to plausibly be able to win a majority of Electoral College votes. This year, the commission will follow five polls from ABC News/The Washington Post, NBC News/The Wall Street Journal, CBS News/The New York Times, Fox News and CNN-Opinion Research Corp.
According to ABC News, Johnson's current polling average is 10%, and Stein's is 5%. Participating in a debate isn't a requirement to be on a state's ballot, but it is an obvious benefit that gives a candidate national attention and usually boosts fundraising.
The first debate is Sept. 26.
Every state has different requirements for putting a candidate on its ballot.
California required all candidates to submit 178,039 signatures, or about 1% of the number of registered voters at the time of the 2014 general election, earlier this month. Johnson and Stein made the deadline and will appear along with Clinton and Trump. But Evan McMullin, a former CIA counterterrorism officer who launched an independent campaign, did not. He will be on four state ballots, including his home state of Utah's, where a candidate needs only 1,000 signatures. That's a state that Johnson is planning to heavily target.
As of Tuesday, Johnson was on the ballot in 41 states and the District of Columbia. Stein was on the ballot in 35 states, including D.C.
In 2000, Ralph Nader earned just shy of 3% of the popular vote as an independent. It was enough to have a so-called "spoiler" effect that many believe was crucial to George W. Bush's win over Al Gore.
Johnson is targeting "fiscally conservative and socially liberal" voters.
In a recent interview with the Los Angeles Times editorial board, Johnson laid out his and running mate Bill Weld's platform. When it comes to fiscal and government responsibilities, Johnson supports "free trade, lower taxes, smaller government." On social issues, Johnson is for the legalization of marijuana and abortion rights.
Johnson believes the Libertarian platform could draw would-be Republican voters who consider Trump's plans too extreme.
Stein is going for climate activists and student debtors.
During a recent CNN town hall, Stein said the 43 million people who owe student debt could flip the votes in her and running mate Ajamu Baraka's direction.
"Ours is the only campaign that will cancel that debt and bail out young people," she said.
The Green Party was founded to be environmentally focused. Stein previously has expressed concerns over the health effects from vaccinations and Wi-Fi, stances that have raised questions over how her beliefs align with the party's. She has rejected the idea that she's anti-science, maintaining that one of her biggest priorities is to take legal action against oil companies and end the use of fossil fuels.
Stein hopes to appeal to former supporters of Vermont Sen. Bernie Sanders, who conceded the Democratic nomination to Clinton.
Twitter: @cshalby
ALSO:
Editorial: Possible presidential spoiler Gary Johnson speaks to The Times editorial board about siphoning votes from Hillary Clinton
Libertarian Gary Johnson looks to boost credibility, with a little help from Drew Carey
Bernie Sanders is a socialist? Some on the far left say sellout is more like it
Libertarians hope voter frustration with Trump and Clinton will create a 'perfect storm'
---
Life is stressful. Our weekly mental wellness newsletter can help.
You may occasionally receive promotional content from the Los Angeles Times.