Jim Jordan to run for House speaker, challenging California Rep. Kevin McCarthy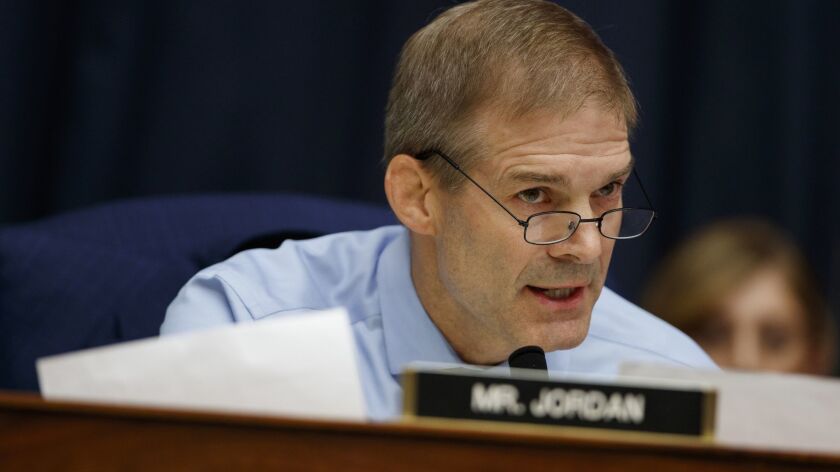 Reporting from Washington —
Rep. Jim Jordan, a founder of the conservative House Freedom Caucus, said Thursday he will run for House speaker this fall.
He is the first Republican to officially say he will seek the leadership position, which will open after Speaker Paul D. Ryan (R-Wis.) retires in January.
Jordan's entry is bad news for Majority Leader Kevin McCarthy (R-Bakersfield), who is also expected to seek the post and has already won several key endorsements.
Three years ago, McCarthy failed in his previous attempt to become speaker because many in the Freedom Caucus questioned whether he was conservative enough and it became clear he wouldn't have the support needed. Many caucus members are likely to back Jordan this time around, including Rep. Mark Meadows (R-N.C.), a caucus leader who said he "certainly" supports the Ohio lawmaker. Several influential conservative organizations also quickly endorsed Jordan on Thursday.
Even so, the likelihood is slim that Jordan will gain broad support from Republicans, many of whom are frustrated by the caucus' demands of leadership. The caucus was largely responsible for forcing out former Speaker John A. Boehner.
In a letter to GOP colleagues announcing his bid, Jordan said he wanted to decentralize power in House leadership and "shake up" the process for selecting committee chairs. He was also roundly critical of House Republican leaders, saying they haven't done enough to pass President Trump's agenda.
"Trump has taken bold action on behalf of the American people. Congress has not held up its end of the deal, but we can change that," he wrote.
He said his top priority is retaining the GOP majority in the House, and he encouraged members to run on a platform of repealing Obamacare, building a border wall and making the 2017 individual tax cuts permanent. "When we come back from August recess, let's also talk about how to change the way this place operates," he wrote. "Not the same old talk. Let's really do it this time."
McCarthy's office didn't immediately respond to a request for comment, but he has been quietly running for the speakership for months.
Already a top fundraiser for the party, McCarthy has accelerated his campaign fundraising since Ryan's spring announcement that he intended to retire. To shore up support, McCarthy has crisscrossed the country, campaigning for vulnerable candidates.
"I want the next speaker to come from California, I just don't want it to be Nancy," McCarthy said during a speech at a conservative event in Washington, referring to House Minority Leader Nancy Pelosi (D-San Francisco). "I want it to be me."
Ryan, who has endorsed McCarthy, told reporters Thursday he hasn't spoken with Jordan about entering the race.
"I support Kevin McCarthy, everybody knows that," Ryan said. Rep. Mark Walker (R-N.C.), a leader among moderate members of the House, also said Thursday he backs McCarthy.
At minimum, Jordan's entry gives the Freedom Caucus a firmer stance on wringing concessions from McCarthy on some of the expected policy fights this fall, including a push by Jordan and others to impeach Deputy Atty. Gen. Rod J. Rosenstein, who oversees the special counsel's Russia investigation.
Meadows scoffed at the idea that Jordan entered the race to scuttle McCarthy's chances.
"He was a two-time [wrestling] national champion. I never knew him to get on the mat and try to lose, and I don't expect this to be any different," Meadows said. "He's going to be in it to win."
Jordan's entry likely boosts the chances of Majority Whip Steve Scalise (R-La.), who is emerging as a consensus candidate if Republicans retain control of the House this fall and neither McCarthy nor Jordan receive enough votes for the speakership. Scalise is seen as more conservative than McCarthy while still enjoying support among more moderate members.
Scalise, who has bypassed more senior members for a leadership position before, said he won't challenge McCarthy for the speakership, but he is still thought to be interested in the job if an opening presents itself.
Jordan, 54, has come under scrutiny in recent weeks amid allegations from some former wrestlers at Ohio State University that he, while serving as an assistant coach there, was told about reports of sexual abuse by a team doctor but did not intervene.
Jordan has denied knowing anything about the abuse.
More stories from Sarah D. Wire »
Twitter: @sarahdwire
Read more about the 55 members of California's delegation.
---
UPDATES:
11:20 a.m.: This article was updated with comments from House Speaker Paul D. Ryan, Rep. Mark Meadows and others.
This article was originally published at 9:30 a.m.
---
Get our Essential Politics newsletter
The latest news, analysis and insights from our politics teams from Sacramento to D.C.
You may occasionally receive promotional content from the Los Angeles Times.