Justice Anthony Kennedy's biggest decisions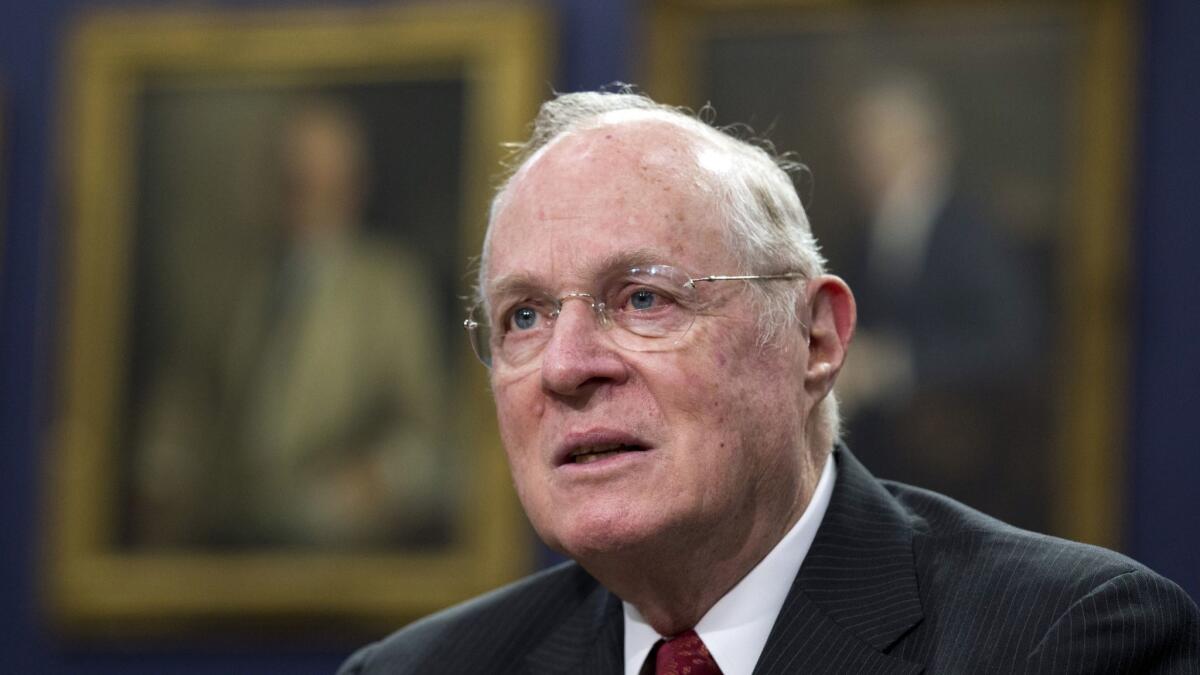 Reporting from Washington —
Justice Anthony M. Kennedy has served on the Supreme Court since February 1988 and has been the key, swing vote on the court for much of his tenure. Here are some of the landmark decisions he helped shape:
Planned Parenthood vs. Casey, 1992—Kennedy was one of three co-authors of the ruling that preserved Roe vs. Wade and the right to abortion. Along with Justices Sandra Day O'Connor and David H. Souter, Kennedy said the court had granted women the right and should not retreat from that promise.
Bush vs. Gore, 2000—While the court's opinion was unsigned, Kennedy was credited with drafting the ruling that stopped the recount of mail-in ballots in Florida on the grounds that there were no agreed-upon standards for deciding which were valid votes. The ruling made George W. Bush the winner in Florida and the next president.
Lawrence vs. Texas, 2003—Struck down the last laws in Texas and other states that made sex between gays and lesbians a crime. Kennedy said gay people deserve dignity and respect.
Roper vs. Simmons, 2005—Kennedy's opinion for the court abolished the death penalty for murders committed by juveniles younger than 18.
Citizens United vs. Federal Election Commission, 2010—Struck down the federal laws that limited campaign spending by corporations, unions and wealthy individuals and said the Constitution protected such spending as a form of free speech.
Obergefell vs. Hodges, 2015—Established that same-sex couples have a constitutional right to marry nationwide. Kennedy's opinion cited the Constitution's protections for liberty and equality.
More stories by David G. Savage »
Twitter: DavidGSavage
Get our Essential Politics newsletter
The latest news, analysis and insights from our politics team.
You may occasionally receive promotional content from the Los Angeles Times.