These eight senators will decide tax reform. Here's what they are concerned about
Republicans plan to vote by the end of the week on their much-anticipated tax-cut proposal. But despite clearing some preliminary votes, the legislation's fate remains unclear, largely because some GOP senators may yet vote against the measure.
GOP leaders can afford to lose no more than two votes. Here's a look at some of the Republican holdouts who will decide the fate of the tax bill.
---
Deficit hawks
Sen. Bob Corker (R-Tenn.)
A leading Trump critic, Corker has emerged as one of the last remaining deficit hawks. He said he wouldn't vote for a bill that adds "one penny" to the deficit and is pushing a trigger mechanism that would claw back some tax cuts if economic growth doesn't cover costs, as Republican leaders promise. Corker has commanded leadership's attention because he's a known deal-maker and is retiring rather than seeking reelection. That may embolden him to go it alone.
---
Sen. James Lankford (R-Okla.)
A quiet Christian former youth camp director who has watched his own state's deficit struggles with lower taxes, Lankford is a key ally in Corker's push for a trigger mechanism. Even though he rarely bucks leadership, Lankford has increasingly become an independent-minded senator.
---
Sen. Jeff Flake (R-Ariz.)
Flake was a debt-fighting conservative before the rise of the tea party, and he also wants assurances the tax cuts won't add to the deficit. Like others who are retiring rather than face reelection, the outspoken Trump critic has become more willing to challenge leadership and the White House.
---
Pass-throughs, including small business and high-paid professionals
Sen. Ron Johnson (R-Wis.)
A wealthy plastics company owner, Johnson wants more tax breaks for so-called pass-through businesses. That includes the mom-and-pop shops but also highly paid lawyers and professionals who file taxes as individuals, rather than corporations. One goal is to increase the deduction they take on their incomes from 17.4% to 20%. But his suggestions have been panned. Johnson surprised leaders earlier this year when he initially opposed the healthcare overhaul, but they think he eventually will come around on taxes.
---
Sen. Steve Daines (R-Mont.)
Another advocate for business pass-throughs, Daines joined Johnson in pushing for more tax breaks that put the individual filers on par with corporations at the new 20% rate. Leaders also doubt he will block the bill.
---
Healthcare
Sen. Susan Collins (R-Maine)
The most centrist Republican in the Senate is also among the most seasoned negotiators. She went face to face earlier with President Trump over her opposition to repealing the Affordable Care Act mandate that all Americans carry insurance, which is included in the tax bill. She left the negotiating table with assurances that healthcare fixes she sought would be made. But Collins still wants other revisions, including preserving the top tax rate at 39.6%. Her vote — as reflected by her opposition to the Obamacare repeal — may be the toughest to get.
---
Wild cards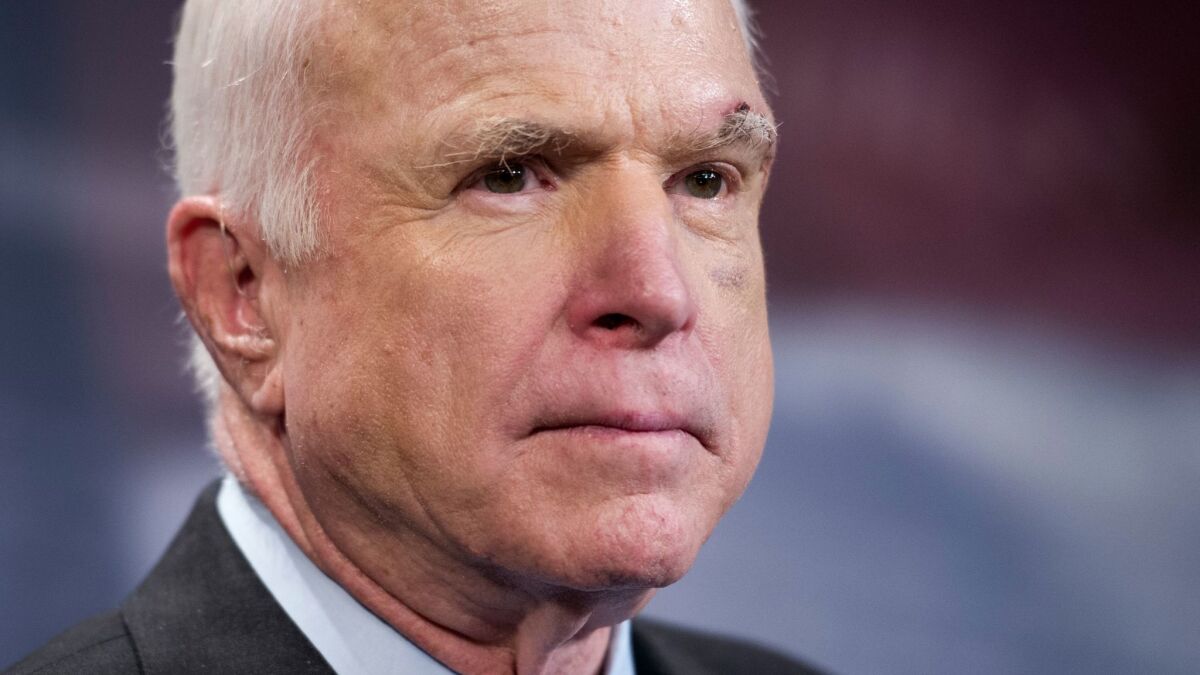 Sen. John McCain (R-Ariz.)
Fighting cancer and hobbled by a foot injury, McCain is down but nowhere near out of the tax fight. The senator has opposed tax cuts that add to deficits before. McCain shocked Washington when he opposed the GOP Obamacare repeal earlier this year. McCain is no fan of Trump, but he's not likely to oppose the tax bill to simply buck the president. He could vote against it because he doesn't like it.
On Thursday, McCain announced his support for the tax bill, saying it was not perfect, but good enough to win his vote.
---
Sen. Jerry Moran (R-Kan.)
Hardly a headline-grabber, Moran pays close attention to constituents back home, as he did this summer when he stunned Washington as an unexpected critic of the ACA overhaul. Now Kansans, who have had an up-close view of the negative impact of sweeping tax cuts in their state, are pushing him to oppose the tax bill. A conservative, he is inclined to support tax cuts, but his vote is uncertain.
---
UPDATES:
Nov. 30, 8:10 a.m.: This article was updated after McCain said he would support the bill.
This article was originally published at 1:35 p.m. Nov. 29.
Get our Essential Politics newsletter
The latest news, analysis and insights from our politics team.
You may occasionally receive promotional content from the Los Angeles Times.