Even before Kavanaugh, Alaska's Lisa Murkowski has been known to break ranks with fellow Republican senators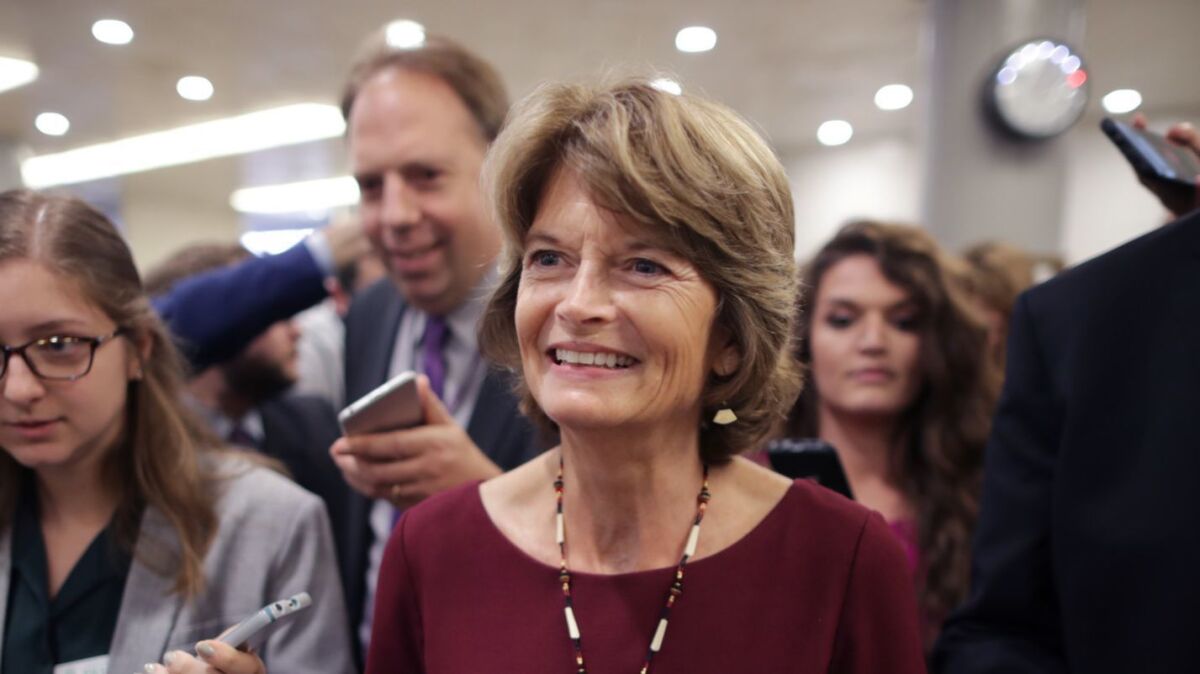 Reporting from Washington —
Perhaps the single most important fact to know about Alaska Sen. Lisa Murkowski, who broke Republican ranks on Friday to oppose putting Judge Brett Kavanaugh on the Supreme Court, is that she once won reelection after losing the party's nomination — running independently as a write-in candidate.
Her vote against Kavanaugh is hardly without risk. Soon after Murkowski announced it, former Alaska governor and Republican vice presidential nominee Sarah Palin tweeted, "Hey @LisaMurkowski - I can see 2022 from my house..." — suggesting she would challenge the senator for what would be Murkowski's fourth full term.
Yet Murkowski has vanquished Palin, by proxy, before. In 2010, Palin supported the Tea Party candidate who beat Murkowski for nomination, only to see Murkowski defeat him with the first successful Senate write-in candidacy in more than half a century.
If Murkowski's electoral history helps explain her independence of her party on the Kavanaugh vote, so do other factors.
She is a moderate Republican who favors abortion rights; Kavanaugh's record suggests he could be a vote against them.
Native Alaskans are key supporters and donors for her; Kavanaugh, on the D.C. Circuit Court of Appeals, has ruled against native groups. And just last week, Murkowski in a #MeToo moment of her own disclosed to Alaska Public Media that she has suffered unspecified sexual abuse.
Though generally a reliable Republican vote, backing President Trump's tax cuts and energy deregulation, for example, Murkowski opposed repeal of the Affordable Care Act. With Maine Sen. Susan Collins, she was one of two Republicans to oppose Betsy DeVos as Education secretary, causing a tie vote that Vice President Pence had to break. A supporter of liberalized immigration, she has called Trump's policy of separating families at the border "cruel."
Murkowski told reporters her vote against Kavanaugh was the most difficult decision she'd ever made.
"I believe we are dealing with issues right now that are bigger than a nominee and how we can ensure that our institutions, not only the legislative branch but our judicial branch, continue to be respected," she said.
"I believe he is a good man," she added. "It just may be that in my view he's not the right man for the court at this time."
Murkowski, 61, is the daughter of a former U.S. senator and Alaska governor, Frank Murkowski. Her family name, not her Republican pedigree, has been pivotal to her political career.
When her father resigned from the Senate to become governor in 2002, he appointed his daughter — then majority leader of the Alaska House — to replace him. (The nepotism controversy that sparked led to a state law stripping future governors of such power). She was elected to a full six-year Senate term in 2004, narrowly beating a former Democratic governor.
In 2010, after narrowly losing the Republican primary to Joe Miller, who had Palin's backing, Murkowski quickly mounted a write-in campaign that included a memorable television ad depicting a young girl winning a spelling bee by getting "Murkowski" right. She beat Miller by four percentage points.
In 2016, Murkowski easily won renomination and was reelected to a third full term. She did not, however, endorse Donald Trump for president.
As chairman of both the Senate Energy and Natural Resources Committee and the Appropriations Committee's subcommittee on the interior and environment, Murkowski is a close ally of the oil and gas industries that are so prominent in her state and a bane of environmental groups. She is married and has two sons.
---
Life is stressful. Our weekly mental wellness newsletter can help.
You may occasionally receive promotional content from the Los Angeles Times.