For years, Richard Gates was at Paul Manafort's side. On Monday, he began testifying against him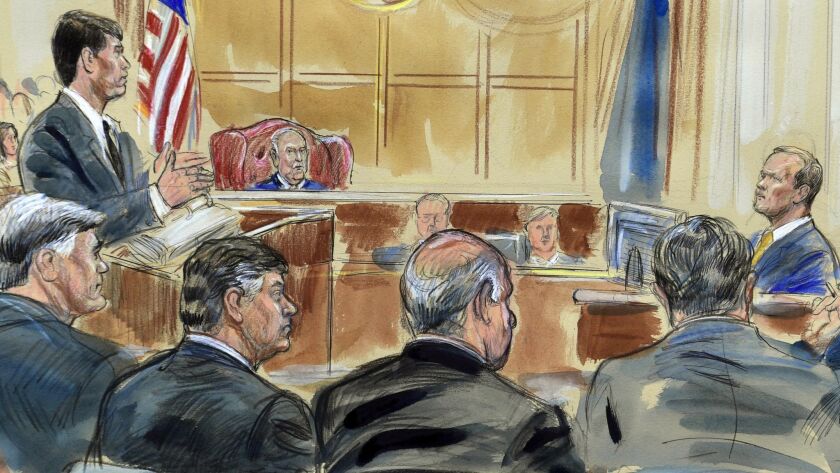 Reporting from Washington —
Whenever Paul Manafort needed Richard Gates, he seemed to be there for him.
Gates helped Manafort run his consulting business in Eastern Europe. He served as Manafort's deputy on Donald Trump's presidential campaign, carefully steering the candidate through the fractious Republican National Convention.
And when Manafort needed help hiding his income from tax collectors or fraudulently obtaining bank loans, prosecutors say Gates was there too. He even allowed Manafort to falsely blame him for $300,000 in overdue bills to help boost his credit score, according to an indictment.
On Monday, Gates took on a new role — a key witness in prosecutors' case against the former Trump campaign chairman for tax evasion, bank fraud and conspiracy.
"Were you involved in criminal activity?" asked Greg Andres, one of the prosecutors working for special counsel Robert S. Mueller III.
"Yes," Gates responded from the witness stand in the Alexandria, Va., courtroom.
Gates admitted to larceny and lying of his own as well. As prosecutors asked questions designed to preempt lines of attack that defense attorneys could use to undermine his credibility, he admitted that he stole from Manafort even as he did his bidding.
Yes, he said, he had inflated expense reports to siphon off "several hundred thousand" dollars to pad his income from the firm as the two men worked for Ukraine's then-president, Viktor Yanukovych. He had lied in a deposition, he testified. He even admitted to staying out past his court-mandated curfew by 15 minutes.
But, he insisted, it was Manafort who orchestrated the multiple frauds at the heart of the current case. And although he had lied before, he had every reason to be telling the truth now, he said.
Andres raised the issue by asking him whether he's aware what will happen if he lies during the trial.
"I lose all the benefits associated with the guilty plea" that he entered in February, Gates said, meaning he could once again face the criminal counts that prosecutors had agreed to drop — charges that could have put him behind bars for many years.
Follow the latest news of the Trump administration on Essential Washington »
The trial is in its fifth day, but Gates' testimony may mark its pivotal moment. Not only has he already handed over documents, phones and computers, he's providing inside information on Manafort's alleged scheme at a level of detail that no other witness has.
Meanwhile, defense lawyers have centered their case on Gates, telling the jury that he, not Manafort, is the person to blame for the frauds alleged by the special counsel's office. During opening statements, defense attorney Thomas Zehnle said Manafort was guilty only of "placing his trust in the wrong person."
Gates' testimony also marks a turning point for the special counsel's office. It's the first time Mueller's team has used in court the information it got through a plea deal.
Gates was first indicted for financial crimes alongside Manafort in October, but those charges were dropped when he pleaded guilty to conspiracy and lying to investigators. The deal required him to cooperate with prosecutors.
Michael Flynn, Trump's former national security advisor, and George Papadopolous, a foreign policy advisor during the campaign, have also pleaded guilty and agreed to help the special counsel's office. So far, there's been no public disclosure of what information they've provided. Papadopolous is scheduled to be sentenced in September; sentencing has not been scheduled for Flynn or Gates.
The spectacle of Gates testifying against his former business partner and mentor was a dramatic moment in a trial that has focused on financial records and tax law.
Freshly shaved and wearing a trim blue suit, Gates' eyes flashed only briefly toward the defense table as he spoke. He described his former colleague as "Mr. Manafort."
Manafort stared directly toward Gates, who he first encountered more than three decades ago when Gates was an intern at his lobbying firm and a guest at his Christmas party.
"Rick met Paul early in his career, and stayed with him," said Michael Caputo, a political consultant who also worked on Trump's campaign. "Until today."
More fireworks are expected on Tuesday, when Manafort's attorneys are expected to cross-examine Gates.
Before that happens, however, prosecutors plan to have Gates testify for another three hours, the longest time they've had any witness on the stand.
The duration of the questioning could prove to be a point of contention with U.S. District Judge T.S. Ellis III, who has repeatedly prodded prosecutors to speed up their case and eschew what he considers to be extraneous information.
As Andres tried to establish how Manafort was paid by a cadre of Ukrainian businessmen who sought to benefit from the political regime, Ellis described the issue as irrelevant to the question of whether Manafort hid money from tax collectors.
When Andres tried to explain, the judge barked, "Next question."
Once the jury was dismissed for the day, Andres challenged Ellis' demands to more narrowly focus their case, asking him to point to any piece of evidence that he feels was irrelevant.
"I don't have to give you an example," Ellis thundered. "I want you to shorten."
He also admonished Andres to make eye contact with him — "I'm up here," he said at one point — but softened his tone as he ended proceedings for the day.
"This is a stressful time," Ellis said.
Gates testified for about an hour on Monday, delivering calm, succinct answers while speaking directly to the jury. It was a choreographed display probably rehearsed during what Gates said were about 20 meetings with prosecutors to prepare for taking the stand. His lawyer, Thomas C. Green, who negotiated the plea deal, sat in the back of the courtroom.
Many of the questions were intended to establish that Manafort, not Gates, had run the fraud.
During previous testimony, accountants who prepared Manafort's taxes said Gates provided them with inaccurate and fraudulent information.
On Monday, Gates said he lied to them "at Mr. Manafort's direction."
He said the offshore bank accounts — already established earlier in the trial as the source of millions of dollars for Manafort's clothing, cars and home renovations — held "Mr. Manafort's money."
And when asked about his decision to plead guilty to conspiracy, Gates was unambiguous about who else was involved in the scheme.
"Mr. Manafort," he said.
He also complimented his former boss' skill as he described the work that he and Manafort did on behalf Yanukovych, who was Ukraine's president from 2010 to 2014.
Manafort helped bring Yanukovych "back from the proverbial political dead," Gates said.
"He's probably one of the most politically brilliant strategists I've ever worked with."
Twitter: @chrismegerian
---
Get our Essential Politics newsletter
The latest news, analysis and insights from our politics teams from Sacramento to D.C.
You may occasionally receive promotional content from the Los Angeles Times.