Federal jury finds Paul Manafort guilty on eight counts of tax evasion and bank fraud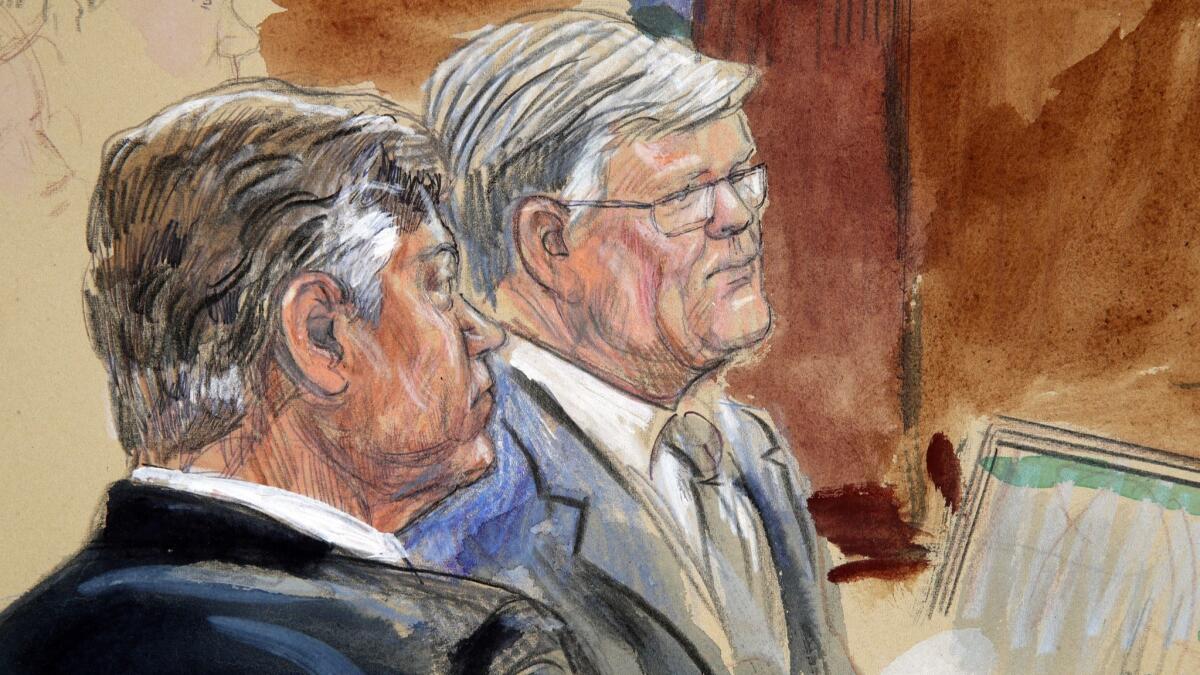 Reporting from Alexandria, Va. —
A federal jury convicted Paul Manafort, President Trump's former campaign chairman, of eight counts of tax evasion and bank fraud on Tuesday, a victory for special counsel Robert S. Mueller III in the first criminal trial brought by his office.
The jury said it was deadlocked on 10 related charges and the judge declared a mistrial on them after four days of deliberations and a dramatic 12-day trial that focused in part on Manafort's gilded lifestyle, making him a symbol of gaudy excess and greed in the Trump era.
Manafort, 69, showed a glimmer of a smile when he learned the jurors could not reach a unanimous decision on the 10 charges. But it quickly disappeared behind an expressionless mask and heavy eyes as a clerk read the eight guilty verdicts.
He was convicted on five counts of filing false tax returns, one count of not filing a report on a foreign bank account, and two counts of bank fraud. He could be sentenced to up to 80 years in prison.
Once an influential Republican operative, wealthy Washington lobbyist and globe-trotting advisor to foreign leaders, Manafort stood motionless as the judge explained the sentencing process to him.
His wife, Kathleen, her eyes vacant, sat directly behind him in the first row of the ninth-floor courtroom. Once the proceedings were over, Manafort appeared to walk toward her, briefly making eye contact before deputies escorted him out the side door he's used throughout the trial.
The case focused chiefly on Manafort's efforts to hide tens of millions of dollars from his work as a political consultant in Ukraine before he joined Trump's presidential campaign in March 2016. But evidence introduced at trial indicated some of the actions occurred as Manafort steered the candidate through the contentious Republican National Convention in Cleveland that summer.
Evidence also showed that after the election, Manafort tried to secure a job in the Trump administration for a Chicago bank executive who helped him get $16 million in loans in 2016 that prosecutors said were based on fraudulent documents. No job ultimately was arranged, although the executive was given an advisory position on Trump's campaign.
None of the charges cited Russia's interference in the 2016 election, the initial focus of the special counsel's wide-ranging inquiry. But the verdict could strengthen Mueller's hand as he spars with Trump's lawyers over whether the president will agree to an interview — or face a potential subpoena — in coming months.
The guilty verdict is also politically awkward for Trump, and he appeared to question it after he arrived in Charleston, W.Va., for a campaign rally.
"This is a witch hunt, and it's a disgrace," Trump told reporters.
The question of a presidential pardon has hung over Manafort's case ever since he decided to risk a trial — and the stiffer prison sentence that could result — rather than cut a deal with the special counsel's office, as other defendants have done.
Trump didn't mention a pardon on Tuesday, but he said Manafort was treated unfairly by prosecutors, a description he's deployed when issuing previous pardons.
"I feel very badly for Paul Manafort," the president said, adding that the case against him had "nothing to do with Russian collusion" and that the special counsel's office had strayed from its "original mission."
It wasn't clear whether Manafort would try to appeal. Kevin Downing, a lawyer for Manafort, told reporters outside the Alexandria courthouse that he was "evaluating his options at this point."
"Mr. Manafort is disappointed at not getting an acquittal or a complete hung jury on all counts," Downing said.
During the trial, Manafort's defense lawyers chose not to present any witnesses or evidence, gambling instead that the jury would simply reject the government's case as unreliable or insufficient. Manafort himself did not take the stand.
He faces another federal trial on related charges on Sept. 17 in Washington, D.C., and the judge in that case ordered him incarcerated in June after he was accused of attempted witness tampering.
Manafort was the latest reminder of the scandals that have swirled around Trump's senior staff from the beginning.
The secretary of Health and Human Services and the head of the Environmental Protection Agency were forced out over ethical controversies, and other senior aides have faced harsh scrutiny. Trump's former national security advisor Michael Flynn pleaded guilty last year to lying to federal investigators.
Even as Manafort's verdict was read in Virginia, Trump's former personal lawyer and longtime "fixer" in New York, Michael Cohen, pleaded guilty to eight charges in a separate case, including campaign finance law violations.
In a plea deal, Cohen said he had sought to influence the 2016 election when he arranged to pay hush money to two women who said they had sex with Trump years ago. Cohen said he made the payments in coordination with the president.
Prosecutors prevailed in the Manafort case despite frequent criticism from U.S. District Judge T.S. Ellis III, a stern jurist who repeatedly questioned prosecution tactics in front of the jury. Ellis sought to limit testimony about Manafort's work in Ukraine and his opulent tastes, saying the details were not relevant to the legal question of whether he had evaded U.S. taxes.
Mueller's team twice filed formal motions asking Ellis to retract his comments. He agreed only once, telling the jury on Thursday to disregard an outburst in which he accused prosecutors of improperly allowing an expert witness to sit in the courtroom during testimony.
"This robe doesn't make me anything other than human, and I may have made a mistake," he said.
On Tuesday, after the jury was dismissed, Ellis seemed chastened by criticism he had received during the trial. He referenced the "brickbats" he had gotten and told prosecutors and defense lawyers that they provided "effective and zealous representation" — a rare bit of praise from a judge better known for scolding the attorneys before him.
According to the special counsel's office, Manafort used more than 30 foreign bank accounts in Cyprus, St. Vincent and the Grenadines, and the United Kingdom to evade U.S. taxes on more than $15 million he made while he was working for Ukraine's then-President Viktor Yanukovich and his political party from 2010 to 2014.
Prosecutors said Manafort had arranged foreign wire transfers to purchase custom-made clothing, including a $15,000 ostrich skin jacket and an $18,500 python skin jacket. The money also went for luxury cars, home renovations, expensive rugs and antiques, and elaborate landscaping services, including flowers in the shape of an M outside his 10-bedroom beachfront house in Bridgehampton, N.Y.
But when Yanukovich was ousted from power by a popular revolt in 2014 and fled to Moscow, Manafort's income abruptly dried up. Prosecutors said he then turned to bank fraud to pay his bills and stay financially afloat.
Richard Gates, who worked with Manafort in Ukraine and on the Trump campaign, testified that he had helped Manafort obtain more than $16 million in bank loans with falsified documents. Prosecutors said Manafort lied on applications to three banks.
Gates was a key figure during the trial, giving the jury an insider's account of Manafort's financial operations. He also served as a target for the defense, which blamed Gates for any financial wrongdoing.
Gates first met Manafort more than three decades ago, and they were indicted together in October. But Gates later cut a deal with Mueller's team in hopes of winning a more lenient sentence, and agreed to testify against his former boss.
Gates pleaded guilty to conspiracy for helping Manafort with his financial schemes, and to making false statements to federal investigators — a charge defense attorneys used to question his credibility during the trial. He also admitted on the stand to embezzling hundreds of thousands of dollars from Manafort's company over a period of years.
Under questioning from defense attorney Downing, Gates did not deny the possibility that he also stole from Trump's inaugural committee, where he was the deputy chairman.
"I don't recall," he said. "It's possible."
Takeaways from prosecutors' case against Paul Manafort »
Follow the latest news of the Trump administration on Essential Washington »
Twitter: @chrismegerian
Twitter: @laurakingLAT
---
UPDATES:
5:20 p.m.: This article was updated with reactions to the verdict.
This article was originally published at 1:55 p.m.
Get our Essential Politics newsletter
The latest news, analysis and insights from our politics team.
You may occasionally receive promotional content from the Los Angeles Times.