Sen. John McCain suspends his cancer treatment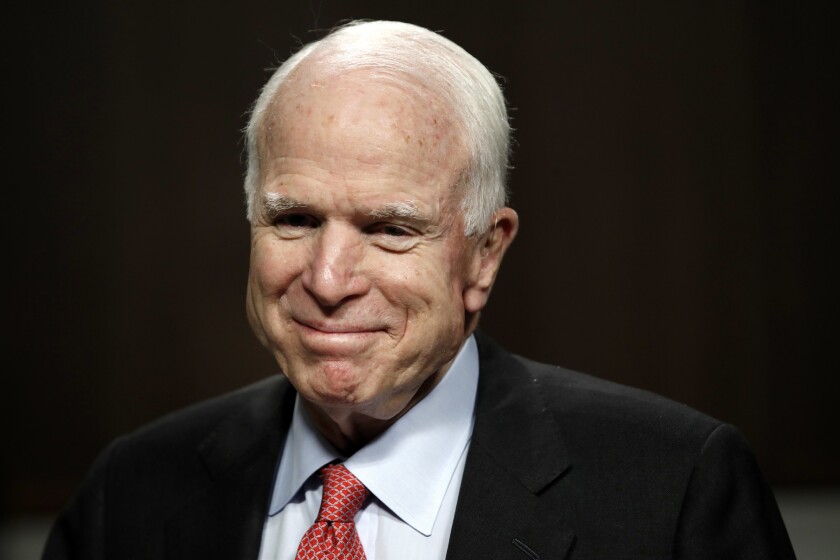 Reporting from Washington —
Sen. John McCain is suspending treatment for brain cancer, his family announced Friday.
The long-serving Arizona Republican announced last summer that he had been diagnosed with glioblastoma, an aggressive and often fatal form of brain cancer. He turns 82 next week.
"John has surpassed expectations for his survival. But the progress of disease and the inexorable advance of age render their verdict. With his usual strength of will, he has now chosen to discontinue medical treatment," his family said in a statement Friday.
Well wishes poured in from McCain's congressional colleagues soon after. The six-term senator, and two-time presidential candidate, has sought treatment at home since December.
On Twitter, Senate Majority Leader Mitch McConnell (R-Ky.) said he was saddened by the news about "our dear friend."
"We are so fortunate to call him our friend and colleague. John, Cindy, and the entire McCain family are in our prayers at this incredibly difficult hour," he said.
"John McCain is going to finish the race the way he has done everything in his life, his way and on his terms," Sen. Marco Rubio (R-Fla.) said on Twitter.
His fellow senator from Arizona, Jeff Flake, said on Twitter: "God bless and keep this wonderful man and his family."
McCain's absence from the Capitol has narrowed Republicans' 51-seat majority in the Senate, bolstering Democrats' chances of stopping action with the support of just one wavering Republican. With McCain absent, for example, President Trump's pick for the Supreme Court, Judge Brett M. Kavanaugh, could only be confirmed if every Republican votes yes, assuming all Democrats vote no.
Because glioblastoma grows into brain tissue, complete removal is impossible. Radiation and chemotherapy are common treatments.
Median survival is 15 months, according to the American Brain Tumor Assn., although a 2009 study found that 1 in 10 patients can survive five years or longer.
McCain has made clear he intends to stay in office until his death.
Arizona law gives broad leeway to the governor in replacing McCain if he resigns or dies in office. The replacement has to be a Republican and would serve until voters have a chance to vote for a new senator in the next general election. At this point, it's too late for 2018, so voters would get a say in 2020 for who would serve out the rest of McCain's term that expires in January 2023.
It sets up the possibility that Arizona Gov. Doug Ducey, who has ruled out appointing himself, could choose a replacement who might be more willing to toe the party line.
McCain has become a major figure in American politics since he was first elected in 1986, and has made a career of refusing to engage in business as usual, working with then-Sen. Russ Feingold (D-Wis.) — despite the objections of his party leaders — to overhaul federal campaign finance laws and ban the use of so-called soft money. He also led a war on earmarks, the practice of lawmakers slipping into bills high-dollar projects benefiting their congressional districts. And he broke with many in his party by proposing legislation with then-Sen. Edward Kennedy (D-Mass.) to create a pathway to citizenship for people who are in the country illegally.
His dramatic thumbs down to repealing the Affordable Care Act in July 2017 effectively killed the longtime party promise to end Obamacare, at least for now.
"Stop listening to the bombastic loudmouths on the radio, television and internet. To hell with them! They don't want anything done for the public good," McCain said in a fiery speech after the vote.
McCain and Trump have clashed repeatedly since Trump, during the 2016 presidential campaign, criticized McCain's record as a POW in Vietnam, saying: "He's a war hero because he was captured. I like people that weren't captured, OK?" Since his July 2017 diagnosis, McCain has been increasingly willing to publicly criticize Trump.
During the Vietnam War, McCain suffered several broken bones and spent more than five years as a prisoner in North Vietnam, including two years in solitary confinement, after his Skyhawk was shot down during a bombing mission over Hanoi in 1967. The son of the U.S. Navy commander in the Pacific, McCain refused North Vietnamese offers for an early release because Americans captured before him remained prisoners of war.
More stories from Sarah D. Wire »
Twitter: @sarahdwire
---
Get our Essential Politics newsletter
The latest news, analysis and insights from our politics team in D.C.
You may occasionally receive promotional content from the Los Angeles Times.