7 takeaways from the 2018 midterm election
Reporting from Washington —
The dust is still settling on the midterm election and the mixed results defy easy characterization. As expected, Democrats took control of the House of Representatives, but Republicans expanded their lead in the Senate, while some closely-watched races remain too close to call.
Here are a few starting points to understand what happened and what it may mean in the future.
Prepare for gridlock and investigations
Democrats have been on the sidelines in Washington since 2016, but now they control the House. That means no legislation will pass Congress unless it has bipartisan support, a tall order in the polarized capital. Expect Democrats to use House committees to ramp up scrutiny of President Trump and his administration, summoning officials to Capitol Hill and firing off subpoenas for documents — possibly including Trump's tax returns. Some activists are pushing for a scorched-earth approach, even moving toward impeachment, but party leaders are trying to tap the brakes.
It was a historic night for women
A record number of women ran for office, and now a record number of women will serve in Congress. Votes are still being counted, but at least 95 won seats in the House, up from the current 84. The victors include the first Native American woman elected to Congress, Democrat Debra Haaland of New Mexico, and the first two Muslim women, Democrats Ilhan Omar of Minnesota and Rashida Tlaib of Michigan.
Proportionally, the jump isn't as big as in 1992, the so-called Year of the Woman, and there's still a long way to go before there's equal representation between the sexes. Roughly 1 out of 5 members of Congress are women.
Democrats gained but still face a bumpy road at the state level
When Republicans took over Washington two years ago, they also expanded their control of state legislatures and governor's offices. Democrats regained some critical ground Tuesday, but not what they had hoped. Five state legislative chambers shifted from Republican to Democratic control, including in Colorado, which is completing its transition from purple to blue. The National Conference of State Legislatures, which tracks the numbers, said that's half the average number of chambers that traditionally swap between parties every two years.
Democrats pried some major governor's offices away from Republicans, including in Illinois, Michigan, New Mexico and Wisconsin. They even triumphed in deep-red Kansas, defeating one of Trump's most ardent supporters. Republicans successfully defended their turf in Florida and appeared on track to win in Georgia, two fiercely contested campaigns.
Check out live results from the 2018 midterms »
What indictment?
When federal prosecutors secured indictments against two Republican congressmen, Reps. Chris Collins of New York and Duncan Hunter of Alpine, Trump lashed out at the Justice Department. "Two easy wins now in doubt because there is not enough time," he complained. But Collins and Hunter defeated their Democratic opponents, proving again that voters sometimes forgive ethical — and even criminal — charges for their favored candidates. Collins was charged with insider trading and Hunter was charged with misusing campaign funds; both have pleaded not guilty.
Democrats also showed clemency. Sen. Robert Menendez of New Jersey was reelected one year after his corruption trial resulted in a mistrial. He celebrated onstage with leading members of his state party.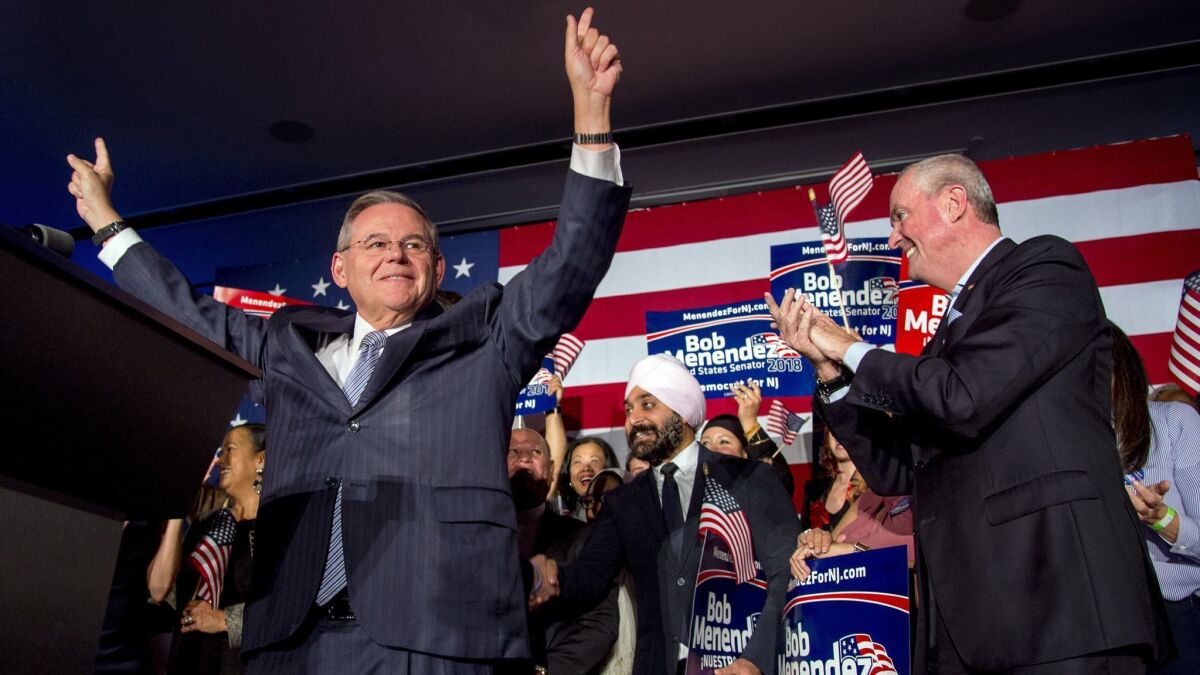 Promising signs for access to the ballot box
The campaign saw controversies over voting rights in Georgia, where strict rules stalled registrations and led to last-minute court battles, and in other states. But there were promising signs for activists trying to expand access to the ballot box, and the political landscape could look much different in 2020. The impact may be dramatic in Florida, a perennial swing state. Its voters approved an amendment to restore voting rights to more than 1 million former felons who have completed their sentences. That means nearly 1 in 5 black residents could regain access to the ballot box in the next election.
The pre-election polls look pretty good
"Don't trust the polls" became something of a mantra after Trump's unexpected victory two years ago. But the professionals responsible for divining public opinion breathed a sigh of relief Wednesday. Pre-election polls had suggested that Democrats would win about 35 additional seats in the House, enough to seize the majority — which is still about the expected outcome once all the votes are counted.
The 2020 campaign begins
Don't worry, political junkies. The end of the midterm is the starting pistol for the 2020 presidential race, and some are already positioning themselves, or at least their political strategies. Sen. Sherrod Brown, an Ohio Democrat who won reelection in a state that Trump won handily in 2016, offered his race as a roadmap for his party. "We celebrate the worker. And that is the blueprint for America in 2020," he said.
There were red flags for Democrats hoping Tuesday would showcase the strength of progressive candidates of color. Andrew Gillum, the Tallahassee mayor aiming to be Florida's first black governor, was defeated by Ron DeSantis, a former Republican congressman closely allied with Trump. It also appeared that Stacey Abrams, who would have been the first black female governor in the country, was falling short in Georgia.
Twitter: @chrismegerian
---
Life is stressful. Our weekly mental wellness newsletter can help.
You may occasionally receive promotional content from the Los Angeles Times.