In Alabama, Bannon decries GOP leaders as Roy Moore battles rival amid molestation allegations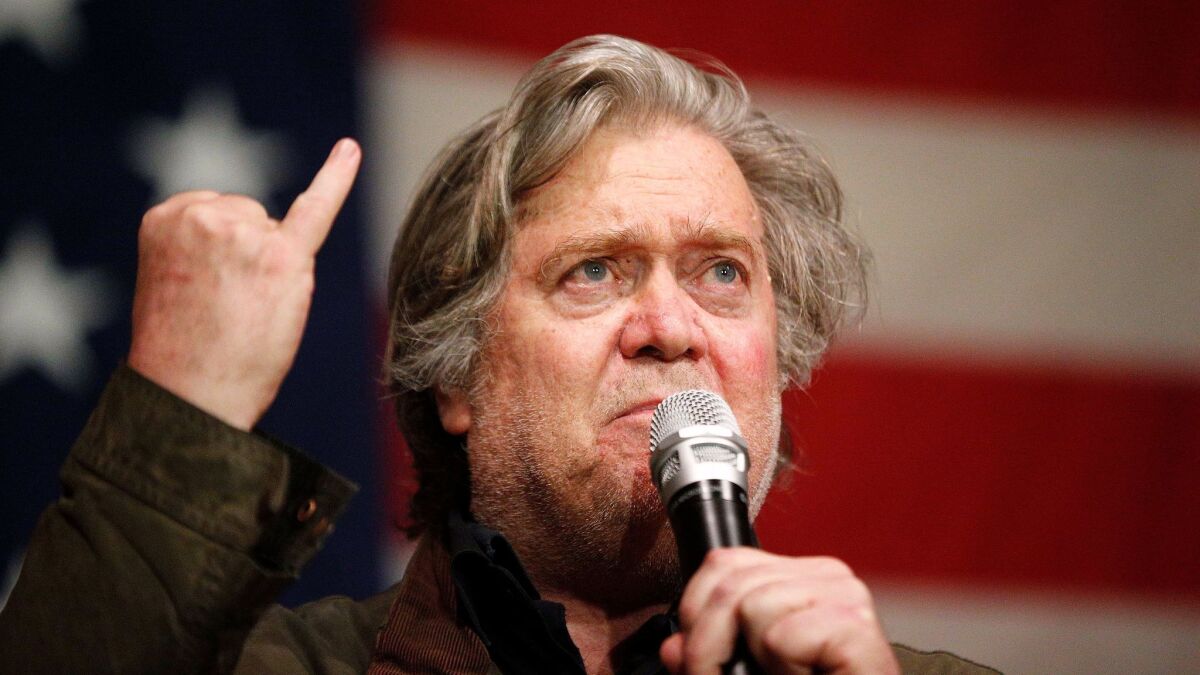 Republican Roy Moore's Democratic rival in Alabama's U.S. Senate race said Tuesday that he worked as a prosecutor "to ensure that men who hurt little girls should go to jail" and not to Congress.
Democrat Doug Jones' attack came as Moore, who denies accusations that he sexually abused teenage girls, sought to capitalize on President Trump's renewed embrace of his candidacy.
Jones stressed his experience as a former U.S. attorney as he attacked Moore on Tuesday at a campaign stop in Birmingham.
"I had one of the toughest child protection units in the country, prosecuting predators who would sexually exploit our children," he said.
Hours later at a rally outside Mobile, Moore and Trump's former White House strategist Stephen K. Bannon attacked Republicans who continue to shun the GOP candidate in next week's election.
"They would rather have a Democrat than me," Moore, Alabama's former chief justice, told the crowd.
Bannon was more pointed, castigating Mitt Romney, Senate GOP leader Mitch McConnell and Sen. Jeff Flake of Arizona for rejecting their own party's candidate for the Senate seat vacated by Atty. Gen. Jeff Sessions.
Bannon portrayed them as elitists who have resisted Trump's agenda on trade and immigration.
Noting Moore's service as a military police commander in the Vietnam War, Bannon faulted Romney for getting draft deferments (which Trump also did).
"You hid behind your religion," Bannon said of Romney, who is Mormon. "You went to France to be a missionary when guys were dying in [the] rice paddies of Vietnam. Do not talk to me about honor and integrity.
"And now I'm going to get personal," he went on. "When you ran for commander in chief, you had five sons. Not one day of service in Afghanistan and Iraq…. Where were the Romneys during those wars?
"Judge Roy Moore has more honor and integrity in that pinkie finger than your entire family has in its whole DNA," Bannon said to a roar of cheers.
He accused Republicans in Congress of joining Democrats in trying to nullify the 2016 presidential election by investigating whether the Trump campaign colluded with Russia to tilt the vote to Trump.
After Trump affirmed his support for Moore on Monday, Romney said on Twitter that he "would be a stain on the GOP and on the nation."
"No vote, no majority is worth losing our honor, our integrity," Romney wrote.
Flake, another longtime Trump critic in the GOP, broke with his party and sent a $100 campaign contribution to Jones on Tuesday.
"Country over party," he wrote on the check.
McConnell reiterated Tuesday that Moore would probably face a Senate Ethics Committee investigation of his alleged sexual misconduct if he wins the election.
While the Republican National Committee resumed supporting Moore after Trump's remarks on Monday, two Senate campaign committees controlled by McConnell declined Tuesday to follow suit.
»
Twitter: @finneganLAT
Times staff writer Lisa Mascaro contributed to this report.
ALSO:
The White House press briefing, always a spin zone, is now approaching uselessness
Immigration enforcement under Trump: Fewer people caught at border, more arrested in U.S. interior
Rep. John Conyers, most senior member of House, resigns amid accusations of sexual harassment
---
Life is stressful. Our weekly mental wellness newsletter can help.
You may occasionally receive promotional content from the Los Angeles Times.