Republicans consider expelling Roy Moore if he does win a Senate seat — a rare and severe punishment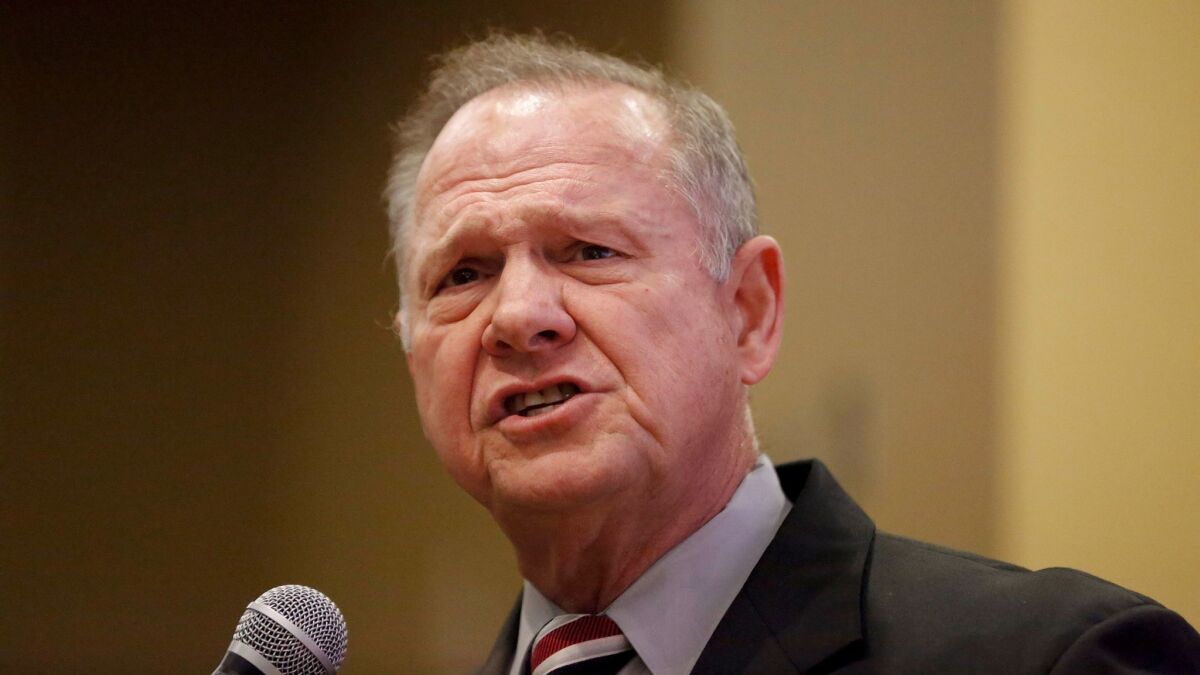 Expulsion from the U.S. Senate is rare, but Roy Moore's refusal to drop his run for an Alabama seat amid sexual assault allegations has led fellow Republicans to suggest kicking him out of Congress before the election even takes place.
If he wins the Dec. 12 election to fill the seat vacated by Atty. Gen. Jeff Sessions and winds up expelled, Moore would become the first senator bounced from office for sexual misconduct.
Only 15 senators have been tossed out by their colleagues. The last expulsion was in 1862.
Since then, about a dozen senators have faced expulsion proceedings, mainly for corruption. Some have resigned before a final vote, but none were ousted.
Who has called for Moore's expulsion?
Colorado Sen. Cory Gardner, whose voice carries a lot of weight in the Republican Party. As chairman of the National Republican Senatorial Committee, Gardner oversees campaign fundraising for the Senate GOP majority.
The committee ended its fundraising agreement with Moore last week. On Monday, the Republican National Committee terminated its own fundraising pact with Moore.
Senate GOP leader Mitch McConnell and other party leaders have called on Moore to end his candidacy following allegations of sexual misconduct when he was in his 30s. He was accused of molesting a 14-year-old girl, sexually assaulting a 16-year-old girl and making advances on three other teenage girls.
Moore has denied the allegations and vowed to stay in the race. With uncertain prospects for a late write-in candidacy by another Republican, expulsion is a last-resort solution designed to spare the party the embarrassment of seating Moore in the Senate.
Two other Republicans, Sens. Jeff Flake of Arizona and Todd Young of Indiana, have also supported the idea.
How can the Senate overturn voters' will?
The Constitution empowers each house of Congress to punish members for disorderly behavior. To expel a member requires a two-thirds vote of the Senate or House.
What led to the 15 expulsions?
The Senate ousted 14 members in 1861 and 1862 for supporting the Confederate rebellion in the Civil War. One of those expulsions was reversed after the senator died.
The other senator who was ousted — for treason — was William Blount of Tennessee in 1797.
Which senators dodged expulsion?
One of the best known is Republican Sen. Bob Packwood of Oregon. He resigned in 1995 as it became clear he would almost certainly be expelled for sexual harassment and other misconduct.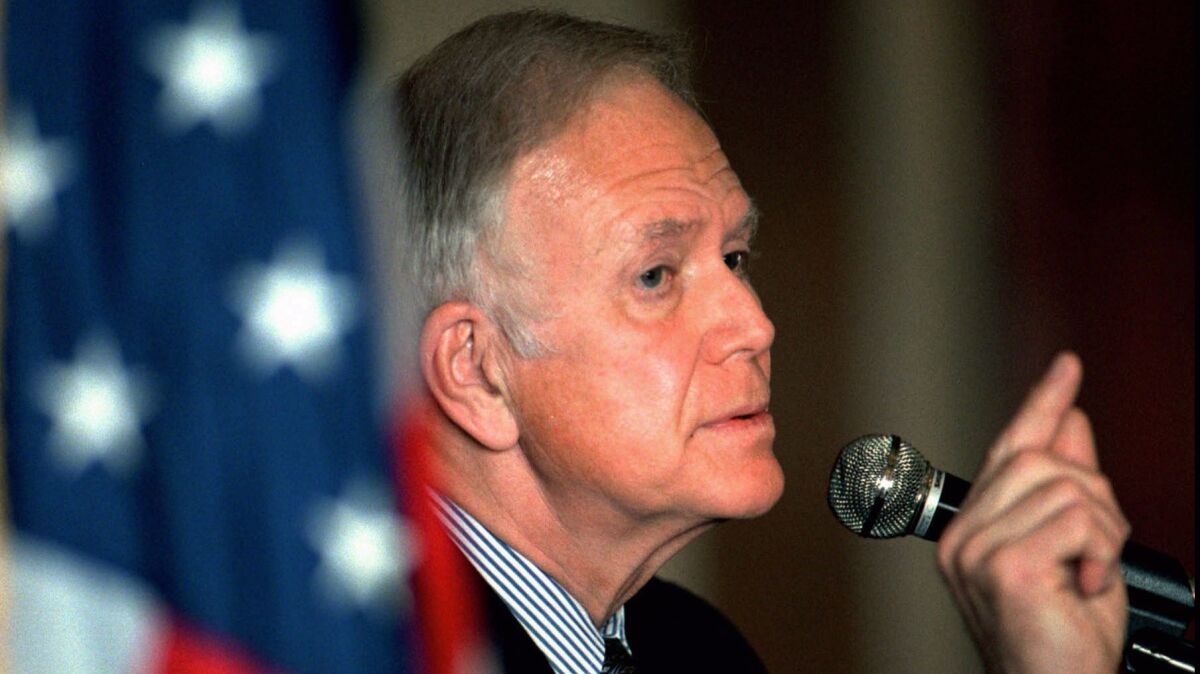 Packwood's mistreatment of women — grabbing them and kissing them forcefully against their will, among other things — was laid out in graphic detail in a November 1992 article in the Washington Post.
The effort to boot Packwood started with an investigation by the Senate Ethics Committee, then led by McConnell.
"There was a habitual pattern of aggressive, blatantly sexual advances, mostly directed at members of his own staff or others whose livelihoods were connected in some way to his power and authority as a senator," McConnell said at the time.
GOP leaders threaten to expel Roy Moore from Senate if he wins Alabama race »
Democratic Sen. Harrison A. Williams Jr. of New Jersey was on the verge of getting thrown out of office when he quit in 1982. He'd been convicted in the Abscam kickback scandal, and the Senate Ethics Committee had unanimously recommended his ouster.
One of the most legendary senators to face expulsion proceedings was Huey Long, the Democratic political boss from Louisiana.
In 1934, Long was accused of election fraud. He survived the Senate investigation and was assassinated in 1935.
In 1919, Republican Sen. Robert M. La Follette of Wisconsin faced possible expulsion for denouncing American participation in World War I. The Senate voted to dismiss the case.
Also noteworthy was the religious freedom drama of Sen. Reed Smoot of Utah, a prominent Mormon. As soon as the Republican took office in 1903, Protestant ministers and others alleged that his faith disqualified him from serving. They cited Mormons' history of polygamy, even though it had renounced the practice by that time.
After an exhaustive investigation that served as a proxy trial of the Mormon Church itself, a Senate committee deemed Smoot unqualified to serve in Congress.
But the full Senate, with the encouragement of President Theodore Roosevelt, rejected the attempt to expel Smoot, whose personal conduct no one had questioned. Smoot served in the Senate for 30 years.
Twitter: @finneganLAT
ALSO:
Trump's agenda at stake as sexual misconduct allegations against Roy Moore turn Alabama race into a tossup
Tech start-ups fight Senate plan to change the way stock options are taxed
The FBI called him 'Captain America.' But the informant had a secret
Get our Essential Politics newsletter
The latest news, analysis and insights from our politics team.
You may occasionally receive promotional content from the Los Angeles Times.