House Democrats prepare subpoenas to demand full Mueller report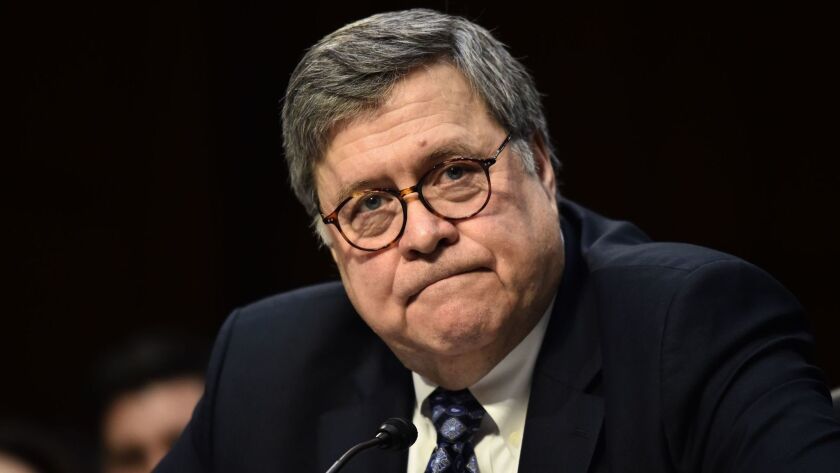 Reporting from WASHINGTON —
A House committee plans to vote Wednesday on whether to authorize subpoenas for special counsel Robert S. Mueller III's full report, underscoring how aggressively Democrats will pursue its release in a potential showdown with Atty. Gen. William P. Barr.
The decision comes after Barr said Friday that he would provide a redacted version of the nearly 400-page report to Congress in mid-April, "if not sooner," blowing past a Tuesday deadline set by the House.
The House Judiciary Committee's subpoena vote, which is expected to be successful, would authorize Chairman Jerrold Nadler (D-N.Y.) to issue the subpoena in the future. In announcing the subpoena vote Monday, the committee said the timing would be at Nadler's discretion.
"Atty. Gen. Barr has thus far indicated he will not meet the April 2 deadline set by myself and five other committee chairs, and refused to work with us to provide the full report, without redactions, to Congress," Nadler said. "The attorney general should reconsider so that we can work together to ensure the maximum transparency of this important report to both Congress and the American people."
With Mueller's report filed to the Justice Department, House Democrats are stepping up their oversight of the Russia investigation and other inquiries into the Trump administration.
On Monday, the Oversight and Reform Committee said that it would pursue a subpoena of a top White House official as it examines irregularities in how security clearances have been distributed. The panel cited new testimony from a whistle-blower who identified up to 25 people who got White House clearances over the recommendations of career security officials.
On the Mueller report, Democrats in the House have said they won't accept a redacted version or a classified briefing, arguing that they don't want a "sanitized" version of what Mueller worked on for nearly two years.
Thus far, Barr has only released a four-page summary of the report. According to Barr, Mueller concluded that the Trump campaign did not illegally collude with Russia to interfere with the 2016 campaign, yet made no decision about whether the president tried to illegally obstruct government inquiries into his actions.
Barr and House Democrats appear headed for a dispute over whether the information in the report that came from grand jury testimony can go to Congress.
Barr said last week that he is in the process of redacting the report of grand jury information as well as personal information, material the intelligence community says would compromise sources and methods, and information that could affect ongoing matters.
House Democrats argue that Congress has a right to review information from grand jury testimony and pointed to prior circumstances in which Congress received similar material.
Congress received grand jury material during Watergate — and kept it confidential for decades — as well as in the Starr report on President Clinton.
"To the extent that the attorney general is now undertaking a very elaborate process to redact grand jury information out of the special counsel's report, the House Judiciary Committee held grand jury material in complete confidence for 45 years and only talked about it at all after a federal judge unsealed that road map late last year," said a House Democratic aide.
The House Judiciary Committee could ask a judge to unseal the grand jury-related information, but Democrats want Barr to make a joint request with Congress.
Barr said he would be willing to appear before the Senate Judiciary Committee on May 1, an offer that Chairman Lindsey Graham (R-S.C.) accepted. Barr said he would appear before the House Judiciary Committee on May 2, but Nadler has not agreed to that date.
Barr is scheduled to appear before a House Appropriations panel on April 9 to discuss the administration's budget request. If that hearing takes place, it is hard to see how it does not become a full discussion of the Mueller report.
The House Judiciary Committee is also expected to authorize subpoenas for five individuals who received document requests from the committee last month. The panel will vote on subpoenas for former White House strategist Stephen Bannon, communications director Hope Hicks, White House counsel Donald McGahn, counsel Ann Donaldson and former White House Chief of Staff Reince Priebus.
All of them, the committee said, may have received documents from the White House relevant to Mueller's investigation.
Last month, the committee demanded documents from 81 people in Trump's orbit as part of its investigation into obstruction of justice, public corruption and abuses of power by the president and people around him.
The House Oversight Committee said it would vote Tuesday to issue a subpoena to one of the former officials involved in fulfilling White House security clearances.
Democrats on the committee say at least 25 people in the White House have obtained clearances despite the objections of career employees, citing whistle-blower testimony from Tricia Newbold, a manager in the White House Personnel Security Office.
In documents released Monday by Democratic staff on the committee, she said she raised objections with White House officials several times. "I feel that right now this is my last hope to really bring the integrity back into our office," she told the committee.
She cited wide-ranging disqualifying issues, including "foreign influence, conflicts of interest, concerning personal conduct, financial problems, drug use and criminal conduct."
"The committee has given the White House every possible opportunity to cooperate with this investigation, but you have declined," Committee Chairman Elijah E. Cummings (D-Md.) wrote in a letter to Pat Cipollone, counsel to the president. "Your actions are now preventing the committee from obtaining the information it needs to fulfill its constitutional responsibilities."
The committee warned additional subpoenas may be coming for other officials. The committee also wants to hear from Carl Kline, who served as personnel security director at the White House in the first two years of the Trump administration.
---
Get our Essential Politics newsletter
The latest news, analysis and insights from our politics teams from Sacramento to D.C.
You may occasionally receive promotional content from the Los Angeles Times.