Mueller seeks documents from Trump Organization, signaling possible scrutiny of the president's business dealings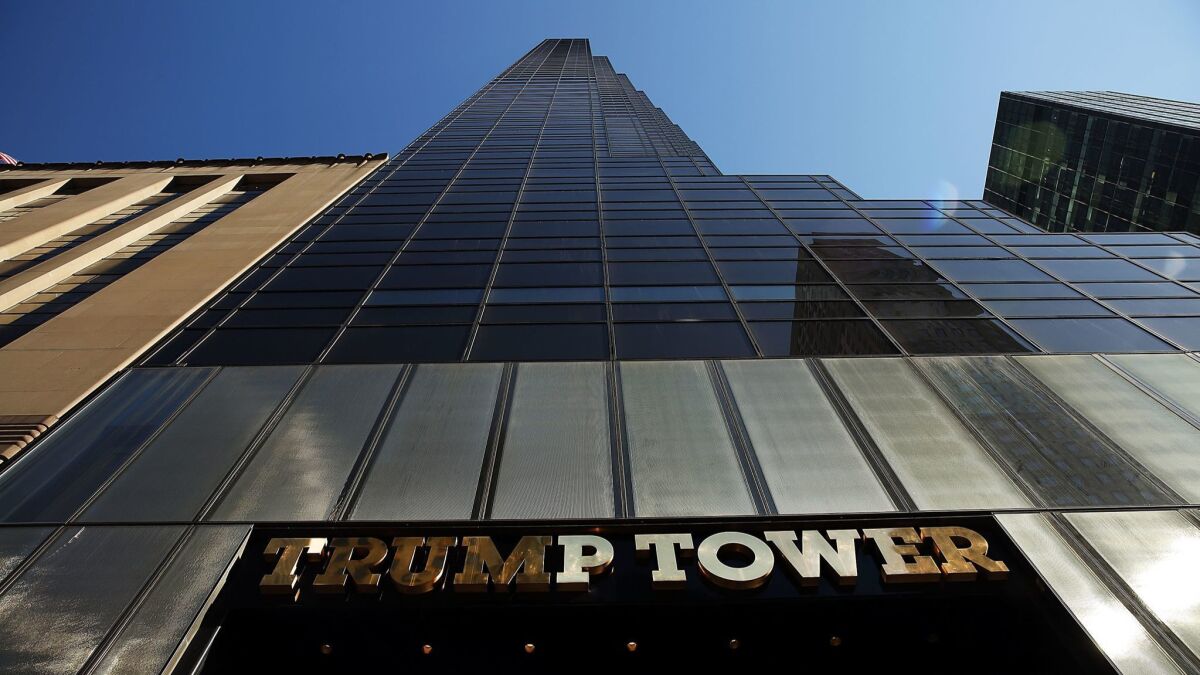 Reporting from Washington —
The Russia investigation has landed squarely in the sleek black Manhattan skyscraper where President Trump made his mark as a freewheeling real estate developer more than three decades ago.
Special counsel Robert S. Mueller III reportedly issued a subpoena to the Trump Organization in recent weeks, seeking an array of documents, including some related to Russia.
It wasn't immediately clear if the subpoena represents a broader inquiry into the president's business dealings before or during his White House bid. Trump had mounted a failed attempt to build a hotel and condominium complex in Moscow — an effort his lawyer said was abandoned in January 2016, seven months after Trump entered the presidential race — and he staged the 2013 Miss Universe pageant in Russia.
Mueller is seeking to determine if anyone from Trump's team cooperated with Russian efforts to meddle in the presidential race, and his investigators have asked witnesses about a meeting at Trump Tower in June 2016 between a Kremlin-backed lawyer and three of Trump's top aides — his eldest son Donald Jr., his son-in-law Jared Kushner, and his campaign manager, Paul Manafort.
In a statement, a Trump Organization lawyer said the company has been cooperating with Mueller's team since last summer. It did not confirm receiving a subpoena, which was first reported by the New York Times.
"Since July 2017, we have advised the public that the Trump Organization is fully cooperative with all investigations, including the special counsel, and is responding to their requests," said Alan S. Futerfas, a lawyer for Donald Trump Jr. who is also representing the company. "This is old news and our assistance and cooperation with the various investigations remains the same today."
The subpoena may represent more of a mopping-up operation than a new avenue in the investigation.
A source familiar with the process said Trump's campaign also received a subpoena from the special counsel's office after it had voluntarily turned over documents, a sign that prosecutors may be trying to ensure they didn't miss anything important in the process.
Although Trump long has been a celebrity, with his name emblazoned on high-rise condominiums and hotels around the globe, he has carefully shielded his financial dealings from outside scrutiny. He even has disputed how often his companies have filed for protection from bankruptcy — six times in all.
He refused to reveal his federal tax returns during the campaign, breaking a tradition for presidential candidates, and he told the New York Times last year that it "would be a violation" if Mueller probed his finances.
"Look, this is about Russia," he said. "My finances are extremely good. My company is an unbelievably successful company."
The new focus on Trump Tower comes at a delicate time for the White House.
The president's lawyers are in sensitive negotiations with Mueller's team, who want to question Trump in a face-to-face interview, a potentially key step in the case. Prosecutors generally leave high-profile interviews until the end of an investigation.
"There are ongoing discussions" that have become "more focused," according to a source familiar with the investigation.
The president's lawyers declined to comment. "We don't discuss conversations we've had or not had with the special counsel's office," said Jay Sekulow, one of the president's personal lawyers.
Legal experts have said it's unlikely that Trump will be able to avoid an interview with Mueller, and the president has publicly expressed an eagerness to do so. "I would love to do it," he said in January.
The White House has shed several senior officials this week and U.S. Atty. Gen. Jeff Sessions, who upset Trump by stepping aside from the Russia investigation because he had worked with the president's campaign, could be on the chopping block.
Mueller is overseen by Deputy Atty. Gen. Rod Rosenstein because Sessions stepped aside. But replacing Sessions could allow Trump to exert more influence over the investigation — assuming his nominee could pass Senate confirmation.
Republicans have generally warned Trump against firing Sessions, a former four-term senator from Alabama who still enjoys strong support from the party.
White House lawyer Ty Cobb has repeatedly assured Trump that the case could be winding down soon, lifting a cloud over the president. But the recent flurry of activity from prosecutors suggests that isn't so, said a Republican lawyer familiar with the case.
"It's pretty clear that this is not wrapping up," the lawyer said. "The president shouldn't be relying on the hope that this will end soon."
---
Life is stressful. Our weekly mental wellness newsletter can help.
You may occasionally receive promotional content from the Los Angeles Times.