Obama condemns FBI for announcing investigation so close to the presidential election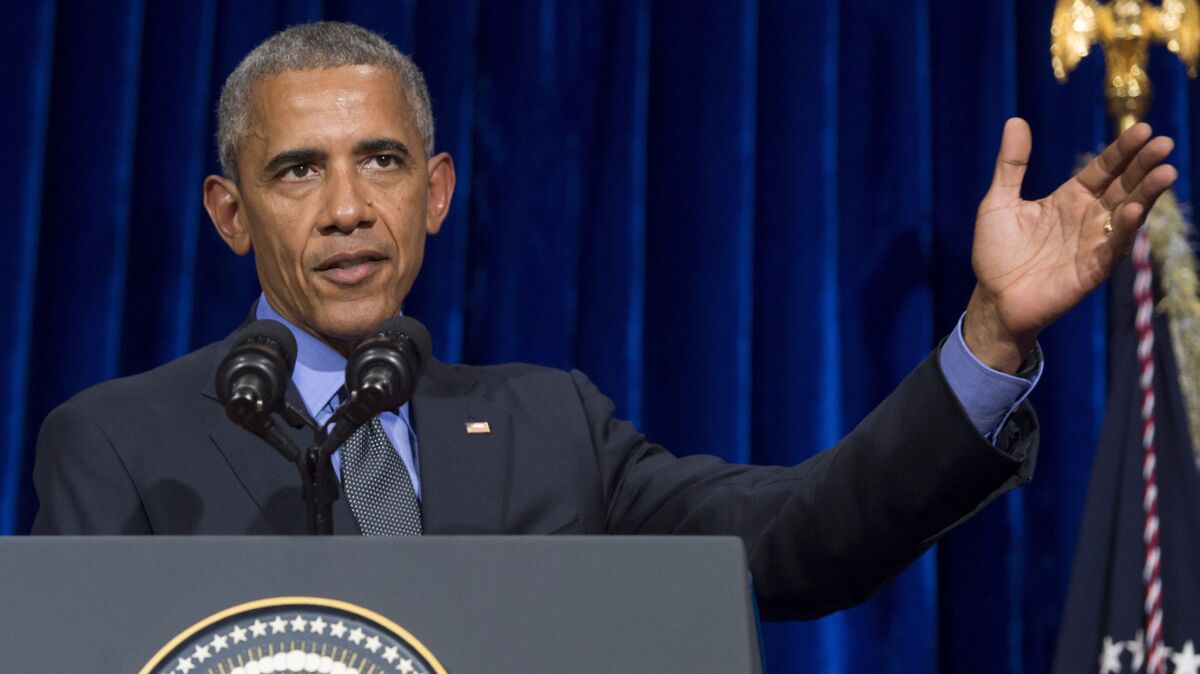 Reporting from Washington —
President Obama faulted the FBI on Wednesday over its handling of the investigation into whether newfound emails are related to Democratic presidential nominee Hillary Clinton's private server, condemning the bureau for falling short of standards.
"There is a norm that when there are investigations, we don't operate on innuendo and we don't operate on incomplete information and we don't operate on leaks," Obama told NowThis in an interview. "We operate based on concrete decisions that are made."
The remarks were Obama's first public reaction to FBI Director James B. Comey's decision last week to make the review public just days before the election.
He did not mention Comey by name and cautioned that he wasn't trying to interfere with the investigation. Nonetheless, his comments constituted an extraordinary departure for a president who has held his fire on the FBI's actions in a variety of cases, citing a longstanding precedent of presidents trying not to influence federal investigations.
Clinton's campaign, most Democrats and even some Republicans excoriated Comey for reinjecting the emails into the forefront of the presidential race. More than three months earlier, Comey said his agents had completed their investigation into whether Clinton mishandled sensitive government information and concluded that they did not have enough evidence to recommend charges.
"When this was investigated thoroughly the last time, the conclusion of the FBI, the conclusion of the Justice Department, the conclusion of repeated congressional investigations was that she had made some mistakes but that there wasn't anything there that was prosecutable," Obama said.
Others said that Comey, who notified lawmakers of the new review in a brief letter Friday, should have released more information about it once he decided to go public. Sen. Charles E. Grassley (R-Iowa), the head of the Senate Judiciary Committee, demanded that the director release more about the probe and complained that much of what was publicly known came from media reports.
Comey has agreed not to seek subpoenas or take other investigative steps in probes related to either Clinton or Donald Trump so close to the presidential election, a federal law enforcement official confirmed. That applies to an investigation involving the Clinton Foundation charitable organization and another into whether Trump's former campaign chairman, Paul Manafort, had improper business dealings with Ukraine.
Justice Department officials worried that taking public investigative steps could affect the outcome of the November elections, and Comey agreed with that determination in both cases, as first reported by the New York Times. Such actions would also have violated longstanding agency guidelines prohibiting law enforcement action or public statements about investigations within weeks of an election.
The new FBI probe comes at a critical moment not only for Clinton but also for Obama, who is focused intently on electing her to succeed him in the Oval Office.
With his legacy hanging in the balance, he has been on the campaign trail nearly every day this week on behalf of the Clinton campaign, telling voters that all of the achievements of his term in office could be wiped away if he is succeeded by Trump. He plans to travel at least three more days before the election.
And in interviews, Obama is trying to reassure voters who have concerns about the transparency of a Clinton administration. The news that the FBI may once again be looking at her use of a personal email server has given new life to concerns about whether she would comply with principles of openness and transparency if she were president.
Clinton campaign officials say they're not worried about the effect of the Comey announcement on the electorate.
"If we've seen any impact from Jim Comey's letter, it is to be a motivating factor for our supporters," senior advisor Jennifer Palmieri said Wednesday. She said the campaign has set records for fundraising in the past few days.
At the same time, Democrats argue, Comey's announcement raises concerns that may be baseless. It's only right that Obama should call it into question, said Rep. Adam Schiff (D-Burbank), ranking member of the House Permanent Select Committee on Intelligence.
"It's a subtle way for the president to say that the Department of Justice policies are sound and ought to be followed," said Schiff. "I don't think he was trying to be overtly critical of the director. … I don't feel anyone in the administration thinks this was a good call. The view of the attorney general and other top lawyers in the Department of Justice is broadly shared in the administration."
White House spokesman Eric Schultz argued that Obama's remarks did not reflect any change in White House position.
"We do take seriously the longstanding norms and customs" that have historically limited what law enforcement can say about a pending investigation, Schultz said.
Those norms are designed to limit "speculation – and yes, innuendo," he said.
Times staff writer Del Quentin Wilber in Washington and Michael A. Memoli aboard the Clinton campaign plane contributed to this report.
Follow @cparsons for news about the White House.
ALSO
Trump proposed poll-monitoring in urban areas, so black voters are fighting back with monitoring of their own
Trump is placing a long-shot bet to win a handful of states. It could overturn the electoral map
Donald Trump built a political movement. Now what?
Life is stressful. Our weekly mental wellness newsletter can help.
You may occasionally receive promotional content from the Los Angeles Times.