Obama defends Colin Kaepernick's right to protest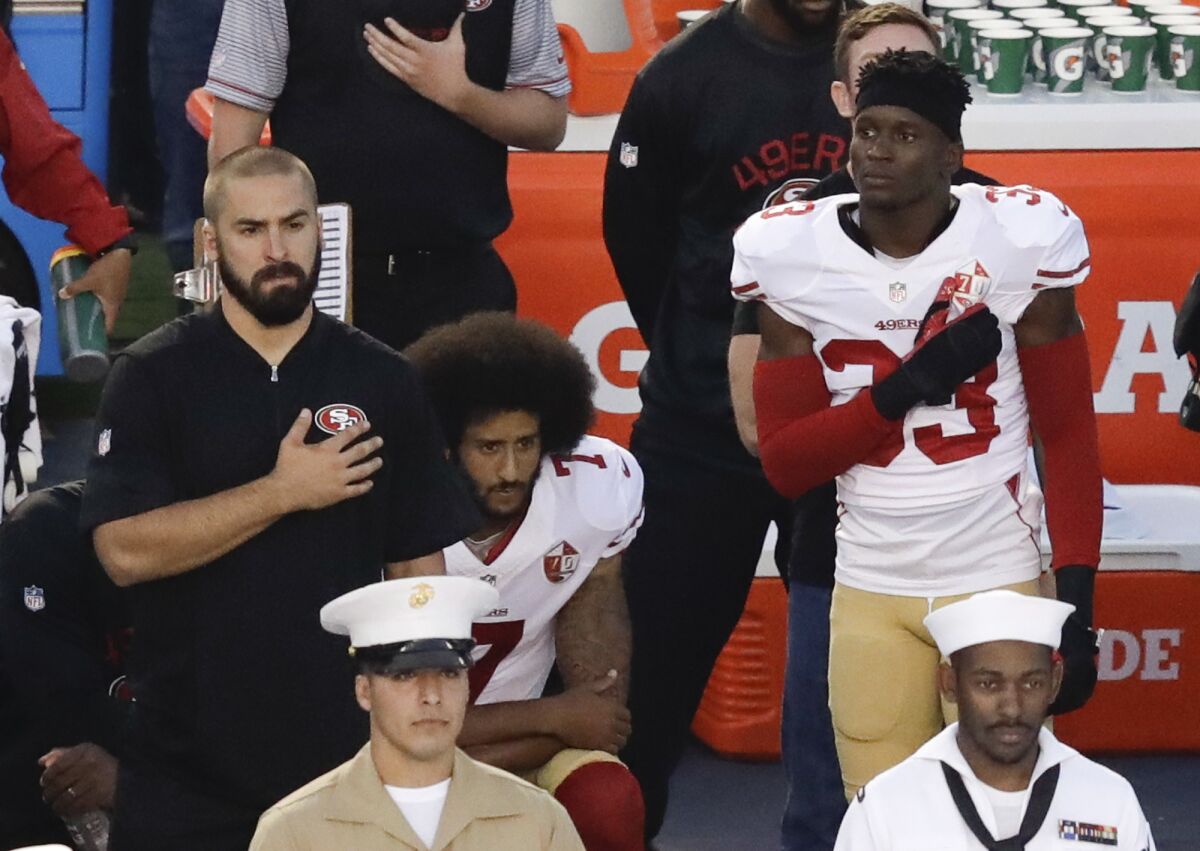 Reporting from Hangzhou, China —
President Obama on Monday acknowledged that for some people it is a "tough thing" to see Colin Kaepernick kneel instead of stand for the American flag and national anthem, but he defended the NFL quarterback, saying Kaepernick was "exercising his constitutional right to make a statement."
The flag and anthem hold so much meaning for many men and women in uniform and others who have defended the country that the style of Kaepernick's protest may make it difficult for them to "hear what his deeper concerns are," Obama said.
But, he told reporters at a news conference here, he would rather see people engaged in the argument than "just sitting on the sidelines."
Obama spoke after wrapping up an international economic summit here, part of a weeklong trip to Asia.
When he was asked about the Kaepernick controversy, Obama initially said he hadn't been paying close attention to it, but then delivered a carefully nuanced response, saying that he doesn't doubt the sincerity of the 49ers quarterback and that Kaepernick "cares about some real legitimate issues that have to be talked about."
"If nothing else, what he's done is he's generated more conversation around some topics that need to be talked about," Obama said, reflecting on the calls for more honest discussion of racial issues that he, the first black president, has often made.
Kaepernick's protest has been a lightning rod for criticism and praise for the last week. He hasn't stood for the anthem at any of the preseason games, at first choosing to sit and then, on Thursday, kneeling along with teammate Eric Reid.
Kaepernick has named police brutality and racial injustice among the reasons for his silent protest and indicated that he will keep it up during the regular season that begins Sept. 12 with a game against the Los Angeles Rams.
The reactions to Kaepernick's silent protest have been dramatic. Supportive fans have clamored for autographs and sales of his jersey have skyrocketed. Team officials say they stand behind the quarterback and his right not to participate.
But other fans have heckled and booed Kaepernick. Critics say some of his rhetoric about police actions has been extreme and inaccurate.
The police union in Santa Clara, Calif., has threatened to boycott their usual security duties at 49ers games.
Maybe over time, Obama said, Kaepernick will refine his thoughts, and some of his critics will start seeing that he has a point.
"Sometimes it's messy," he said. "It's the way democracy works."
Follow @cparsons for news about the White House.
ALSO
Police officers threaten boycott over Colin Kaepernick national anthem flap
Op-ed: Colin Kaepernick's problem: Angry responses always drown out the reason for a protest
Op-ed: Colin Kaepernick's wealth and fame don't protect him from police brutality. Here's proof
Life is stressful. Our weekly mental wellness newsletter can help.
You may occasionally receive promotional content from the Los Angeles Times.