Obama urges voters to reject Donald Trump's 'outright wacky ideas'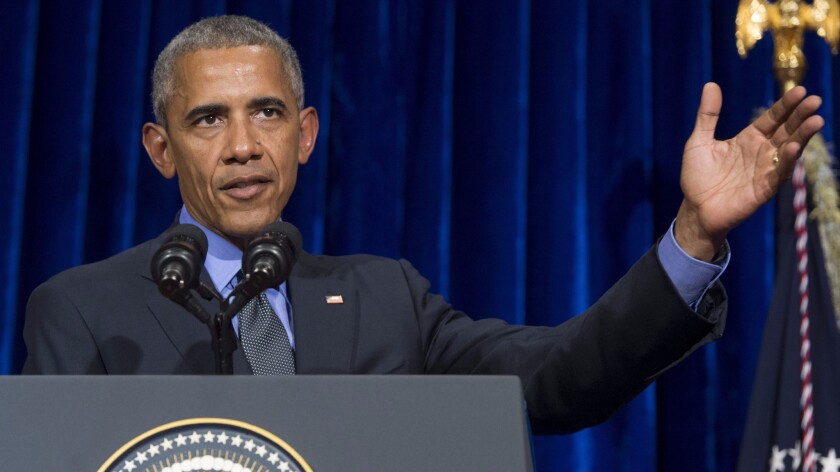 Reporting from Vientiane, Laos —
President Obama called Thursday for closer scrutiny of Republican nominee Donald Trump during the final weeks of the presidential campaign, advising voters to reject his "outright wacky ideas."
At a news conference to end his final trip to Asia while in office, Obama warned that governing is complex, particularly diplomacy, and requires a steady, knowledgeable hand, reiterating his stance that Trump is unqualified for the office.
"I can tell you from the interactions I've had over the last eight or nine days with foreign leaders that this is serious business," Obama said. "You actually have to know what you're talking about. … When you speak, it should actually reflect thought-out policy that you can implement."
Obama, who has said he'll stump hard for his former secretary of State, Hillary Clinton, in the coming weeks, urged voters to come around to his view of Trump.
"Every time he speaks, that opinion is confirmed. And I think the most important thing for the public, and the press, is to just listen to what he says and follow up, and ask questions about what appear to be either contradictory or uninformed or outright wacky ideas."
The comment was particularly pointed in the hours after Trump and Clinton appeared at a veterans town hall broadcast in prime time. Moderator Matt Lauer was excoriated on social media for allowing Trump to go unchallenged on his false claim that he had opposed the Iraq war and for asking what some perceived as softer questions than he posed to Clinton.
Obama laughed off the idea he needed to defend himself against Trump's assertion that Russian President Vladimir Putin was a stronger leader.
"Behavior that in normal times we would consider completely outrageous becomes normalized," Obama said. "People start thinking we should be grading on a curve."
He batted down criticism from Trump that he had been "humiliated" upon landing days earlier in China when the Chinese provided no stairs for Obama to descend from Air Force One. He instead walked down a set at the back of the jetliner, and the confusion led to a heated exchange among aides from both countries.
Obama said his reception in Asia has been "terrific," and, aiming to put pressure back on Trump, added that world leaders seem more concerned about the possibility that his successor will pull back from deep engagement with the continent.
"The concern that I've heard is, 'Will it continue?'" Obama said, arguing that it's in the best interest of the U.S. to do so.
"This is where the action's going to be when it comes to commerce and trade," he said.
The remarks came at the end of Obama's ninth visit to southeast Asia, where he has tried to bolster relations and present the U.S. as a counterbalance to the increasing power of China.
Obama also downplayed the significance of the public insult aimed his way by newly elected Philippine President Rodrigo Duterte, who lost out on his scheduled private meeting with Obama when he threatened to curse at him if he brought up human rights and due process concerns about his government. According to one translation, Duterte, who has a history of crude remarks and is sometimes referred to as the Philippines' Trump, called Obama a son of a whore.
"I don't take these comments personally, because it seems as if this is a phrase he has used repeatedly, including directed at the pope," Obama said, speculating that it is "just a habit, a way of speaking for him."
Obama said his team would meet with Duterte's to determine how they can "move forward" in their relationship.
Follow @cparsons for news about the White House.
Voters are finding it harder to commit than usual, posing a challenge for Clinton and Trump
Clinton pressed on emails and Trump defends praising Putin as they compete for military support
Trump says he would restore hundreds of billions in military cuts, but it's unclear how he'd pay for it
---
Get our Essential Politics newsletter
The latest news, analysis and insights from our politics team in D.C.
You may occasionally receive promotional content from the Los Angeles Times.