Donald Trump's call for poll watchers brings back fears of 1988 Santa Ana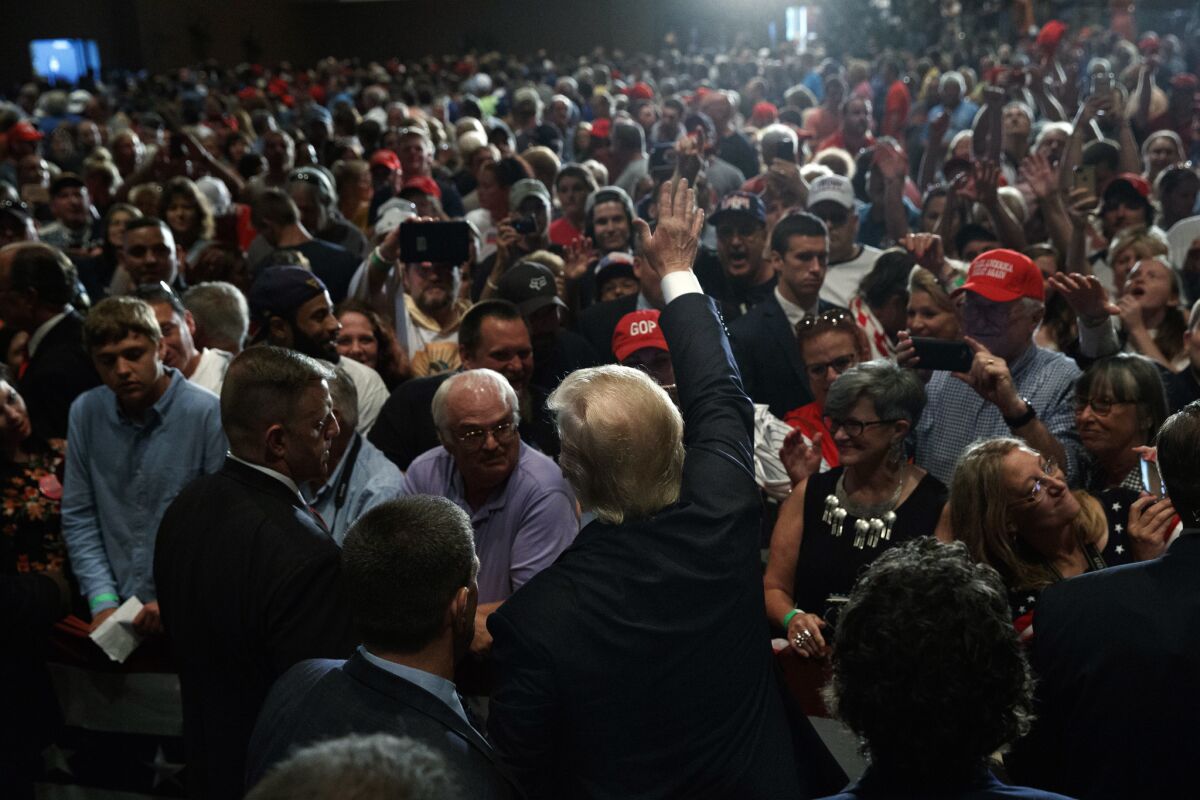 The phone calls to Donald Tanney's office began shortly after polls opened on that election day nearly three decades ago.
Tanney, then Orange County's registrar of voters, was told that when residents — mostly Latino — arrived at 20 Santa Ana polling locations on Nov. 8, 1988, they were greeted by uniformed guards holding signs with a message in Spanish and English: "Non-Citizens Can't Vote."
The guards, dressed in navy blue attire, had been hired by the campaign of Curt Pringle, a Republican state Assembly candidate from Garden Grove, and the Orange County Republican Party. Their mission? Monitor the polling places to ensure no fraudulent ballots were cast, insisted Pringle and officials from the county GOP.
"It was bad," Tanney recalled. "People were really upset."
The incident became a blemish for California Republicans, producing allegations of voter intimidation and racism. A lawsuit was filed and a settlement reached.
"I remember thinking, 'Really?' This is something you could have easily imagined in other parts of the country," said Raphael Sonenshein, executive director of the Pat Brown Institute for Public Affairs at Cal State L.A., who back then was teaching political science in Orange County. "This was a clear attempt to intimidate Latinos."
Now, nearly three decades later, as Republican presidential nominee Donald Trump calls for his supporters to volunteer as election observers, concerns of voter intimidation have come to the forefront. At a rally in Pennsylvania last week, Trump used strong racial overtones to allege to his mostly white audience that "certain areas" of the state — such as Philadelphia, where almost half the residents are black — will commit voter fraud to support Democratic presidential nominee Hillary Clinton.
Election 2016 | Live coverage on Trail Guide | Sign up for the newsletter »
Officials with the American Civil Liberties Union of Pennsylvania have said they will be on watch Nov. 8 to ensure every eligible voter is able to cast a ballot. Trump's campaign says it's simply advocating for an open and honest election.
The incident at the Santa Ana polls came six years after the Republican National Committee began operating under a consent decree, which was handed down by the Supreme Court and prevents the party from engaging in some voter-fraud prevention efforts without court approval. Yet that does not apply to campaigns, which routinely dispatch volunteers to observe activity at polling places.
But what happened in Santa Ana was far from routine. At a news conference after the incident, Jose Diaz Vargas, a 53-year-old Santa Ana police officer, said he was on his way to vote when he heard that uniformed guards were patrolling the polling areas. He went home but later changed his mind in anger and went back to vote.
"I was very upset," he said back then. "This kind of conduct, I did not expect this to happen in the United States. Maybe in some other countries, but not in the United States. . . . I went back to the voting place, but how many other people didn't go back?"
Pringle bested his Democratic challenger, Rick Thierbach, and went on to become Assembly speaker during his time in Sacramento. He did not respond to interview requests. Thierbach said he sees similarities between then and now.
"Trump is afraid he's going to lose," Thierbach, a retired Superior Court judge, said as he reminisced about the race he lost by fewer than 900 votes. "What form those poll observers take will be interesting to see."
Some Republicans in the state said the uniformed guards of 1988 came at a time when Californians began to see a demographic shift.
Mike Madrid, a Republican political consultant and expert on Latino voting trends, said the incident was an "encapsulation of an action that was taken that demonstrated how some people in the party viewed a changing electorate."
"Demographic change is never easy for any constituency or any group — it never has been," Madrid said. "When it manifests politically, it becomes extremely charged and very explosive."
Madrid said the growth of the Latino electorate in California in the late 1980s and early 1990s is what some swing states, like North Carolina and Virginia, are experiencing now.
The stationing of guards in 1988 came six years before Proposition 187, a ballot measure that sought to deny taxpayer-funded services to those in the country illegally — another sign of unease with a changing electorate. Later it was nullified by the courts, but the message from the GOP — the measure was championed by Republican Gov. Pete Wilson — had been sent.
Prior to Prop. 187, Republicans received one-third or more of the Latino vote in California, according to a study by Latino Decisions, a polling firm. The vote peaked in 1984, with 45% of California Latinos backing Ronald Reagan and dropped to 22% supporting Mitt Romney in 2012.
Trump's rhetoric this election cycle — he's called Mexican immigrants "rapists" and drug runners — is not likely to help increase those numbers, say political analysts. Polls in swing states consistently show Clinton outpacing Trump among Latino voters.
Fallout from the Santa Ana incident persisted for years. A new state law made it a felony to interfere with voters. In 1992 a civil suit against Pringle and the Orange County GOP ended with five Latino plaintiffs receiving about $500,000. That same year the U.S. Department of Justice stationed representatives at Orange County polling places to monitor voting operations.
"It's been awhile," recalled Tanney, "but it was certainly the most memorable moment of my time working on elections in Orange County."
Now retired, Tanney, a life-long Democrat, was asked if Trump's calls for election observers in certain states could reignite what occurred at those 20 polling locations in Santa Ana 28 years ago.
He sighed and offered no comment.
Twitter: @kurtisalee
ALSO
Donald Trump's embattled campaign chairman Paul Manafort resigns
New poll analysis finds a wasted summer for Donald Trump and a boost for Hillary Clinton
Hillary Clinton won praise as America's top diplomat, but time has tarnished her record
---
Life is stressful. Our weekly mental wellness newsletter can help.
You may occasionally receive promotional content from the Los Angeles Times.