Vice President Mike Pence stays loyal to Trump, but it could come at a cost
Reporting from Bedford, Ohio —
The Republicans' signature healthcare bill was in peril in Congress and President Trump was busy warring against media foes on Twitter.
Vice President Mike Pence, wearing a brown suit and his usual earnest expression, was far from the fray last week, here at a warehouse outside Cleveland amid metal rods and wooden crates for a "listening session" with small-business owners. Sitting at a drafting table, he ignored the camera lights as well as the trouble in Washington, dutifully hearing out complaints about healthcare, taking notes on a legal pad and promising the Ohioans that the Trump-Pence administration was close to replacing Obamacare.
This is how Mike Pence copes with the drama that defines life as Donald Trump's sidekick: acting as though everything is normal, boringly normal.
It requires a measure of willful disbelief, some salesmanship and a heap of praise for the president. But that coping strategy does not mask the fundamental challenge of Pence's role since he became Trump's running mate nearly a year ago: balancing his own reputation and political ambition against his loyalty to a man seemingly determined to scorch nearly every norm in Washington and now enmeshed in a special counsel investigation in large part because of his own erratic behavior.
Pence publicly ignores all that. Moving from the roundtable to a podium facing hundreds of factory workers and supporters at the warehouse, he said to cheers, "If you like what you've seen so far in the last five months, just buckle up!"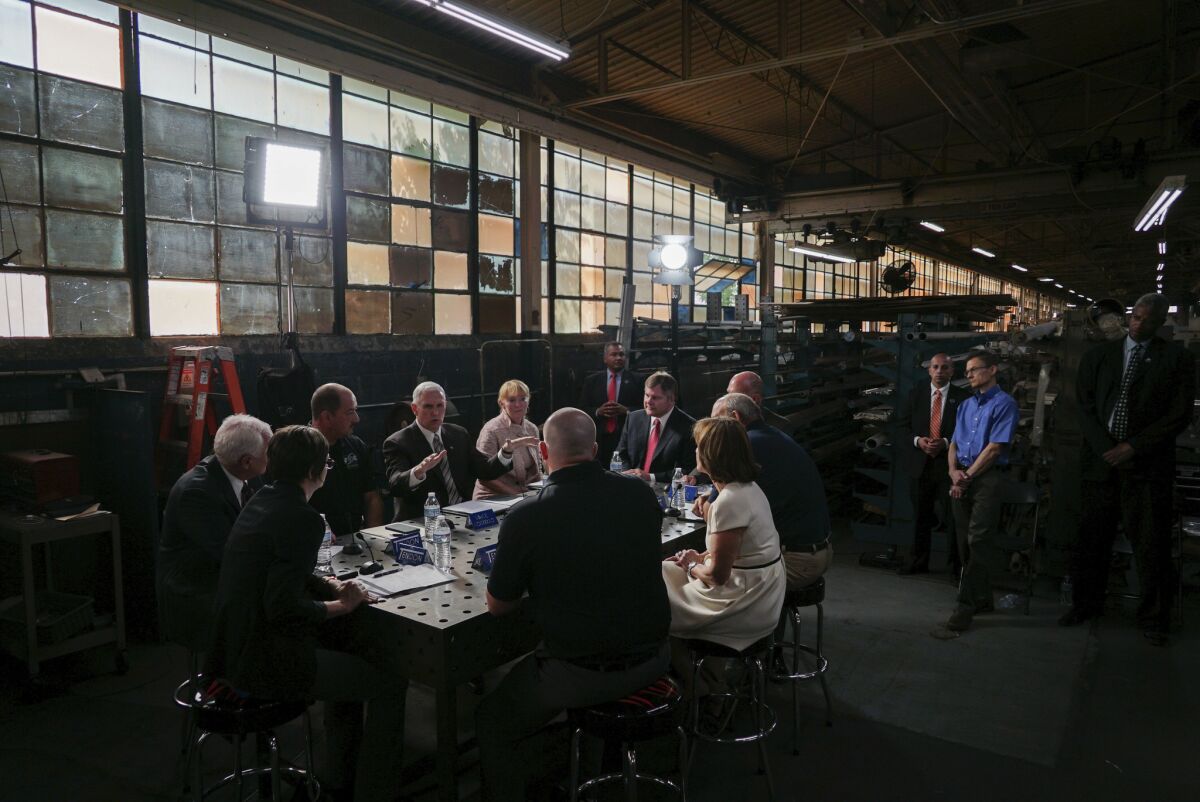 The vice president has made his choice, hitching his career to Trump's unpredictable presidency, but lately he also has made a few notable moves toward protecting himself, hiring a personal attorney and establishing an independent political committee.
"It's kind of perilous — skiing through moguls," said Brian Howey, an Indiana political blogger who has chronicled Pence's career from U.S. House member to Indiana governor to vice president. "How many times can you do that before you're ensnarled in the web of deception?"
Friends say there is nothing to game out in Pence's allegiance to Trump. Pence believes in the president, they say, and agrees with supporters who believe the White House is under unfairly harsh scrutiny.
"What would happen if suddenly we found Trump is setting fire to the Humane Society?" said Greg Garrison, a conservative former radio host in Indiana who has long known Pence, choosing an absurd example to make the point that Trump's recklessness has been exaggerated. "Does that mean Mike is going to go along? No, he's not. But I think Mike is where he is because he understands this president and where we are right now."
I think Mike is where he is because he understands this president and where we are right now.
— Greg Garrison, conservative former radio host
Yet just five months in, some observers say Pence's chosen course as the captain of Trump's cheering section has diminished his own gravitas and dashed the hopes of mainstream Republicans who thought Pence could serve as a check on the impulsive Trump.
"Recent vice presidents have been supportive of the president without surrendering a sense of personal dignity, without saying stuff that just doesn't pass the straight-face test," said Joel K. Goldstein, a St. Louis University law professor who has written about the modern vice presidency and its enhanced power.
For a parallel, Goldstein reached not to a vice president but to a well-known aide to President Lyndon B. Johnson, Jack Valenti, who was mocked for his over-the-top praise of his boss. Valenti, Goldstein said, is the only public figure in the modern era that came close to Pence's level of presidential puffery.
What is more, Goldstein added, any notion that Pence's power would be enhanced by his governing experience relative to the inexperienced Trump has been undermined by the sense that Pence lacks the standing to "go in with Trump and level with him on things."
Though Pence is often in the room with Trump and speaks with him nearly every day, he does not always command the president's attention. That dynamic was evident during the first Cabinet meeting last month. Trump swiveled his head around the room and asked, "Where is our vice president?"
Pence sat right in front of him.
When the president finally spied his top deputy, Pence knew just what to say.
"The greatest privilege of my life is to serve as the — as vice president to the president who's keeping his word to the American people and assembling a team that's bringing real change, real prosperity, real strength back to our nation," Pence said.
Taking their cue from Pence, the Cabinet secretaries then took turns extolling the president in ways that were widely derided as obsequious.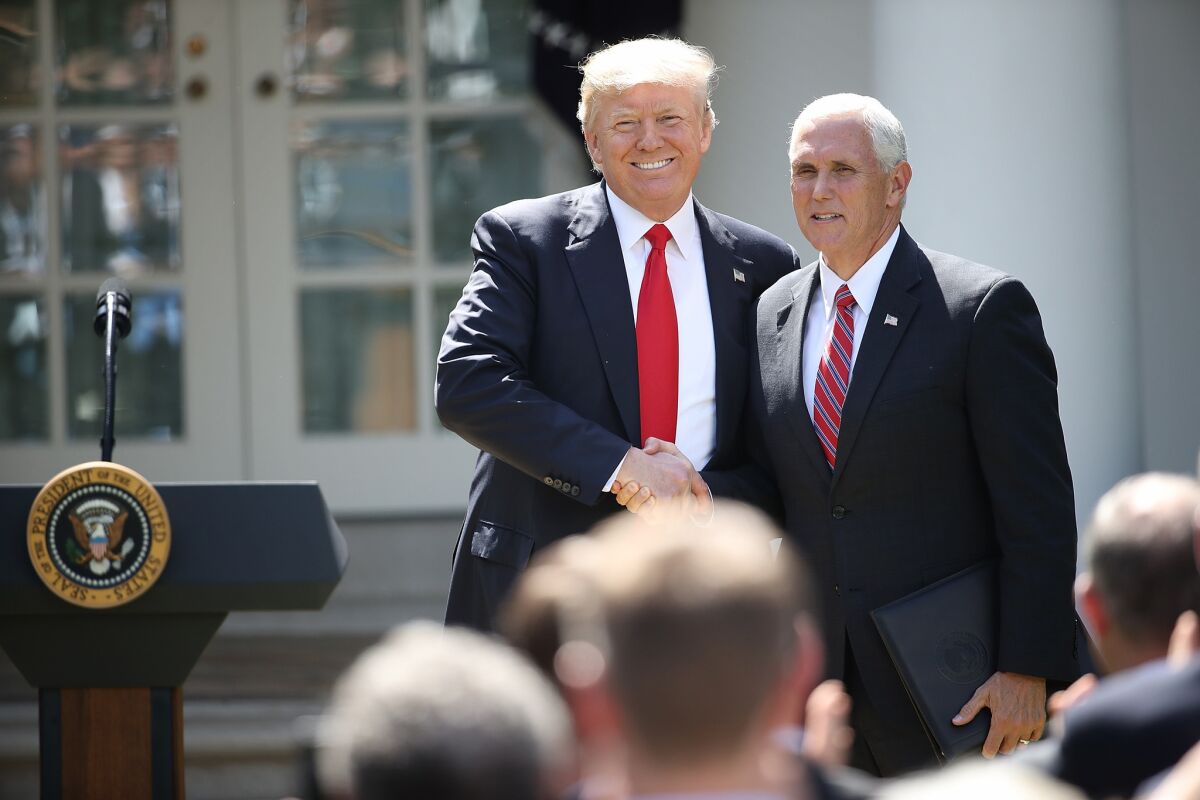 But for Pence, such flattery has come to define his persona. Variations on the line that serving Trump is "the greatest privilege of my life" are part of his stump speech, used among audiences as varied as Cuban Americans in Miami, evangelicals in Washington, troops in Honolulu, Japan and South Korea, and, last week, the factory workers in Ohio.
The younger Pence, with his square features, silver hair and wholesome rhetorical style, suggests a measured 1950s television dad and as such stands in contrast to a president who developed his celebrity in the 21st century world of social media and reality television. His political discipline also contrasts with Trump's extemporaneous politics.
As governor of Indiana, Pence was seen as a potential presidential candidate by many Republicans, at least until his popularity waned significantly. Certainly he was seen before the 2016 campaign as a more serious possibility than Trump. Pence is, in many ways, the type of establishment-blessed figure Trump ran against when he pledged to wrest power from career politicians.
But Pence came to see himself as Trump did, less as a contrast to the maverick mogul than as a complement.
"You don't win six congressional elections and a gubernatorial election and a national ticket without having a sense of politics and self-preservation," said Rep. Tom Cole, an Oklahoma Republican who served with Pence in the House leadership.
For Pence, the key to melding Trump's interests with his own, Cole said, is making clear that he's only as valuable to the president as his reputation. "It doesn't help him if he loses his credibility," Cole said.
Pence has skirted that danger since his first month in office.
Though he led Trump's presidential transition, Pence has said he did not know about meetings between Russian officials and Michael Flynn, Trump's national security advisor during the campaign and initially in the White House, that are now central to the investigation into possible collusion to influence the 2016 election. So in January, on Flynn's assurance, he falsely said on television that Flynn had not discussed with Russian Ambassador Sergey Kislyak the sanctions that President Obama imposed in December as penalty for Russia's campaign meddling.
Flynn's lying to the vice president was the reason given for his forced resignation, yet Trump and several advisors had been aware of Flynn's deception for days.
Pence also said he did not know Flynn was secretly lobbying for Turkey until March, though Flynn, according to the New York Times, informed the transition team in early January that he was under investigation for failing to report the work he did as a foreign agent during the campaign.
And after Trump fired FBI Director James B. Comey, Pence insisted that the bureau's Russia investigation had nothing to do with it, only to have Trump contradict him a day later in a nationally televised interview.
The incidents underscore Pence's problem: His allies maintain he is a core inside player, yet at significant moments, they have insisted he was out of the loop. The friends dismiss such embarrassments, however, as the natural consequence of Trump being Trump, and Pence's place as first in line whether the White House is on offense or defense.
"He understands he has a job and his job is to be a loyal soldier, and he's a very effective communicator," said Pete Seat, an official with the Indiana Republican Party. "So sometimes the job of being first one out of the gate falls on him."
He understands he has a job and his job is to be a loyal soldier, and he's a very effective communicator.
— Pete Seat, Indiana Republican Party official
David McIntosh, the Indiana Republican whom Pence replaced in Congress, said "there were two truths" in the Comey firing. There was the one Pence told — that Justice Department leaders recommended Comey be fired — and the one that Trump later told, that he would have fired Comey regardless of that recommendation.
"One thing I think Mike would not do is make the first statement if he thought it was not true," said McIntosh, disregarding Pence's insistence that Comey's firing had nothing to do with the Russia investigation when Trump later said it did.
Pence, who turned 58 last month, came to prominence in Indiana as a talk radio host in the 1990s, building a brand as a conservative Christian who chose to make his points without turning up the volume.
Elected to Congress on his third try, Pence initially was a conservative renegade. But he proved to be in the vanguard of what became the tea party movement. Sen. Jeff Flake, an Arizona Republican whose office was next to Pence's when the Indianan was in Congress, remembers the two of them bursting through the House doors together on late nights — like Butch Cassidy and the Sundance Kid into a saloon — to halt spending measures, and offering slow claps for President George W. Bush's spending plans during a State of the Union address.
Flake said Pence's ability to stay relentlessly on message endeared him to other conservatives, propelling him into the House leadership ranks.
Next, as Indiana's governor for four years, he built on his conservative credentials while showing a willingness to bend on a few issues, including allowing expansion of Medicaid as part of Obamacare. He suffered his biggest setback on a religious liberty bill that allowed store owners to refuse services for gay weddings; Pence retreated under pressure from groups concerned the law would hurt Indiana's reputation and its ability to recruit workers and businesses from out of state.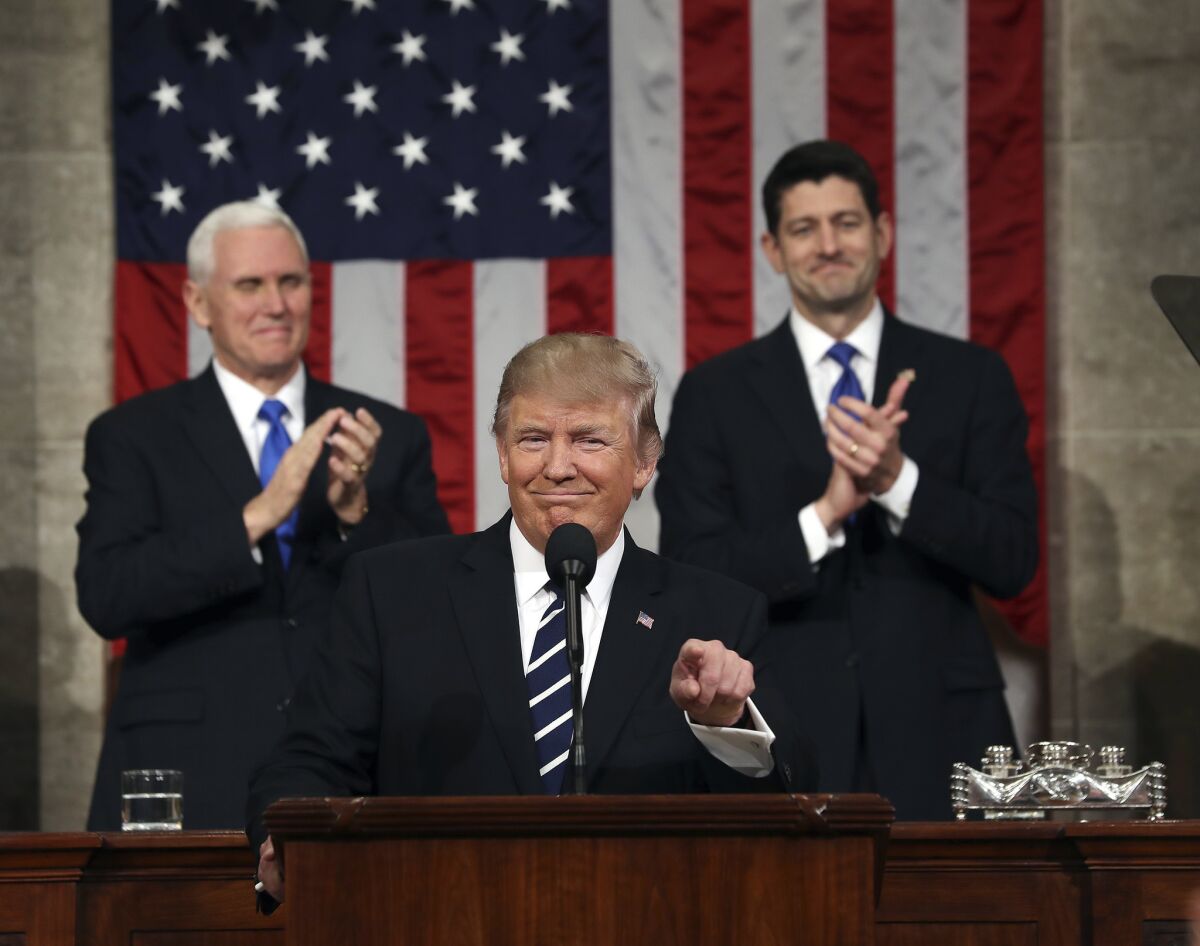 Pence's allies say he has maintained important credibility in Congress, both because he served there and because of his alliance with House Speaker Paul D. Ryan. He was influential as Trump made his Cabinet choices and enlisted Judge Neil M. Gorsuch for the Supreme Court, a selection that united Republicans more than any decision Trump has made in the White House. But his role as a conduit to Congress is being tested by Republicans' divisions over the healthcare bill, which Pence has repeatedly promised would get out of Congress by the end of summer.
Pence, through his press office, declined an interview request, citing his desire to avoid discussing his role or influence. He has been careful to avoid taking credit, an important trait to a president who wants it for himself and is angered by those who flaunt their influence. If the vice president has had any disagreements with Trump, they have not been leaked, a rarity in the White House.
Pence associates say he is most comfortable in the policy realm, letting Trump pick his tasks and define his role. That has included trips to Asia and Europe and another planned for Latin America in August. By sticking to script and avoiding free-form interactions with the news media, Pence has avoided getting dragged further into controversies over the Russia investigation and Trump's tweets.
As Comey testified in Congress last month that the president lied and tried to halt the investigations of Flynn and Russia, Pence once again found a spot for himself away from the tumult.
Before an ornate room full of governors and state officials near the White House, Pence focused on the administration's theme of the week: roads, bridges and airports. He spoke about the "builder in the White House," even as Trump himself had overshadowed that message with tweets assailing the mayor of London, the media and his Justice Department.
"Folks," Pence said, "it's already been a banner week for infrastructure."
Twitter: @noahbierman
ALSO
New outcry as Trump tweets mock video showing him beating up CNN stand-in
Thousands march in L.A. for impeachment of President Trump; his supporters hold their own rally
'The closer we get, the more complex it gets.' White House struggles on strategy as Islamic State nears defeat in Iraq and Syria
Get our Essential Politics newsletter
The latest news, analysis and insights from our politics team.
You may occasionally receive promotional content from the Los Angeles Times.