Democrats ready to move beyond Clinton, but have no strong favorite in presidential race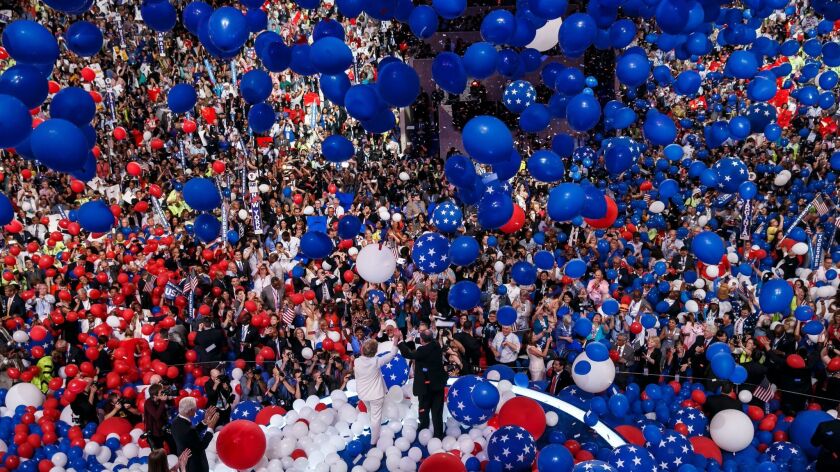 Two years after presidential primaries laid bare divisions in the Democratic Party, its voters remain in a muddle over whom they favor in the 2020 election, torn between a trio of veterans but unattached at this point to any of a fresh generation of potential candidates, a new USC Dornsife/Los Angeles Times poll has found.
Hillary Clinton, the 2016 nominee who has said repeatedly that she will not run for president again, ranked third among those planning to cast ballots in the Democratic primary with 19%, suggesting little in the way of a groundswell for a third campaign. She trailed former Vice President Joe Biden, at 28%, and was virtually tied with her 2016 challenger, independent Sen. Bernie Sanders of Vermont, at 22%.
Sen. Elizabeth Warren of Massachusetts was favored by 11%, and a host of additional candidates were all in single digits.
"Democrats have moved on from Clinton," said Robert Shrum, director of the Jesse M. Unruh Institute of Politics at USC, which co-sponsored the poll. He attributed much of Biden's and Sanders' strength to being well known.
"Those numbers actually indicate an appetite for something new," he said.
On the GOP side, meanwhile, President Trump's troubled tenure has cut into what would ordinarily be nearly unanimous support among those planning to cast Republican primary ballots.
While 75% of Republicans said they planned to vote to renominate the president, the remaining quarter of the vote said they favored someone else, a high level of dissent for an incumbent within his own party. The figure was particularly striking as it comes at the end of Trump's first year in office, when a typical president would still be in honeymoon mode.
"These are like Carter reelect numbers," said Republican strategist Mike Murphy, a consultant to the poll and a longtime critic of Trump, referring to the 1980 election which Jimmy Carter lost. "He's got a real hole in his numbers."
On both sides the results reflected party schisms. Democrats have moved to the left since the 2016 primaries, but some in the party worry that that will complicate efforts to pick up — or protect — seats in more conservative areas.
Republicans, meanwhile, are struggling to maintain their hold on voters who have led them to control of the House and Senate, even as the party is taken over by Trumpian forces bent on reversing long-held GOP positions on foreign policy, trade and immigration.
Democrats are riding anger at Trump into substantial gains going into the 2018 elections and benefiting from unity against the unpopular president. But there is little unity when it comes to who should win the presidential primaries that will begin in two years.
Biden, who is 75, considered running in 2016 but passed after the death of his son, Beau. Now on a book tour, he has left open the question of whether he will seek the presidency in 2020 for what would be the third time. (He ran in 1988 and 2008.)
He currently has a lead among most key groups, the poll found. He was ahead among white Americans and those living in the Northeast and Midwest. He also led among self-identified Democrats and had a nominal lead, within the poll's margin of error, among independents.
While his lead is broad, it is not large and certainly far from establishing him as a prohibitive favorite.
Sanders, who is 76, was ahead among young Americans, carrying 34% of those under 35. Those voters represented his strongest asset in his surprisingly strong showing in 2016.
Clinton, who is 70, also held on to her strongest supporters, favored by 36% of African Americans and a plurality of those with annual incomes below $25,000. As she did in 2016, Clinton scored better among women — with 22% support — than men —15%. While she came in second to Biden among women, she was behind both Biden and Sanders among men.
Those three well-known politicians as a group carried nearly seven in 10 voters, with the remainder scattered among other candidates. Sen. Kamala Harris of California was selected by 5% of voters, less than half of Warren's 11%. Rep. Joseph Kennedy of Massachusetts was favored by 4%, and Sen. Cory Booker of New Jersey was named by 3%.
The results were a reminder that even in a period of heightened public interest in politics, it remains a steep task to become well known as a candidate for the highest office in the land.
"There is a market for a new candidate — who has yet to be announced or picked," Democratic strategist Douglas Herman, a poll consultant, said of the field arrayed below Biden, Sanders and Clinton. "There's just no knowledge of who these folks are among voters at large."
Trump, of course, is well known by almost everyone — and that is part of the problem. While he is the titular head of the Republican Party, his handling of the presidency has markedly cut into the support any incumbent president would want to achieve heading into a reelection campaign.
Trump retains higher levels of support among the groups who were most loyal to him in 2016: 86% of those with high school educations said they planned to vote for Trump, as did 80% of both white evangelicals and those age 65 and older. Rural voters, who were largely responsible for unexpectedly strong Trump showings in several states in the industrial Midwest, also remained loyal, with 82% saying they would vote for Trump.
He has lost ground, however, among other groups important to his victory.
Only 57% of those with college degrees backed Trump in the USC/Times poll, a strikingly low percentage and a reflection of sagging support in suburban areas that punished Republican candidates in 2017 races. Among independents who planned to vote in the Republican primary, 65% backed Trump — again a sign of difficulty for Trump's reelection effort.
"Trump's style of divisiveness has backed him into a corner," Murphy said.
The poll was sponsored by the Los Angeles Times and the USC Dornsife College of Letters, Arts and Sciences, the Jesse M. Unruh Institute of Politics and the Center for Economic and Social Research. Between Dec. 15, 2017, and Jan. 16, 2018, the online survey sampled 3,862 adults, including 1,576 who said they would vote in the Democratic primary and 1,530 who planned to vote in the Republican primary. The margin of sampling error is 2 points in either direction for the full sample and 3 points among primary voters.
For more on politics from Cathleen Decker »
Twitter: @cathleendecker
Updates on California politics
---
Get our Essential Politics newsletter
The latest news, analysis and insights from our politics teams from Sacramento to D.C.
You may occasionally receive promotional content from the Los Angeles Times.