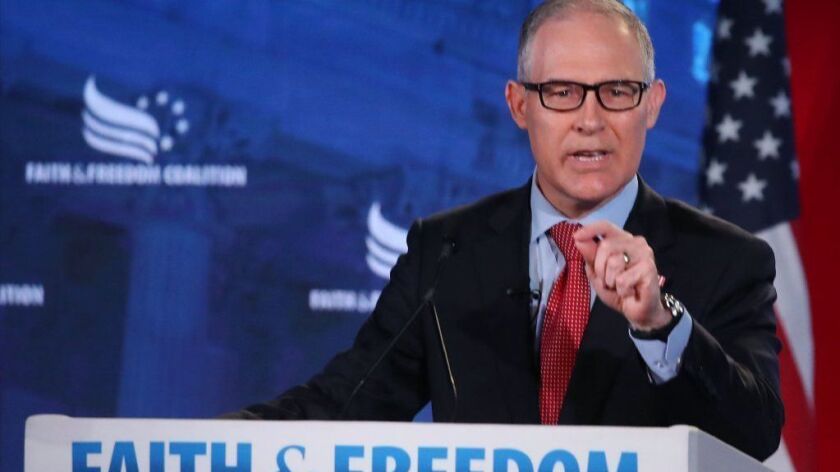 Reporting from Washington —
Even Scott Pruitt's most loyal friends are starting to give up the fight.
The perpetual ethics problems of the Environmental Protection Agency chief have moved some conservatives who were firmly in his camp to reconsider. On Wednesday, his longtime mentor and fellow Oklahoma Republican, Sen. James Inhofe, said he has had enough. He suggested it may be time for Pruitt go.
In an interview with conservative talk radio host Laura Ingraham, who expressed exasperation with Pruitt's incessant ethics scandals — which range from building himself a $43,000 private telephone booth to using his position to land his wife a job with Chick-fil-A — Inhofe said it all needs to stop.
"Every day, something new comes up," he said. "I have taken the position that if that doesn't stop, I am going to … be in a position where I am going to be forced to say 'Scott you are not doing your job.' … I am sending over a communication today that says we have had enough of these things."
Ingraham pressed Inhofe further, saying Pruitt is hurting President Trump "because he has, I am sorry, bad judgment after bad judgment after bad judgment. It just doesn't look good. If you want to drain the swamp, you've got to have people in it who forgo personal benefits and don't send your aides around doing errands on the taxpayer dime. Otherwise you make everybody else look bad.
"It hurts me to say this," Inhofe said, "but I agree 100% with you. I have seen these things. They upset me as much as they upset you, and I think something needs to happen to change that. One of those alternatives would be for him to leave that job."
Inhofe pointed out that even if Pruitt were to depart, his legacy of rolling back environmental protections, climate change denial and boosting the coal industry would endure, as he would be replaced by his deputy, Andrew Wheeler, a former coal lobbyist.
"That might be a good swap," Inhofe said.
On Thursday morning, Inhofe's office emailed a statement to The Times: "Sen. Inhofe is not calling for Administrator Pruitt's resignation," wrote spokeswoman Leacy Burke. "Rather, his comments on Laura Ingraham's show were very much in line with what he's consistently said – that he has concerns about the recent reports and wants to hear about them directly from the Administrator."
More stories from Evan Halper »
Follow me: @evanhalper
---
UPDATES:
6:55 a.m.: This article was updated with a comment from Sen. Ihofe's office.
This article was originally published at 2:10 p.m. June 13.
---