Trump advisor Roger Stone is indicted in Mueller's Russia investigation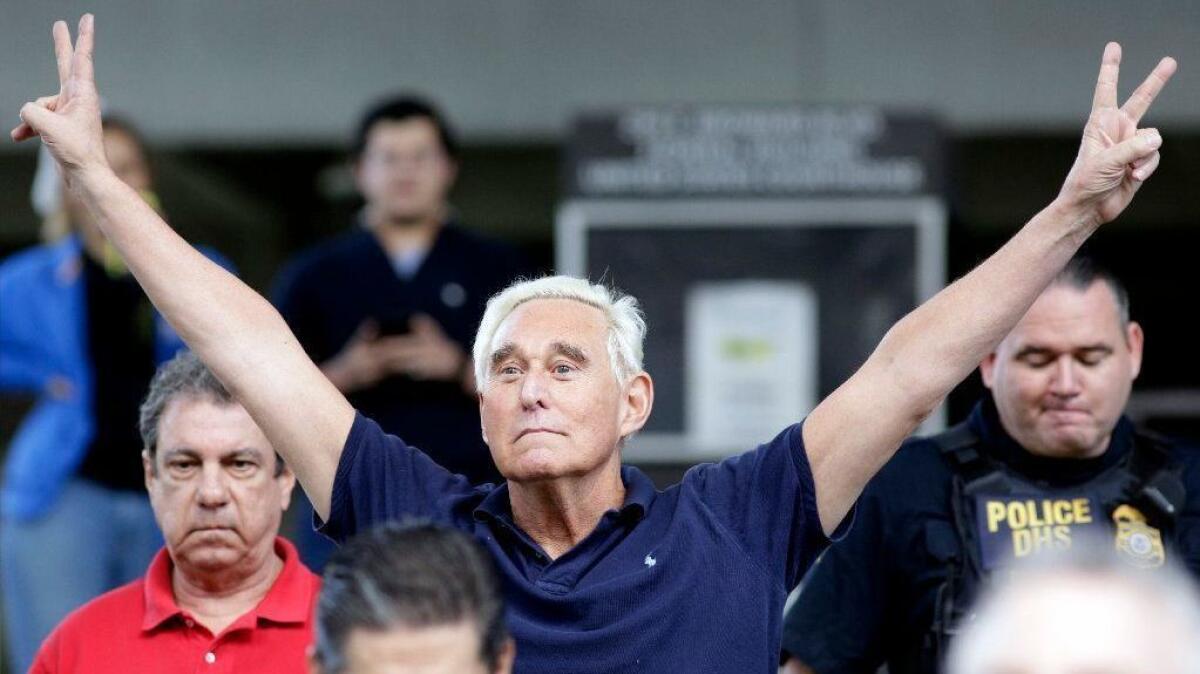 Reporting from Washington —
Roger Stone, a longtime Republican operative who helped launch President Trump's political career and later served as an informal political advisor, was arrested before dawn Friday on a federal indictment that outlined efforts by Trump's 2016 campaign to seek Democratic Party emails hacked by Russia.
Stone said he would plead not guilty to seven felony charges and was released on a $250,000 bond. He emerged from the courthouse smiling, his arms outstretched in a V-for-victory pose made famous by his political idol, President Nixon, who resigned from office during the Watergate scandal.
Stone had numerous conversations with high-level Trump campaign officials about WikiLeaks' plans to release the stolen emails after obtaining them from Russian military intelligence officers, according to the indictment obtained by special counsel Robert S. Mueller III.
The emails were hacked as part of what U.S. intelligence has described as a Kremlin-backed effort to undermine U.S. democracy and boost Trump's candidacy. Trump routinely cited the emails on the campaign trail as he railed against his opponent Hillary Clinton.
After WikiLeaks posted thousands of stolen emails shortly before the Democratic National Convention in July 2016, "a senior Trump campaign official was directed to contact Stone" about what else WikiLeaks might have, according to the indictment. The document does not say who gave the order to contact Stone.
Stone allegedly updated people connected to Trump throughout the campaign, at one point telling a supporter that "the payload is still coming." He also fielded an inquiry from Stephen Bannon, the Trump campaign's chief executive, who was identified in the indictment as a "high-ranking" member of the team.
Days later, WikiLeaks began releasing emails hacked from the account of John Podesta, Clinton's campaign chairman.
Other suspects in the Russia investigation were allowed to surrender to law enforcement officials after an indictment. But heavily armed federal agents arrested Stone at his home in Fort Lauderdale, Fla., early Friday and he was brought to court in handcuffs.
He was charged with one count of obstruction of an official proceeding, five counts of false statements and one count of witness tampering. The charges stem from his testimony to the House Intelligence Committee, which conducted its own investigation of Russian political interference.
"I will plead not guilty to these charges," Stone said at a raucous news conference outside the courthouse as supporters and hecklers shouted in the background. "I will defeat them in court. I believe this is a politically motivated investigation."
He also pledged not to incriminate Trump, whom he's known for four decades.
"There is no circumstance, whatsoever, under which I will bear false witness against the president," Stone said.
Trump reacted angrily on Twitter, calling the Mueller investigation the "Greatest Witch Hunt in the History of our Country!"
He also criticized how the FBI had arrested Stone at his home, tweeting "Border Coyotes, Drug Dealers and Human Traffickers are treated better."
Jay Sekulow, a lawyer for Trump, downplayed the significance of Stone's arrest.
"The indictment today does not allege Russian collusion by Roger Stone or anyone else," he said. "Rather, the indictment focuses on alleged false statements Mr. Stone made to Congress."
Sekulow did not respond to a question about whether Trump directed a campaign official to contact Stone about WikiLeaks, but Democrats made clear they planned to investigate the matter.
Rep. Adam Schiff (D-Burbank), chairman of the House Intelligence Committee, said his panel "will be eager to learn just who directed a senior campaign official to contact Stone about additional damaging information held by WikiLeaks, one of the publishing arms of Russian government hackers."
Tom Perez, chairman of the Democratic National Committee, described the indictment as further proof that "the Trump campaign was a willing and active participant in a conspiracy with Russia and WikiLeaks to influence the 2016 election."
"There are more conspirators yet to be held accountable — and at least one of them is named Donald Trump," he said in a statement.
During the campaign, Stone sometimes suggested he had inside knowledge about the WikiLeaks plans. But since then he's adamantly denied any wrongdoing and downplayed his previous claims as empty hype.
Stone's political career began in scandal when he volunteered for Nixon's reelection campaign in 1972, gaining a reputation as a dirty trickster. Nixon resigned in disgrace in 1974, but Stone got a large tattoo of Nixon's smiling face on his back.
He also cultivated a reputation as a bare-knuckle political operative willing to cross lines others would not, much like Trump's late mentor, the disbarred New York lawyer Roy Cohn.
Stone met Trump while raising money for President Reagan's campaign in 1980, and Stone soon began encouraging the New York real estate developer to run for the White House himself.
Stone did not play a major role in Trump's insurgent presidential campaign — whether he was fired or quit is a matter of dispute — but he said they stayed in regular touch.
During the race, Stone drew attention by claiming he was in contact with Julian Assange, the WikiLeaks founder. He famously tweeted that Podesta would soon face his "time in the barrel" shortly before his hacked emails were released.
Stone has since said that he didn't talk to Assange himself and that his tweet about Podesta was taken out of context.
According to the indictment, Stone sought information from WikiLeaks through an intermediary, Jerome Corsi, a far-right writer and conspiracy theorist, and then updated members of Trump's campaign.
At one point, Stone told Bannon to expect "a load every week going forward" shortly before WikiLeaks started releasing Podesta's emails.
Stone denied those conversations when asked by the House Intelligence Committee, the indictment charges.
He also allegedly tried to persuade an associate, Randy Credico, to provide false testimony to the House Intelligence Committee about their conversations involving WikiLeaks.
"Your lawyers should have told them you would assert your 5th Amendment rights if compelled to appear," Stone allegedly texted Credico, a radio host who had interviewed Assange on his show.
Stone later suggested Credico imitate a character in "The Godfather: Part II" who lied to Congress and later committed suicide, then told him he's "a rat" and "a stoolie," according to the indictment.
The indictment follows months of scrutiny for Stone, who watched a parade of his associates be brought before a grand jury. All along, Stone insisted he had nothing to do with any Russian schemes to interfere in the U.S. election.
"There is still no evidence of Russian collusion, Wikileaks collaboration or evidence that I knew the source or content of the allegedly stolen or hacked emails published by WikiLeaks," he wrote in a column published by the Daily Caller, a conservative website, in November 2018. "Enough already."
Twitter: @chrismegerian
Get our Essential Politics newsletter
The latest news, analysis and insights from our politics team.
You may occasionally receive promotional content from the Los Angeles Times.