Commerce Secretary Wilbur Ross asks Congress for more funds for 2020 census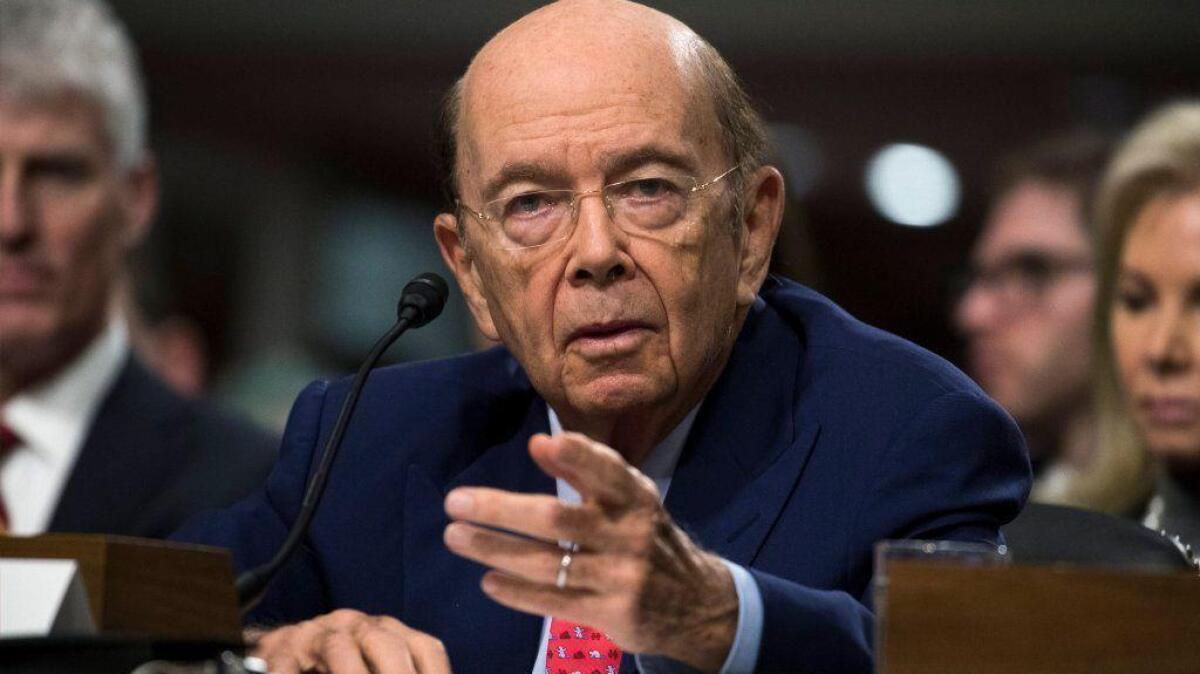 Reporting from Washington —
Commerce Secretary Wilbur Ross on Thursday asked Congress for an additional $3.3 billion to complete the 2020 census, now estimated to cost $15.6 billion.
Ross said additional funds are needed to implement and test new technology in time for census practice-runs in 2018, and to ramp up participation as cybersecurity concerns and distrust of the government threaten to dampen already declining response rates.
"The census is the bedrock upon which we construct our system of democratic representation," Ross said before the House Committee on Oversight and Government Reform. "With the changes I have detailed and additional resources requested, I am confident we will have a full, fair and accurate census."
But some members of Congress said even Ross' new estimate is not enough. Rep. Carolyn B. Maloney (D-N.Y.) said the estimate was a "good start," but not enough to make up for problems caused by insufficient funding by Congress and the White House in past years.
So far, the bureau is far behind schedule on implementing and testing new technologies to save money, improve the efficiency of data collection and make it easier for respondents to participate.
Of the 43 technology systems the bureau is supposed to prepare for testing in 2018, only four have completed development and 21 have some functionality. The department also canceled two sites for testing in West Virginia and Washington state.
Rep. Jody Hice (R-Ga.), said it appeared officials were repeating the mistakes they made in 2010, when the bureau came close to utilizing new technology, but had to switch back to paper and pencil reporting at the last minute. "We get promises that are never delivered on," Hice said at the hearing.
While it is widely agreed that implementing new technologies is a good cost-saving measure, some are worried that it will make it even harder to reach communities that are already unlikely to respond.
Members of marginalized groups, including those who are poor, African Americans, members of the LGBTQ community, immigrants and people living in rural areas, among others, are historically less likely to participate in the census. In the past, the government has successfully increased participation using a massive outreach program with a focus on advertising and communication efforts, education and partnerships with community organizations.
A lack of funding for these programs or a slow start to outreach efforts could lead to undercounting, particularly of groups that are historically not well-represented.
"It's deeply important that the Commerce Department and Census Bureau consult with stakeholders who are in these communities," said Vanita Gupta, president of the Leadership Conference on Civil and Human Rights. "When your constituents are not counted in the census, they remain invisible for the next 10 years."
The National Assn. for the Advancement of Colored People filed a lawsuit against the department earlier this month to compel it to release more information about its plans for the 2020 census to ensure it is committed to addressing undercounting of these particular communities.
Ross said the bureau has allocated a total of $748 million to outreach efforts, including $500 million for communications campaigns and $248 million for efforts to partner with organizations to increase the focus on hard-to-reach communities. This includes "foot soldiers clogging around, ringing doorbells" to encourage participation, Ross said.
"We're spending an enormous amount per household on the [respondents] that are difficult to reach, and that's quite a deliberate thing," he said.
As of now, the bureau is partnering with 40 organizations, but hopes to reach about 800 by the time of the census.
In May, John Thompson resigned as director of the Census Bureau. Thompson said in a statement that he did so to pursue opportunities in the private sector, but Rep. Matt Cartwright (D-Pa.) said he saw this as a red flag of problems in the bureau.
The bureau still does not have a director or deputy director, although Ross said Tuesday that candidates were being actively recruited.
Twitter: @LRosenblatt_
---
Life is stressful. Our weekly mental wellness newsletter can help.
You may occasionally receive promotional content from the Los Angeles Times.