Biden pushes for $1.6 billion to fund pandemic fraud measures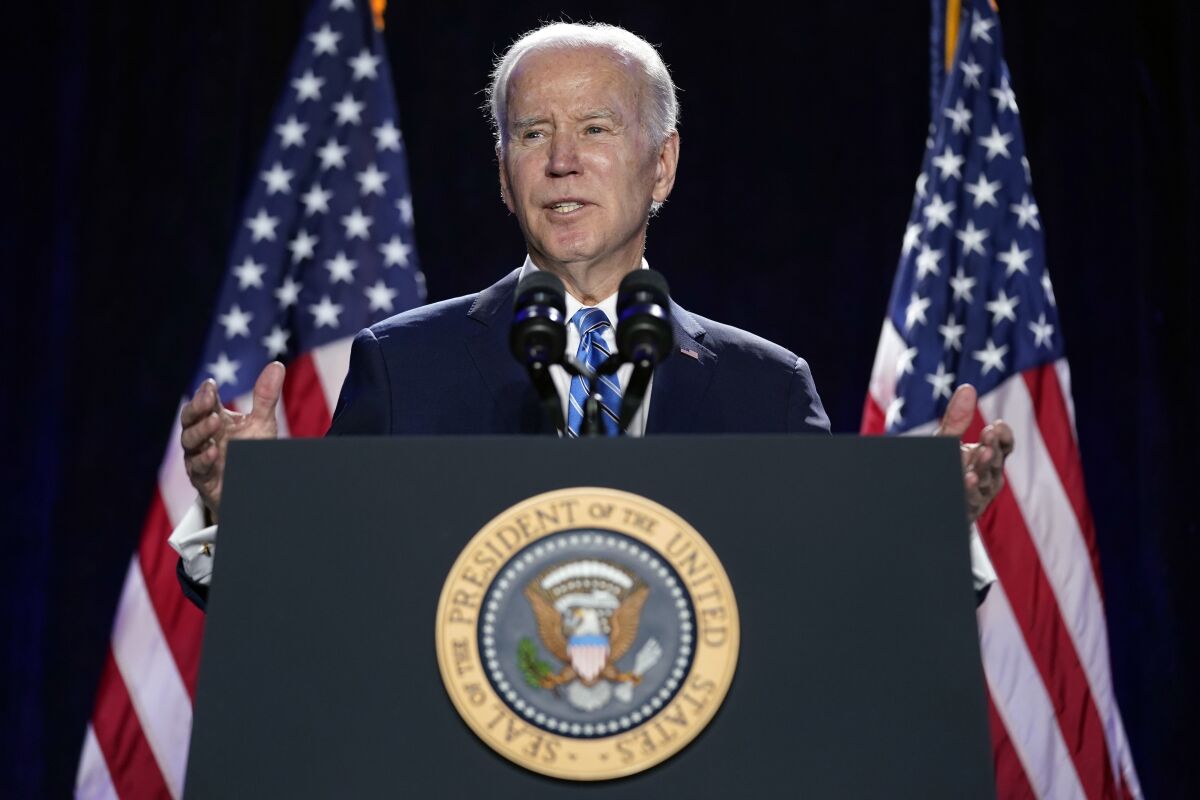 The Biden administration is asking Congress to approve more than $1.6 billion to help clean up the mess of fraud in the massive government COVID-19 pandemic relief programs.
In a strategy announced Thursday, the administration called for money and more time to prosecute cases, to put into place new ways to prevent identity theft and to help people whose identities were stolen.
On a call with reporters, White House American Rescue Plan coordinator Gene Sperling expressed hope that Congress, including the GOP-controlled House that is often hostile to the Democratic administration, would see the spending as an investment.
"It's just so clear and the evidence is so strong that a dollar smartly spent here will return to the taxpayers, or save, at least $10," Sperling said, pointing to recoveries that have already happened. The U.S. Secret Service last year got back $286 million sent out in fraudulently obtained loans through the Small Business Administration.
Get our free Coronavirus Today newsletter
Sign up for the latest news, best stories and what they mean for you, plus answers to your questions.
You may occasionally receive promotional content from the Los Angeles Times.
Sperling said the request would be part of the budget proposal President Biden is scheduled to put forth on March 9, but the bulk of it will be separate from the one-year appropriation request. Details would need to be ironed out with Congress.
Soon after swaths of the U.S. economy were shut down after the coronavirus hit the country in 2020, Congress began authorizing massive relief measures to help governments, businesses and individuals who were affected. Relief measures — some signed by Biden and some by his predecessor, Donald Trump — totaled nearly $6 trillion. That's more than the government spent annually before the pandemic.
Money went to boost unemployment insurance programs, help those in the gig economy who lost work, cover government costs and keep businesses afloat.
Millions of workers are still missing from the labor force three years after COVID-19 surfaced. Economists are trying to determine where they went.
"On the whole, those programs did enormous good," Sperling said. "There were also cases where guardrails were unnecessarily lowered, which led to unnecessary and massive fraud."
A congressional committee found that financial technology companies did not properly screen applicants for the giant Paycheck Protection Program. Fraudulent claims for unemployment benefits overwhelmed state computer systems, which sometimes had trouble identifying the fake ones while slowing down many legitimate filings. The Labor Department estimated there was $164 billion in improper unemployment insurance payments alone — much of it to fraudsters
Many of the scams relied on fake or stolen personal information.
Biden's plans aim to deal with prosecutions and prevention. He's asking for $600 million for prosecution, including funds to create at least 10 new Justice Department strike forces in addition to the three that exist to pursue criminal syndicates and other fraudsters. He's also calling on increasing the statute of limitations for such crimes to 10 years from the current five, giving more time to investigate and prosecute cases.
And he's calling for policy changes to make sure the Labor Department inspector general's office has ongoing access to data showing where the same identity was used to apply for benefits in multiple states. That office and other inspector general offices would share at least $300 million to hire investigators.
L.A. couple facing prison for stealing $18 million in a pandemic relief scam took a private jet to the Balkans and vanished into a posh town on the Mediterranean.
Biden is also planning to eventually issue an executive order directing federal agencies on how to take action on identity fraud, including modernizing government systems to prevent identity theft.
A portion of the money would go to improve a Federal Trade Commission website, IdentityTheft.gov, where people can report identity theft and get help.
The proposal also notes that $1.6 billion from the American Rescue Plan — the last of the big relief measures, adopted in 2021 — will be made available by June to help states improve their anti-identity theft measures.
Must-read stories from the L.A. Times
Get the day's top news with our Today's Headlines newsletter, sent every weekday morning.
You may occasionally receive promotional content from the Los Angeles Times.