Atty. Gen. William Barr not ready to share Mueller's 'principal conclusions' in Russia probe with Congress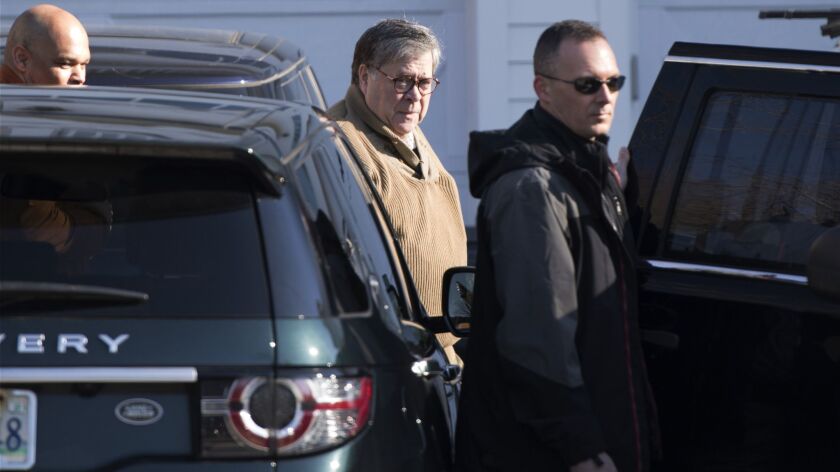 Reporting from Washington —
It looks like Washington will have to hold its breath a little longer. Atty. Gen. William Barr apparently decided he was not ready to provide Congress with a summary of the "principal conclusions" from the Russia investigation on Saturday.
Barr received a confidential report from special counsel Robert S. Mueller III on Friday, and he subsequently released a letter to senior members of Congress saying he might give them information about the report as early as this weekend. By Saturday afternoon, a senior Justice Department official and two congressional aides, who were not authorized to speak publicly, disclosed that Barr would not do so on that day.
The attorney general was reviewing the findings at the department's headquarters along with Deputy Atty. Gen. Rod Rosenstein, who appointed Mueller and supervised his work.
Mueller, in his confidential report, did not recommend additional indictments. His conclusions could still pose a threat to President Trump and his inner circle now that Democrats control the House and are eager to keep digging. In addition, other prosecutors, notably from the U.S. attorney's office in Manhattan, continue to investigate him, his businesses and his associates.
It's unlikely that Barr's decision to share a summary of the special counsel's report with Congress will satisfy lawmakers. Leaders from both parties have demanded to see the full picture of what Mueller uncovered during his nearly two-year investigation. Mueller could be called to testify on Capitol Hill, and Democrats have said they could issue subpoenas as well.
Since being appointed special counsel in May 2017, Mueller led the probe into Moscow's interference in the 2016 election, any collaboration with Trump's campaign and whether the president obstructed justice. A spokesman said Mueller, who has not said anything publicly about his findings, will step down as special counsel in the coming days.
Trump flew to his Mar-a-Lago resort in Florida on Friday before Mueller submitted his report. He did not make any public comments or tweet, and he headed to his golf course Saturday morning as top Justice officials arrived at their headquarters on Pennsylvania Avenue.
A spokeswoman for Barr described Mueller's report as "comprehensive" Friday but would not describe it further.
During the probe, Mueller brought charges against 34 people, including some of Trump's closest associates. His former campaign chairman, Paul Manafort, has been sentenced to 7½ years in prison for financial crimes and conspiracy charges related to an illegal lobbying scheme on behalf of Ukraine's pro-Russian government. Trump's first national security advisor, Michael Flynn, pleaded guilty to lying about his conversations with Russia's ambassador during the presidential transition period.
In addition, the president's former lawyer, Michael Cohen, confessed to lying to Congress about the Trump Organization's negotiations to build a luxury skyscraper in Moscow at the same time that Trump was proposing closer ties to Russia while campaigning for the White House.
Cohen, who was sentenced to three years in prison, has also pleaded guilty to campaign finance violations connected to hush money payments that silenced two women who said they had affairs with Trump. Federal prosecutors in New York, who have handled that investigation after receiving information from Mueller's office, said Trump himself directed the scheme.
Mueller indicted 25 Russians for their role in Moscow's covert effort to boost Trump's candidacy and undermine the electoral process in 2016. The operation included spreading divisive disinformation on social media, as well as hacking and releasing Democratic Party emails.
No Americans have been charged with conspiring with Russians to influence the election. Now that a senior Justice official says no further indictments are coming from Mueller, Trump's allies have claimed that the president's repeated "no collusion" denials have been proven true.
"It's a complete vindication of what members of the Trump team already knew, which is that there was no collusion," said Corey Lewandowski, who served as the president's first campaign manager.
Times staff writers Sarah Wire, Janet Hook and Noah Bierman contributed to this report.
---
Get our Essential Politics newsletter
The latest news, analysis and insights from our politics teams from Sacramento to D.C.
You may occasionally receive promotional content from the Los Angeles Times.