Sam Nunberg, former Trump aide, vows to defy special counsel in Russia inquiry — then backs down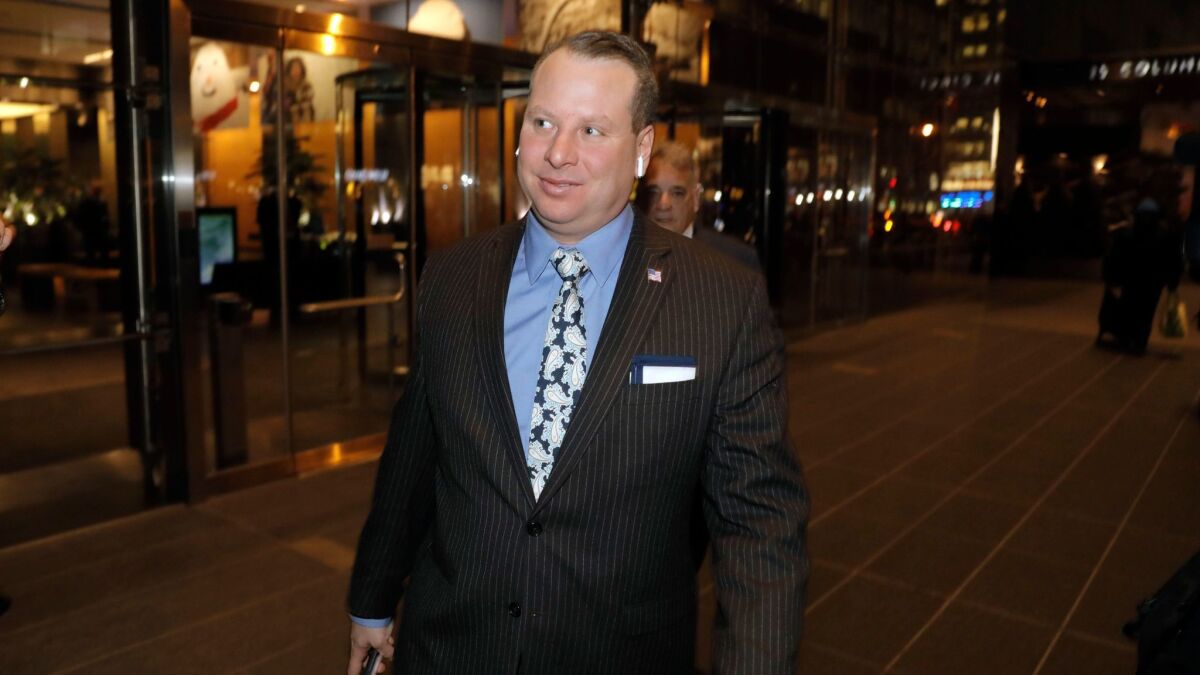 Reporting from Washington —
In a bizarre episode, Sam Nunberg, a former aide to Donald Trump, vowed Monday not to cooperate with the special counsel investigating Russian political interference even as he suggested that the president "may have done something" improper during the campaign.
But after speaking with several reporters and appearing on multiple cable television shows over the course of the day, Nunberg began to back down from his threats to ignore a subpoena to testify before a grand jury.
"I'm going to end up cooperating with them," he told the Associated Press on Monday evening.
By then, Nunberg's comments had already ricocheted around Washington, especially his head-snapping comments about Trump's potential legal jeopardy, even though it was unclear whether the onetime Trump loyalist had any evidence to back up his comments.
Trump fired Nunberg in August 2015, soon after he had announced his presidential bid, when racist comments on Nunberg's Facebook account were exposed.
The latest chain of events began when Nunberg started granting interviews to reporters about a two-page subpoena he received from special counsel Robert S. Mueller III, who is leading the criminal investigation into whether anyone from Trump's team illegally aided Russian attempts to interfere with the presidential campaign.
The subpoena requires Nunberg, who has already been interviewed by investigators, to appear before a grand jury on Friday and to turn over any emails, correspondence, telephone logs or other records he had involving the president and nine others, including former Trump strategist Stephen K. Bannon, outgoing White House communications director Hope Hicks, and longtime advisor Roger Stone.
But Nunberg said he was not going to comply with the subpoena, either by providing documents or testifying. He could be held in contempt or even jailed for refusing to honor a grand jury subpoena, but the possibility didn't seem to faze him, at least for now.
"Let [Mueller] arrest me," he told the Washington Post.
Nunberg also said he agrees with Trump that there was no collusion between his campaign and Russian authorities, adding, "there is nobody who hates [Trump] more than me" because of how their relationship ended.
After that, Nunberg kept granting interviews, calling in to cable shows to talk about the subpoena and his thoughts on the investigation.
At times, his comments were confusing. He told MSNBC that the subpoena showed that "the president is right" and the investigation "is a witch hunt."
Then later in the same interview, Nunberg was asked if he thinks prosecutors "have something on the president."
"I think they may," he said. "I think he may have done something during the election."
The running commentary continued on CNN in two separate phone calls, and Nunberg sounded emboldened by his own defiance.
"I'm going to be the first one in history to say flat out, 'I'm not going'" to appear before the grand jury, he bragged in the second call.
Nunberg once again suggested that prosecutors may be building a case against Trump.
"They know something on him," he said. "I don't know what it is, and perhaps I'm wrong, but he did something."
Then he asked for legal advice.
"Do you think I should cooperate?" Nunberg said. "Should I spend 80 hours going over my emails?"
"If it were me, I would," responded CNN host Jake Tapper.
White House Press Secretary Sarah Huckabee Sanders downplayed Nunberg's comments, noting that he's never worked in the administration.
"He's incorrect," she said. "As we've said many times before, there was no collusion with the Trump campaign."
People started questioning Nunberg's state of mind during his media blitz. One interviewer, CNN's Erin Burnett, said she could smell alcohol on his breath during their conversation. He denied drinking, but said he had taken antidepressants.
After finishing his cable interviews, Nunberg kept talking with reporters, eventually telling the Associated Press that he would probably end up testifying. He said he was simply concerned about the broad scope of the subpoena he received.
"I'm happy if the scope changes," he said, "and if they send me a subpoena that doesn't include Carter Page," a former Trump foreign policy advisor who has drawn scrutiny for his contacts with Russians. Nunberg said he had never spoken with Page.
Twitter: @chrismegerian
---
UPDATES:
7:10 p.m.: The story was updated with a new interview with Sam Nunberg.
The story was originally published at 3:05 p.m.
---
Life is stressful. Our weekly mental wellness newsletter can help.
You may occasionally receive promotional content from the Los Angeles Times.