EPA chief Pruitt had aide do personal chores for him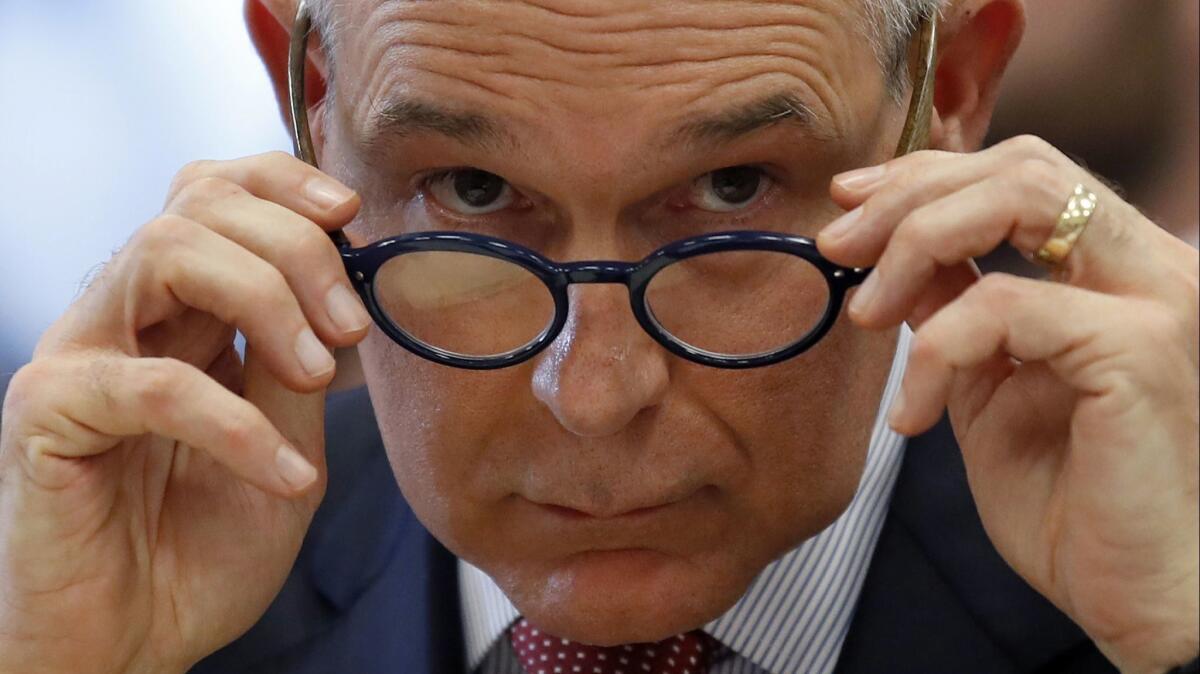 Reporting from WASHINGTON —
Environmental Protection Agency chief Scott Pruitt had a top aide seek a used mattress from the Trump International Hotel and perform other personal chores for him, according to an email and testimony from the aide released Monday.
The account from Pruitt scheduling director Millan Hupp is in a letter House Democrats sent Monday to House Oversight Committee Chairman Trey Gowdy, a South Carolina Republican.
Hupp appeared before a panel of House Oversight Committee staffers this month. Democrats released a partial transcript of her interview Monday, including Hupp's account that Pruitt had her do personal errands, including house hunting and booking a trip for him to the Rose Bowl.
Staffers also asked Hupp about an email that showed her reaching out to managers of the Trump hotel at Pruitt's request. Hupp told the House staffers that Pruitt was seeking to secure a used mattress from the Trump hotel.
Pruitt had told lawmakers earlier this spring that any house-hunting Hupp did for him was on personal time.
Reps. Elijah Cummings of Maryland and Gerald Connolly of Virginia, the ranking Democrats on the House Oversight Committee and a subcommittee on government operations, respectively, call the errands a violation of federal law on gifts from subordinates. In their letter, the Democrats ask Gowdy to issue a subpoena for government records they say EPA is currently withholding from the committee.
EPA's press office did not answer questions Monday about whether Pruitt got the mattress and, if so, how much he paid for it and whether hotel staff delivered it to his home. EPA also wouldn't comment on whether EPA ethics officials had reviewed whether the administrator accepting the mattress would potentially violate federal rules prohibiting officials from accepting gifts.
"We are working diligently with Chairman Gowdy and are in full cooperation in providing the committee with the necessary documents, travel vouchers, receipts and witnesses to his inquiries," said EPA spokesman Jahan Wilcox.
Neither the White House nor Trump Organization responded to requests for comment.
A staffer who answered the phone at the Trump hotel on Monday told the Associated Press that the hotel's standard mattress is a Stearns & Foster model, and that it can be purchased through Trump Hotel guest services. A call to a number provided inquiring about pricing was not immediately returned.
A spokeswoman for Gowdy said the committee has conducted several transcribed interviews and obtained 2,350 pages of documents as part of its investigation into allegations of mismanagement and spending at the EPA. This month, the committee will interview additional witnesses and receive additional document productions.
"Selectively releasing portions of witness interview transcripts damages the credibility of our investigation and discourages future witnesses from coming forward," said Amanda Gonzalez, Gowdy's spokeswoman. "The committee will continue conducting a serious, fact-driven investigation, and therefore will wait until the conclusion of our investigation to release our findings."
Pruitt has been under intense scrutiny since March, when media reports first revealed the EPA chief had rented a luxury Capitol Hill condo tied to a prominent oil and gas lobbyist for just $50 a night. Pruitt's daughter, then a White House summer intern, stayed in a second bedroom at the condo at no additional cost.
Other recently disclosed examples of the Pruitt seeking special treatment include his repeated use of first-class air travel, luxury hotel suits and directing his security staff to use lights and sirens to speed through Washington traffic to dinner reservations.
Pruitt and his son asked coal mining baron Joseph W. Craft III for courtside seats to a University of Kentucky basketball game, the New York Times first reported on Saturday.
Though the seats were in a section reserved for donors who had given at least a million dollars to the university, Wilcox said Pruitt paid just the face value of $130 for each ticket. Wilcox told the Times that Pruitt paid the billionaire in cash and that there was no receipt.
Get our Essential Politics newsletter
The latest news, analysis and insights from our politics team.
You may occasionally receive promotional content from the Los Angeles Times.