GOP senators seem ready to pass Obamacare repeal bill – as long as it never becomes law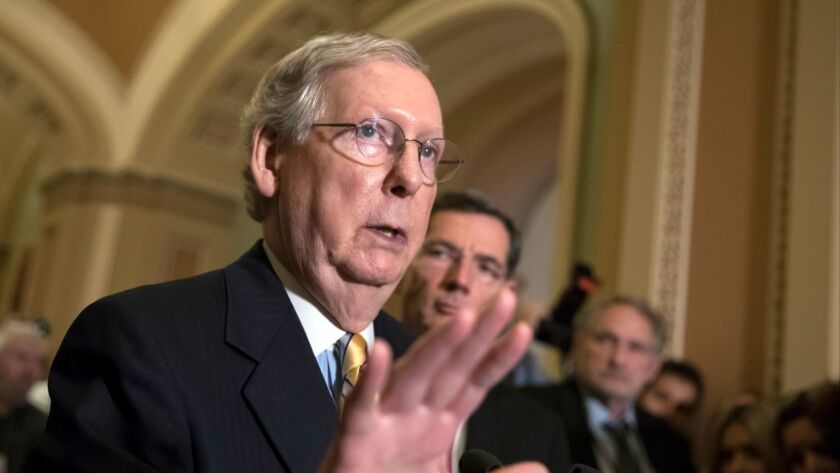 Reporting from Washington —
In a desperate bid to salvage their Obamacare overhaul, Senate Republicans were closing in on an unorthodox plan Thursday to vote on a dramatically slimmed-down repeal bill, but only if they received assurances that what they pass will never become law.
They want Senate GOP leaders' so-called skinny bill — which Sen. Lindsey Graham (R-S.C.) called a "fraud," "disaster" and "the dumbest thing in history" — to be used only as a vehicle to develop more comprehensive legislation later in consultation with House Republicans.
The emerging plan would require 50 of the Senate's 52 GOP lawmakers to vote for a bill that would leave much of the 2010 law in place and eliminate just a handful of its provisions, including its insurance mandates. The strategy arose in recent days as a last-ditch alternative after Senate Republicans were unable to agree on any other legislation to roll back the Affordable Care Act.
But GOP senators first wanted House Republican leaders to pledge not to vote on the Senate's skinny plan, and to instead set up a conference committee in which House and Senate lawmakers can meld it with the more sweeping repeal legislation passed by the House in May.
"People want to be assured there's going to be a conference," said Sen. Bob Corker (R-Tenn.).
Late Thursday, House Speaker Paul D. Ryan (R-Wis.) offered a somewhat qualified promise to do that. "If moving forward requires a conference committee, that is something the House is willing to do," he said in a statement.
It was not immediately clear whether that would be enough for senators, but it increased the chances that a vote on a skinny bill would take place later in the night.
The highly unusual strategy put Senate Republicans in the odd position of potentially advancing legislation they do not support.
In a news conference Thursday afternoon, four senators took turns blasting the skinny plan, even as they signaled they would be willing to vote for it as strategy to move forward.
"I'm not going to vote for a pig in a poke," Graham said.
But the four said they would vote for it if they received a guarantee from Ryan that the House would not simply pass the same bill and send it to President Trump. Graham said that he had heard from members of the conservative House Freedom Caucus who also view the skinny bill as unacceptable, but that some in the House wanted to pass it.
At least one Republican, Rep. Chris Collins of New York, a Trump ally, said the House should pass whatever the Senate sends, because further debate is not likely to produce any bill that all sides could agree to. "If it's skinny repeal or nothing ... I'm going to vote for it," Collins said.
Following the news conference, Doug Stafford, a strategist for Sen. Rand Paul (R-Ky.), called the senators' position remarkable. "'If the House doesn't promise NOT to pass the bill, we will not vote for it'; strangest position in my time here, & that's saying something," he tweeted.
The maneuvering drew widespread criticism from patient advocates and others who work in healthcare, including insurers who have warned that the skinny plan would dramatically increase Americans' premiums.
In a letter to senators Thursday, AARP Executive Vice President Nancy LeaMond urged lawmakers "to reject this flawed bill and this cynical approach."
But the ploy seemed to be the only way Senate Majority Leader Mitch McConnell (R-Ky.) could prevent the collapse of Republicans' seven-year campaign to dismantle President Obama's signature domestic policy achievement. McConnell has been working for days to rally his divided caucus behind the skinny plan. After a lunch Thursday, many senators openly questioned whether the GOP could come up with a plan.
"I don't know if the end is going to be fat or skinny or anorexic or bulimic," said Sen. John Kennedy (R-La.).
Trump pushed Republicans to reach a conclusion. "Come on Republican Senators, you can do it on Healthcare. After 7 years, this is your chance to shine! Don't let the American people down!" he tweeted Thursday morning.
In a sign of how far the president may be prepared to go to pressure senators, the administration reportedly threatened to cut off some federal aid to Alaska to punish Sen. Lisa Murkowski, one of two Republican senators who voted against opening debate on the current GOP healthcare effort, according to Alaska Dispatch News.
Democrats have all but given up on the Republicans' effort and have dug in with procedural tactics to drag out the process.
"It's like we're in the Twilight Zone of legislating," said Sen. Claire McCaskill (D-Mo.).
Democrats also reiterated their interest in working together to fix Obamacare as long as Republicans give up their dream of repeal. Minority Leader Charles E. Schumer (D-N.Y.) said he spoke with the chairman of the Health Committee, Sen. Lamar Alexander (R-Tenn.), Thursday morning and extended the invitation.
"We know Obamacare needs some work. We don't deny that. Let's do it in a bipartisan way," he said.
But the prospects for bipartisanship remain dim. Republicans are in a political bind, under pressure from conservatives who want Obamacare repealed, but also facing emotional protests from constituents over the potential loss of insurance for millions of Americans if one of the GOP plans is approved.
Even the skinny repeal would produce some 15 million more uninsured Americans as mandates to carry coverage are repealed, and premium costs would jump by 20%, according to an analysis by the nonpartisan Congressional Budget Office.
The Republican repeal push continued to draw bitter criticism from Republican and Democratic governors, healthcare leaders and patient advocates, who are pleading with GOP lawmakers to slow down and engage in a more open, bipartisan process.
A bipartisan group of 10 governors — including Republicans John Kasich of Ohio and Brian Sandoval of Nevada — urged the two parties to cooperate.
"Congress should be working to make health insurance more affordable while stabilizing the health insurance market, but this bill and similar proposals won't accomplish these goals," the governors said.
ALSO
Trump wants a border wall, but few in Congress want to pay for it
Trump's election has mobilized a resistance like no other, but will Democrats' answer to the tea party divide the ranks?
More coverage of politics and the White House
---
UPDATES:
5:05 p.m.: This article was updated after Ryan's statement.
3:35 p.m.: This article was updated with the latest GOP strategy.
This article was originally published at 1 p.m.
---
Life is stressful. Our weekly mental wellness newsletter can help.
You may occasionally receive promotional content from the Los Angeles Times.