Full Senate, in rare move, goes to White House grounds for classified North Korea briefing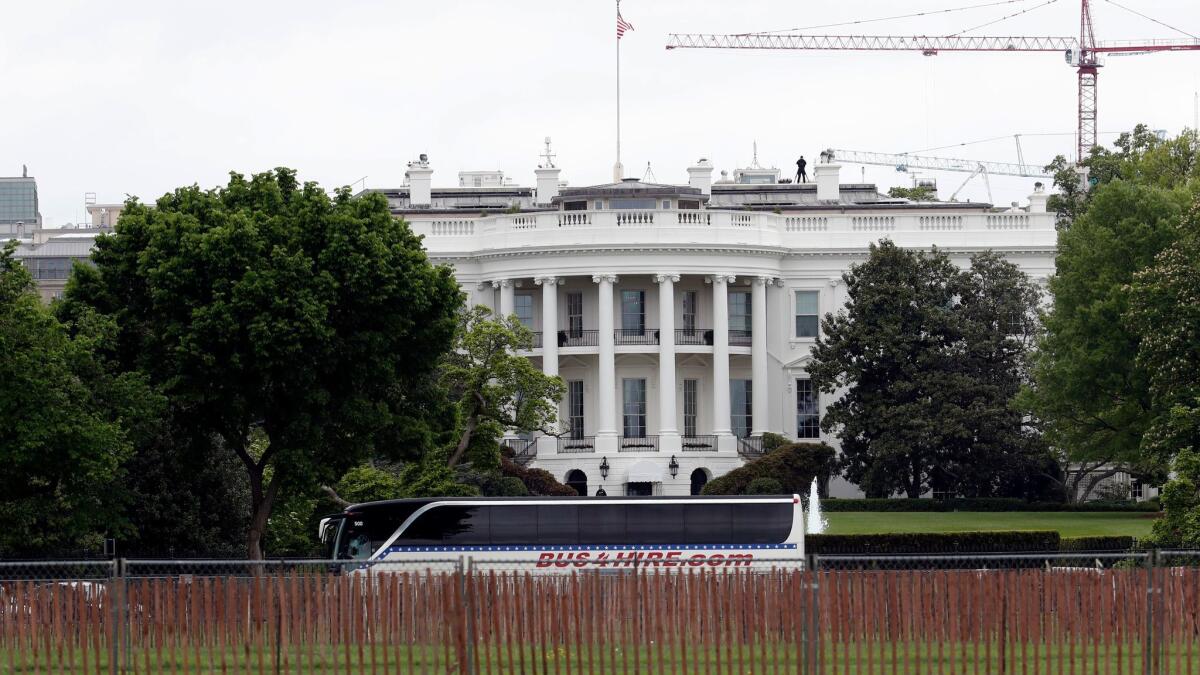 Reporting from WASHINGTON —
The Trump administration, filling the week with warnings over North Korea, is seeking to send a message to the government of Kim Jong Un and the world — and to reach an audience at home as well, with a rare White House hosting of the entire U.S. Senate as the president nears 100 days in office.
Amid rising tensions with North Korea, dozens of senators — all 100 were invited — clambered aboard tour-type buses and into SUVs for a short trip to the White House grounds. There, lawmakers filed into an auditorium of the adjacent Eisenhower Executive Office Building for an hourlong classified briefing from top national security officials on the North Korean threat — and a 15-minute appearance by the president.
Meanwhile, the top U.S. military commander in the Asia-Pacific region told lawmakers that North Korea was progressing in its decades-long march toward developing long-range missiles tipped with miniaturized nuclear warheads capable of striking the United States.
The White House has bracketed the week leading up to Trump's 100-day milestone with North Korea-related events, starting Monday with a gathering of the United Nations Security Council at the executive mansion with the president in attendance, at which Kim and his nuclear ambitions were the prime topic.
Then came Wednesday's unprecedented briefing of senators en masse. And on Friday, Secretary of State Rex Tillerson travels to New York to chair a ministerial-level meeting of the Security Council on North Korea.
"It's not all about optics," State Department spokesman Mark Toner said Wednesday. "There's a clear message being sent that this is front and center on our national security radar."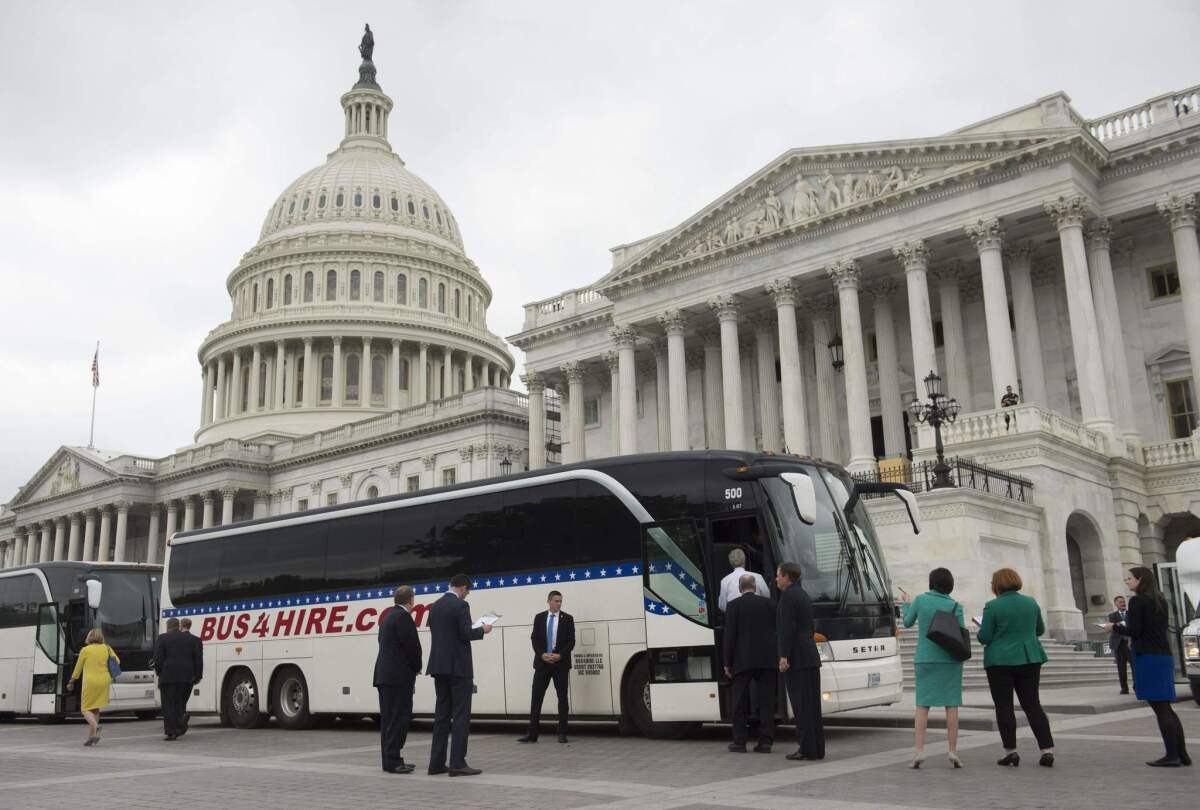 Both the White House and congressional leaders had downplayed the significance of the meeting all week, despite the attention ultimately paid to it. Senate Majority Leader Mitch McConnell (R-Ky.) requested the briefing, and the White House offered to host the session instead of sending top officials to secure spaces at the Capitol that are typically the venue for such gatherings.
Some Democrats dismissed the whole exercise as a "photo op" timed to coincide with the White House's choreography around Trump's 100th day in office. And after they returned to the Capitol, even leading Republican senators were circumspect about what was achieved.
"It was an OK briefing," Senate Foreign Relations Committee Chairman Bob Corker (R-Tenn.) said glumly. "I'm not certain I would have had" the gathering, he said.
Most of the 100 senators attended, the lawmakers said, and the president spoke briefly to welcome them before turning it over to the team of briefers: Tillerson, Defense Secretary James N. Mattis, Director of National Intelligence Dan Coats and Joint Chiefs Chairman Joseph Dunford.
Sen. Chris Coons (D-Del.) called the briefing "sobering," adding that it was "an important opportunity for the entire Senate to hear the emerging plans of the Trump administration to confront what is a very real threat to our security."
Sen. Kamala Harris (D-Calif.) said that North Korea is "one of the most serious security threats" facing the U.S. and its allies, and that she was not reassured by what she heard from Trump's team. "This briefing confirmed my deep concerns about this administration's lack of a comprehensive strategy toward North Korea," she said.
At the State Department, Toner said possible acts of pressure to be brought to bear on Kim could include forcing North Korea to shut down its handful of embassies around the world, expelling the nation's diplomats and barring its personnel from international organizations.
The Trump administration is also demanding that all nations — including, and especially, China — obey stringent sanctions already in place against the Kim government, he said.
Where some saw a degree of showmanship in the White House's high-profile summoning of senators, tensions with North Korea have soared over the last two weeks.
A U.S. aircraft carrier group has traveled to the region, albeit by a circuitous route. With Kim presiding, North Korea on Tuesday staged thunderous live-fire artillery drills, featuring big guns within range of the South Korean capital, Seoul.
The U.S. nuclear submarine Michigan arrived at Busan, South Korea, on Tuesday in what was described as a show of American resolve. And on Wednesday, South Korea began installing elements of an American missile-defense system that has piqued concern by Beijing and Moscow.
In the briefing with senators, Trump administration officials described plans to ratchet up economic pressure on North Korea in an effort to choke off the country's access to components for building military equipment, said an official, who requested anonymity to speak freely about the gathering. Images of recent holiday parades broadcast from Pyongyang showed that the North Korean government was still able to get complex machine parts from abroad, the official said.
In addition to North Korea's nuclear and ballistic missile capabilities, the brazen killing of Kim's out-of-favor brother with a nerve agent at Kuala Lumpur International Airport in February underscored the "very grave threat" the North Korean government poses, the official said, describing the menace as having reached a "new level."
Earlier in the day, North Korea claimed more attention on Capitol Hill, when the commander of U.S. forces in the Pacific took personal responsibility for a series of White House and Pentagon misstatements that led to global confusion about the location of an aircraft carrier strike group.
"That's my fault," Adm. Harry Harris told the House Armed Services Committee. "I'll take the hit for that."
The embarrassing episode began April 8 when the Navy announced that the Carl Vinson strike force was being diverted north from Singapore as a show of force during rising tensions with North Korea. The carrier group instead conducted exercises in the Indian Ocean for a week and was headed in the wrong direction last weekend.
It is now east of Okinawa, or about 1,000 miles southeast of North Korea, Harris said.
The carrier's supposed detour north contributed to concerns that a conflict might be imminent, especially because it came shortly after the Trump administration had launched a missile strike in Syria and dropped the so-called mother of all bombs in Afghanistan.
Harris also told the committee that North Korea is making steady progress in its efforts to develop intercontinental ballistic missiles tipped with nuclear warheads capable of reaching the United States, although it is still believed to be several years away from reaching that goal.
Although Pyongyang has conducted five underground nuclear tests over the last 11 years, it has not mastered the ability to produce a warhead small enough and hardy enough to withstand the extreme heat of a ballistic missile reentering the atmosphere. In an April 15 parade, North Korea displayed canisters for intercontinental missiles believed capable of delivering a strike thousands of miles away, though it has not yet tested them. All its launches are monitored.
Harris warned, however, that achieving those goals is only a matter of time.
"With every test," he said, "Kim Jong Un moves closer to his stated goal of a preemptive nuclear strike capability against American cities."
william.hennigan@latimes.com | Twitter: @wjhenn
tracy.wilkinson@latimes.com | Twitter: @TracyKWilkinson
michael.memoli@latimes.com | Twitter: @mikememoli
ALSO
Climate change is real: Just ask the Pentagon
Trump administration stops disclosing troop deployments in Iraq and Syria
U.S. launches dozens of missiles at Syria in response to chemical weapons attack
Get our Essential Politics newsletter
The latest news, analysis and insights from our politics team.
You may occasionally receive promotional content from the Los Angeles Times.