Mulvaney says another shutdown is possible over Trump's demand for a border wall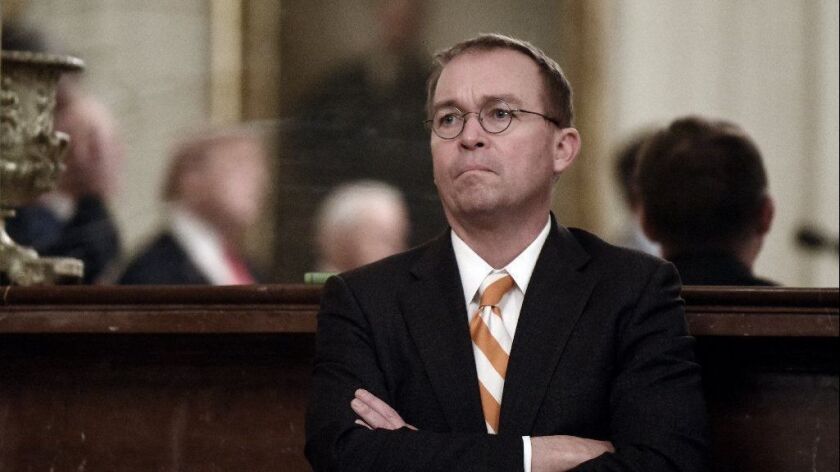 Reporting from Washington —
Saying President Trump "wants his $5.7 billion" for a southern border wall, acting White House Chief of Staff Mick Mulvaney warned Sunday that another government shutdown is possible next month even as hundreds of thousands of federal workers prepared to return to work Monday after the longest shutdown in U.S. history.
Heading into new negotiations with Congress over border security, Mulvaney also sought to split Democrats from House Speaker Nancy Pelosi (D-San Francisco), suggesting she was "just being led by the hard left wing of her party."
Similar White House efforts to undermine Pelosi utterly failed during the 35-day shutdown. In the end, Pelosi kept her caucus unified, Republicans broke ranks instead and Trump abruptly reversed course, agreeing Friday to reopen closed federal agencies without getting any money for the wall.
Mulvaney signaled that Trump would not reduce his demands that Congress provide funds to build more barriers along the U.S. border with Mexico, which he long had promised Mexico would pay for, and said the president might use a controversial emergency declaration to go around Congress to get the money.
"I think the president wants his $5.7 billion," Mulvaney said on "Fox News Sunday." "It's not a made up, magical number…. It's the wall where we need it the most and where we need it the quickest."
Mulvaney would not say if Trump would agree if Congress offered less money as part of a compromise to prevent another shutdown in three weeks, when the latest spending authorization expires. Pelosi has repeatedly said that Democrats will not give Trump the money he seeks.
Mulvaney said Trump could declare a national emergency to allow him to shift money from other federal accounts to pay for the wall. Administration officials have found "a lot more than $5.7 billion" at other federal agencies that could be used under an emergency declaration, he said.
"At the end of the day the president's commitment is to defend the nation and he'll do it either with or without the Congress," he said.
Democrats have vowed to challenge an emergency declaration in court and many Republicans are wary as well for fear an emergency declaration would allow future presidents to circumvent Congress on basic spending decisions.
Sen. Marco Rubio (R-Fla.), who has been a Trump ally, said he opposed declaring an emergency, calling it the "wrong way" to get the money for a wall.
"I don't think it's a good idea," he said on NBC's "Meet the Press." "I think it'll be a terrible idea. I hope he doesn't do it."
Democrats had demanded Trump end the shutdown before they would negotiate over border security, and Trump finally agreed Friday. He signed bills temporarily funding the closed federal agencies — nine departments including Homeland Security, Justice and Treasury — through Feb. 15.
The approximately 800,000 federal employees who were furloughed or forced to work without pay since Dec. 22 will get their back pay by the end of this week, Mulvaney said.
Trump had the border on his mind Sunday, tweeting in capital letters, "Build a wall and crime will fall!"
Sen. Susan Collins (R-Maine), a moderate who opposed the shutdown, said she did not think Trump would get the wall money he wants from Congress.
"I think what will happen is that the efforts to continue to build physical barriers, which have gone on in the last two administrations, will continue but not to the degree that the president has requested," Collins said on CBS' "Face the Nation."
Sen. Roy Blunt (R-Mo.), a member of the conference committee that will seek a border security deal, said he was "reasonably optimistic" that Trump won't force another shutdown.
"My guess is that after 35 days of this, the president also thinks shutdowns are not such great politics and bad government," Blunt said on "Fox News Sunday."
---
For reporting and exclusive analysis from bureau chief John Myers, get our California Politics newsletter.
You may occasionally receive promotional content from the Los Angeles Times.