Congress looks to delay fight over government shutdown until right before Christmas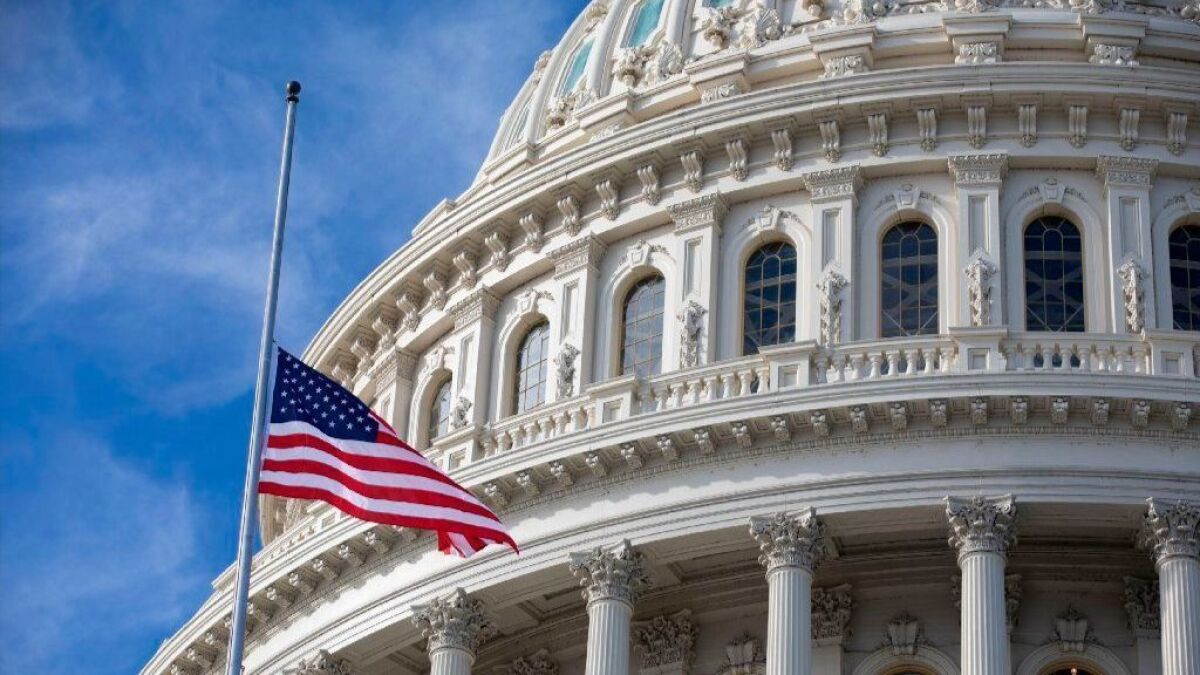 Reporting from Washington —
Consumed by the funeral of President George H.W. Bush and still divided over funding for border security, Congress is moving to push back Friday's government shutdown deadline until Dec. 21.
The delay could provide more time to reach a compromise over the key sticking point — funding for President Trump's border wall with Mexico. But it also raises the stakes for all sides, creating the possibility of a partial government shutdown right before Christmas, something few in Washington would want to risk.
The stopgap measure, filed Monday in the House, will probably be approved this week by Congress, and Trump has said he would likely sign it.
"If they [lawmakers] come, which they have, to talk about an extension because of President Bush's passing," Trump said Sunday. "I would absolutely consider it and probably give it."
The two-week stopgap measure would also extend the National Flood Insurance program until Dec. 21.
The House has canceled all votes for the week and many members are not making the trip to Washington, but the chamber can pass the stopgap measure by voice vote Thursday or Friday, as long as no representative objects. The Senate will resume votes Wednesday afternoon after Bush's casket leaves the Capitol. The federal government is closed Wednesday for a national day of mourning.
Congress passed bills earlier this year to fund about 75% of the government, including defense, education and other areas, but they still haven't agreed on funding for the departments of Homeland Security, Interior, State, Justice and others.
The largest dispute is whether Congress should include $5 billion for the border wall, the president's signature issue, approve the previously negotiated $1.6 billion for border security, or make some compromise between the two.
Trump had previously promised that Mexico would pay for the wall, but now he is asking U.S. taxpayers to foot the bill, insisting that Mexico will be forced to reimburse the U.S. for the cost. Mexico has said it will never pay for the wall.
Trump has said repeatedly in recent weeks that he might veto the spending bill and allow the government to shut down if Congress passes it without the $5 billion for the wall. But that may be more difficult for Trump if he is blamed for an unpopular government shutdown just as Americans are focused on celebrating the holiday.
A planned meeting at the White House on Tuesday between Trump, House Democratic leader Nancy Pelosi and Senate Minority Leader Charles E. Schumer was postponed because of the funeral arrangements, according to a senior Democratic aide. Schumer and Pelosi have requested it be rescheduled for next Tuesday.
In 2017, Schumer and Pelosi successfully negotiated a spending deal with Trump that left some in his own party frustrated.
It's unclear whether moving the deadline so close to the holiday will prompt compromise as members become more eager to escape Washington.
"I think everybody would like at some point to go home for Christmas and not be here Christmas Eve," Senate Majority Whip John Cornyn (R-Texas) said Monday.
Cornyn said a two-week extension just keeps lawmakers in Washington longer.
"I don't know why we'd want a [continuing resolution] going up to Dec. 21. We know what we have to do. Let's just get it done in a shorter period of time so we can enjoy the holidays," Cornyn said.
But Marc Short, who served as Trump's legislative affairs director until July, said that because the shutdown would affect only a limited part of the federal government and wouldn't directly affect many Americans, there is little pressure on either side to cave.
"After this two-week extension, I don't really see a way out. I think that in previous shutdowns you had a lot of pressure points to bring them to resolution," Short said.
Democrats don't see a reason to give in on funding the wall and Trump feels fulfilling that campaign promise is important, Short said.
"It's going to be more a battle that's fought on the media on messaging." Short said
More stories from Sarah D. Wire »
Twitter: @sarahdwire
Times staff writer Noah Bierman in Washington contributed to this report
---
UPDATES:
3:35 p.m.: This article was updated with additional background.
10:10 a.m.: This article was updated with comments from Senate Majority Whip John Cornyn.
This article was originally published at 9:35 a.m.
---
Life is stressful. Our weekly mental wellness newsletter can help.
You may occasionally receive promotional content from the Los Angeles Times.