Pentagon to send 1,000 more troops to Middle East as tensions rise with Iran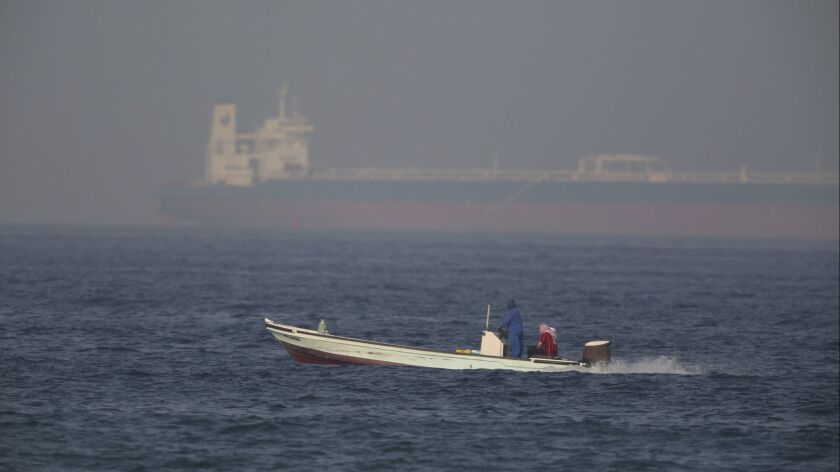 Reporting from Washington —
The Pentagon said Monday it was sending about 1,000 more troops, reconnaissance aircraft and missile defense units to the Middle East, the latest U.S. military response to growing tensions with Iran.
Acting Defense Secretary Patrick Shanahan said the additional forces were being deployed "for defensive purposes to address air, naval and ground-based threats."
The decision comes five days after the Trump administration blamed Iran for powerful explosions that crippled two oil tankers in the Gulf of Oman. U.S. officials said other intelligence indicated that Iranian forces were conducting low-level attacks against shipping and other targets.
Iran has repeatedly denied any involvement in the attacks.
The Pentagon released color photos Monday taken from a Navy helicopter of a gaping hole above the waterline of the Kokuka Courageous, one of the stricken tankers, which it says was caused by a magnetic mine.
Other photos showed what the Pentagon said were members of Iran's Revolutionary Guard Corps, a paramilitary group loyal to hard-line clerics, removing an unexploded mine from the Japanese-owned tanker's hull and speeding away in a small boat.
The photos apparently were shot at the same time as a grainy black-and-white video that the Pentagon released last week. The photos showed more detail than the video, although it's unclear whether they prove Iranian involvement in the blasts.
"The recent Iranian attacks validate the reliable, credible intelligence we have received on hostile behavior by Iranian forces and their proxy groups that threaten United States personnel and interests across the region," Shanahan said in a statement.
He added, "The United States does not seek conflict with Iran."
The Trump administration's "maximum pressure" campaign to isolate Iran has been greeted in recent weeks by skepticism from some allies in Europe and Asia. Many have said they want to see more convincing evidence that Iran was responsible for the tanker explosions and other incidents.
Secretary of State Michael R. Pompeo is scheduled to meet Tuesday at MacDill Air Force Base in Tampa, Fla., with Gen. Kenneth McKenzie, who oversees military operations in the Middle East as head of U.S. Central Command, and Gen. Richard Clarke, commander of Special Operations Command.
They will "discuss regional security concerns and ongoing operations," State Department spokesman Morgan Ortagus told reporters.
U.S. forces have been on alert in the Middle East since early May, when Trump officials say they received intelligence that Iran had loaded missiles in small boats in the Persian Gulf, intending to carry out attacks in response to U.S. sanctions.
The additional forces sent Monday raise the total number of troop increases since early May to about 8,500. The Pentagon also has dispatched an aircraft carrier task force, strategic bombers and other warplanes, as well as Patriot anti-missile batteries and other forces.
McKenzie sought more missile defense units in case Iran fires missiles at U.S. military installations or at allies in the region, said a defense official who asked not to be identified in order to discuss details of the deployment.
Plans for which units will be sent were still being finalized, the official added, although they are expected to arrive in coming days.
The Pentagon also is likely to send more Patriot anti-missile batteries, which are designed to shoot down short-range missiles, or possibly a Navy Aegis destroyer capable of shooting down longer range missiles, the official said.
The reconnaissance aircraft are likely to include unmanned drones that will patrol near Iranian territory in hopes of obtaining definitive video evidence of Iranian involvement in hostile acts, he added.
"The more reconnaissance aircraft we have, the more likely we are to catch them in the act or deter them," the official said.
Shanahan did not say where the additional forces would be deployed, but said the decision was made in response to a request from U.S. commanders in the region and in consultation with the White House.
"The action today is being taken to ensure the safety and welfare of our military personnel working throughout the region and to protect our national interests," he said.
---
Life is stressful. Our weekly mental wellness newsletter can help.
You may occasionally receive promotional content from the Los Angeles Times.