Trump picks 9th Circuit Court nominee for Arizona seat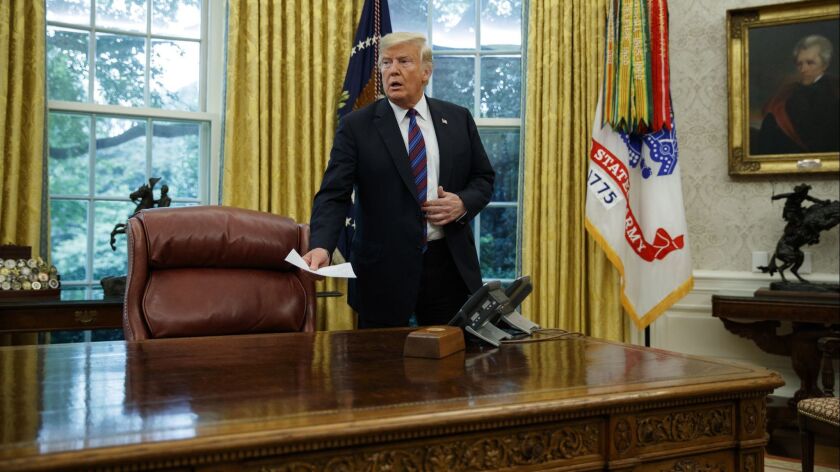 Reporting from Washington —
President Trump will nominate Arizona Magistrate Judge Bridget Shelton Bade for an open position on the 9th Circuit Court of Appeals, the White House said Monday.
Trump has largely avoided the 9th Circuit so far in his bid to reshape the judiciary because the Western district includes several states with two Democratic senators who could try to block his choice. In other parts of the country, he's filled dozens of circuit court vacancies in states with Republican senators.
Arizona's Republican senators, the late Sen. John McCain, who died Saturday, and Sen. Jeff Flake, have a history of clashes with Trump, but a White House official — who was not authorized to speak on the record — said Monday that Bade was recommended by the senators' judicial selection committee and isn't expected to face opposition.
Flake's office did not immediately return an email seeking comment on Bade. Flake serves on the Senate Judiciary Committee.
Bade was picked to be a magistrate judge for the U.S. District Court of Arizona in 2012. A magistrate judge is appointed to help U.S. district court judges with their normal duties and are generally responsible for setting bail and other administrative duties. They are not appointed by the president and do not serve life terms.
She previously worked as assistant U.S. attorney for the district of Arizona and in private practice. Bade is a graduate of Arizona State University's Sandra Day O'Connor College of Law.
The Arizona seat on the 9th Circuit has been empty since Judge Barry Silverman took a reduced workload in October 2016.
About two-thirds of the remaining appeals court vacancies nationwide are on the 9th Circuit, and at some point Trump will turn his attention westward and take on vacancies in states with Democratic senators.
Trump's nominee in Idaho, Ryan D. Nelson, has the support of the state's Republican senators and is expected to move quickly.
The remaining five 9th Circuit seats could be a bigger battle.
Three of the open seats are in California, and negotiations with Sens. Dianne Feinstein and Kamala Harris have effectively stalled until after the midterm elections.
Trump nominated a judge over the objections of the Democratic home state senators in Washington, and that nomination is moving forward.
Republican senators moved for a vote on a judge in Oregon, also over the objections of the two Democrats who represent the state. But the nominee was withdrawn at the last minute over concerns about some racially tinged writing from college.
More stories from Sarah D. Wire »
Follow @sarahdwire on Twitter
---
Get our Essential Politics newsletter
The latest news, analysis and insights from our politics teams from Sacramento to D.C.
You may occasionally receive promotional content from the Los Angeles Times.