Trump seeks $10 million from former aide in disclosure case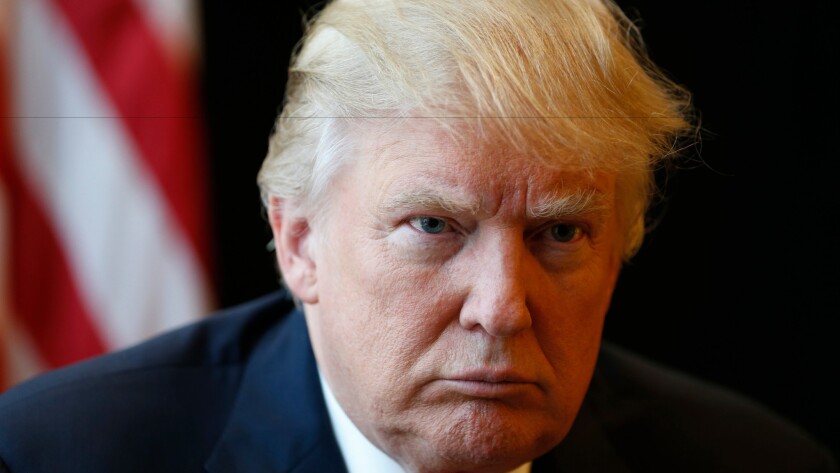 Reporting from WASHINGTON —
Republican presidential candidate Donald Trump is seeking $10 million in damages from a former senior campaign consultant, Sam Nunberg, alleging that Nunberg leaked confidential information to reporters in violation of a nondisclosure agreement.
In a court filing obtained by the Associated Press, Nunberg accused Trump of trying to silence him "in a misguided attempt to cover up media coverage of an apparent affair" between two senior campaign staffers.
The highly unusual legal dispute reflects Trump's efforts to aggressively protect the secrecy of his campaign's inner workings.
Election 2016 | Live coverage on Trail Guide | Sign up for the newsletter
The Associated Press reported last month that Trump requires nearly everyone in his campaign and businesses to sign legally binding nondisclosure agreements prohibiting them from releasing any confidential or disparaging information about the real estate mogul, his family or his companies. Trump has also said he would consider requiring such agreements in the White House.
In the court filings, Nunberg denied disparaging Trump and accused the presumptive GOP nominee of attempting to "bully" him into silence after Nunberg decided to publicly support the presidential bid of Sen. Ted Cruz (R-Texas).
"Mr. Trump's actions in starting a $10-million arbitration, seeking to silence Mr. Nunberg and have the proceedings sealed, are a cautionary tale of what the American people face if Mr. Trump is elected president," said Andrew Miltenberg, Nunberg's attorney. Miltenberg said Trump's attorney argued for the documents to be sealed in a hearing Wednesday morning.
Trump attorney Alan Garten did not respond to calls and emails from the Associated Press. Nunberg declined to comment Wednesday.
In particular, Nunberg said Trump filed a $10-million arbitration claim against him and falsely accused him of being a source of a New York Post article in mid-May that recounted a public quarrel between former campaign manager Corey Lewandowski and campaign spokeswoman Hope Hicks. Lewandowski was fired from the campaign in June after months of tension with other senior Trump advisors.
Nunberg denied being the source of the article, but in court papers referred to the quarrel as being part of an "apparent affair."
Hicks did not respond to detailed requests to respond to the allegations sent via email and text, as well as a voicemail.
Nunberg filed the court documents in an attempt to block private arbitration proceedings initiated by Trump in May.
In addition to asserting a right to discuss the campaign on free speech grounds, Nunberg's lawsuit also argued that the campaign's arbitration claim was invalid because it was brought by an exploratory group that Trump formed for his 2012 campaign, "which has nothing to do with the Trump Campaign's activities in the 2016 presidential campaign cycle."
"The Trump Campaign was not in existence prior to or at the time of the agreement, and Mr. Nunberg did not agree or intend that it apply to any future entity such as the Trump Campaign," Nunberg's complaint said.
An affidavit filed by Sam Nunberg's mother, Rebecca Citron Nunberg, said the Trump entity bringing the claim against Sam Numberg is not registered in the state of New York, depriving it of its ability to pursue legal claims against him.
ALSO:
Donald Trump declines invitation to speak at NAACP convention
Here are the top vice president picks for Donald Trump and Hillary Clinton
Trump's art of the deal with Native Americans: Racial insults or flattery, whichever was good for business
---
Get our Essential Politics newsletter
The latest news, analysis and insights from our politics teams from Sacramento to D.C.
You may occasionally receive promotional content from the Los Angeles Times.