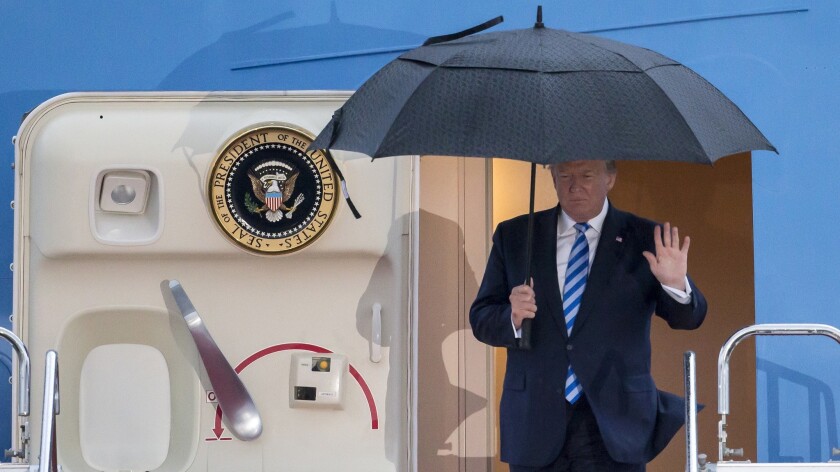 Reporting from Osaka, Japan —
President Trump met with several world leaders Friday as the Group of 20 conference got underway amid a U.S. trade war with China and rising tensions with Iran.
Chinese officials demanded that the United States lift its ban on U.S. firms supplying Huawei, the Chinese telecommunications giant.
Trump is scheduled to meet Saturday with Chinese President Xi Jinping, and the dispute over Huawei is expected to be a significant part of the discussion.
U.S. officials say Huawei could act as a conduit for Chinese espionage; the company denies it.
China's Commerce Ministry spokesman Gao Feng called for an end to pressure on Huawei and for a return to a more positive track in U.S.-China trade relations.
"We urge the United States to cancel immediately sanctions on Chinese companies including Huawei to push for the healthy and stable development in Sino-U.S. ties," Gao said Thursday.
In addition to the talks with Xi, the most anticipated of Trump's nine scheduled bilateral meetings will take place Friday afternoon, when he is scheduled to sit down for an hour with Russian President Vladimir Putin.
It will be their first extended conversation since their controversial summit in Helsinki, Finland, in July. The two leaders met for more than two hours with only interpreters present, not official note takers or other aides, as is traditional for presidential meetings with foreign leaders.
At a news conference later, Trump famously accepted Putin's denial of interfering with the 2016 U.S. presidential election over the contrary conclusions of his own top intelligence officials. Under intense pressure, Trump later claimed he had misspoken.
The Trump-Putin meeting Friday will be their first since the conclusion of special counsel Robert S. Mueller III's 22-month investigation, which determined that Russia did indeed interfere in the 2016 presidential election in an effort to help Trump and hurt his opponent, Democrat Hillary Clinton.
Trump did not respond to a question Friday about his tweet saying he had asked White House lawyers to see if it was possible to delay the 2020 census after a Supreme Court ruling that blocked his administration's efforts to add a citizenship question. The census is required by law.
At least in his public comments, Trump downplayed recent friction with Iran that is certain to be a focus of his bilateral discussions with other leaders. Trump instead stressed his hopes of negotiating directly with Iran's leaders, a prospect they have repeatedly rejected.
"We have a lot of time," said Trump. "There's no rush, they can take their time. There is absolutely no time pressure. Hopefully in the end it's going to work out. If it does, great. If it doesn't, you'll be hearing about it."
Trump's first meeting after his arrival Thursday was a working dinner with Australian Prime Minister Scott Morrison, who was elected last year.
Morrison warned this week that the U.S.-China trade war is affecting global markets and Australia's shaky economy.
"The collateral damage is spreading," Morrison said in Sydney on Wednesday. "The impact of any further deterioration of the relationship will not be limited to these two major powers."
On Friday, Trump sat down with Japanese Prime Minister Shinzo Abe, the official host of the G-20 meetings. Trump thanked Abe for hosting him a month ago during a visit to Tokyo to welcome the nation's new emperor.
"We just left Japan, and now I'm back," Trump joked at the outset of the meeting.
Abe presented the president with a handout depicting in graphic form new Japanese investments in the U.S. Abe has assiduously courted Trump in an effort to keep the U.S. as a central pillar in the G-20 and, more important to Japan, the G-7, although there are signs that Abe's efforts are only moderately successful.
Trump's attendance at this summit comes, at least in part, out of his respect for Abe. But the president recently grumbled publicly for the first time about a post-World War II U.S.-Japan mutual defense pact, threatening to withdraw from a military alliance he has said is one-sided and out of date.
Trump also met with Indian Prime Minister Narendra Modi and was scheduled to meet with German Chancellor Angela Merkel.
While en route to Osaka, Trump made it clear that trade will be the main issue on the table in his talks with Modi.
"I look forward to speaking with Prime Minister Modi about the fact that India, for years having put very high Tariffs against the United States, just recently increased the Tariffs even further," he tweeted. "This is unacceptable and the Tariffs must be withdrawn!"
India was responding to the Trump's administration move this month to end the special trade status India had enjoyed, which exempted billions of dollars of the country's products from U.S. tariffs.
The two leaders were cordial in front of the cameras at the beginning of their meeting. Neither mentioned the tariffs specifically, as Trump teased "a very big trade deal" that might be announced soon.
"The hottest country in the world right now is the United States and everybody wants a part of it," Trump said.
After the G-20 welcome ceremony and his meeting with Putin, Trump also plans to meet with Brazilian President Jair Bolsonaro.
On Saturday, Trump has meetings scheduled with Saudi Crown Prince Mohammed bin Salman, China's Xi and Turkish President Recep Tayyip Erdogan.
Afterward, he plans to hold a news conference before flying to Seoul to meet with South Korean President Moon Jae-in.
Times staff writer Robyn Dixon in Beijing contributed to this report.
---