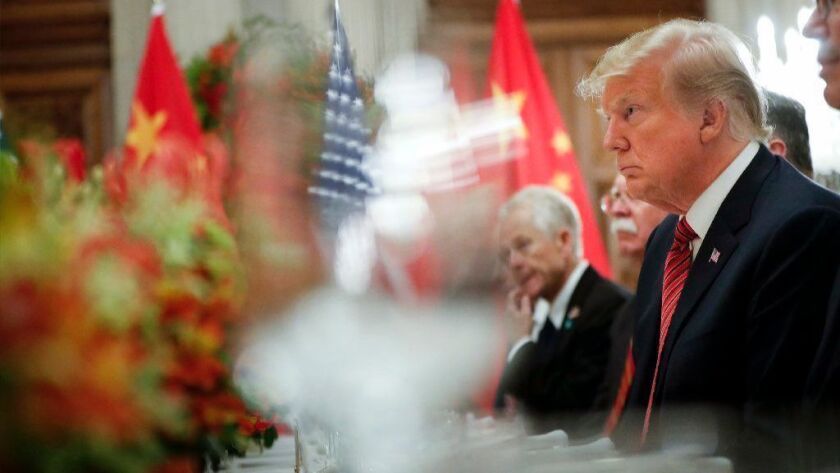 Reporting from Washington —
With the Mueller report behind him and tensions rising with Iran, President Trump is set to meet Russian President Vladimir Putin and several concerned allies at the Group of 20 summit this week in Osaka, Japan.
Despite a busy agenda and an urgent list of world problems, however, expectations for significant progress are remarkably low, even within the administration. During a White House briefing for reporters, a senior administration official, speaking anonymously under the briefing ground rules, noted that Trump's planned meeting with Putin is "not a formal summit" and that, while the conversation will probably focus on regional security matters, there is no official agenda.
The lowered prospects reflect how much less of a role multilateral institutions and meetings have in the Trump era. They also highlight the administration's lack of clearly articulated foreign policy goals. Trump has repeatedly suggested that improved U.S. ties with Moscow would be a good thing, for example, but has never made clear what he hopes to gain.
The personality-driven nature of Trump's diplomacy is familiar by now. He relishes the global spotlight, toggling between tough talk and effusive praise for other leaders, and often expresses confidence that the most intractable geopolitical problems can be resolved by building strong personal relationships.
But well into the third year of his norm-shattering presidency, there is scant proof that works. The president's promises of an improved trade deal with China, a breakthrough with North Korea or a Mideast peace proposal exist in suspended animation, possibilities often heralded as being just around the corner, but still unrealized.
Allies, meanwhile, are anxious. Given Trump's volatility, many world leaders now approach the G-20 and other group meetings of heads of government hoping not for major breakthroughs, but simply for a preservation of the status quo and avoidance of major disruptions.
"They aren't entirely sure how it's going to work, and that level of uncertainty is what just eats away at the value of these relationships," said Heather Conley, a Russia specialist at the Center for Strategic and International Studies, a Washington think tank. "We're seeing the slow death of multilateralism in many respects. It's a death by a thousand cuts."
Rather than trying to build a consensus among multiple heads of state, Trump tends to view these group meetings mostly as an opportunity to hold a series of one-on-one discussions. This time, he plans to hold bilateral meetings with at least eight leaders.
In addition to his expected meeting with Putin on Friday, the most attention probably will be on his expected sit-down Saturday with Chinese President Xi Jinping at a time when the trade war between the two countries appears to be at an impasse.
Beyond those, Trump plans to meet with German Chancellor Angela Merkel as well as Saudi Crown Prince Mohammed bin Salman, who's been scorned by the world community after the murder last year of dissident Saudi journalist Jamal Khashoggi, and President Recep Tayyip Erdogan of Turkey. He also has sit-downs planned with Japanese Prime Minister Shinzo Abe, Australia's Scott Morrison and India's Narendra Modi.
Trump, who has at times been more critical of democratic U.S. allies than more traditional adversaries, seemed to attack Merkel when he called in to Fox Business Network's morning program Wednesday, although he avoided naming her.
"You have a woman in Europe, I won't mention her name," Trump said. "She hates the United States, perhaps worse than any person I've ever met."
Conversely, Trump rarely mentions Xi without noting their strong relationship, although a trade deal has failed to materialize, and negotiators have made minimal progress toward resolving major sticking points around intellectual property and data sharing.
"They want to make a deal more than I do," Trump said to Fox Business host Maria Bartiromo. He again claimed that China's economy is paying more of a price in the trade war than is the U.S., where farmers have been hit especially hard by retaliatory counter-tariffs.
"Xi is just a long-term political operator," said David Dollar, a senior fellow at Washington's Brookings Institution. "I'm skeptical that any foreign leader builds a real personal relationship with him. Most China experts think we have the worst U.S.-China relationship we've had in 40 years."
Abe, who hosted Trump in Tokyo a month ago and has been as complaisant as any world leader in courting the unpredictable U.S. president, has little to show for his efforts.
Trump has threatened additional tariffs on Japanese automobiles, voiced his indifference about North Korea's recent test of short-range missiles, which could harm Japan, and is openly considering withdrawing from a post-World War II U.S.-Japan defense pact.
"If Japan is attacked we will fight World War III," Trump said in the Fox Business Network interview. "But if we're attacked, Japan doesn't have to help us at all. They can watch it on a Sony television, the attack," he said, referring to the Japanese electronics manufacturer.
As for Putin, the Russia leader this week said in an interview with the pro-Kremlin broadcaster NTV that while both Trump and the Kremlin wanted to improve relations, the American president was hampered by the U.S. political system.
"We see that the system is so that many things, which [Trump] wants to do, cannot be done. Although, certainly, a lot depends on the political will," Putin said.
Trump called off a meeting with Putin at the previous G-20 in December in Buenos Aires after Russia attacked a Ukrainian naval vessel in the Sea of Azov and captured 23 Ukrainian sailors. Russia continues to hold them captive, but time has eased the diplomatic pressure that caused Trump to scrap last year's talks.
This time, when they meet, Iran could be a sticking point.
The administration's efforts to build a coalition to counter Iran have faltered, and Trump is unlikely to find a receptive audience at the summit.
Key European governments, along with Russia and China, remain opposed to Trump's decision to withdraw from the 2015 Iran nuclear agreement, which curbed Tehran's ability to pursue nuclear weapons. Iran was complying with the deal, but Trump contended it didn't go far enough in curtailing Iranian support for militant groups throughout the region.
Trump last week opted not to authorize retaliatory airstrikes against Iran's destruction of a U.S. drone. He acted shortly after Putin, who has close ties to Tehran, said the use of U.S. force in the region would trigger a "catastrophe."
Trump has said he is open to talks, and he asked Abe to communicate as much to the Iranians directly. But on Tuesday, a day after imposing additional but largely symbolic sanctions against Iran, which the Islamic Republic said "closed the door" on diplomacy, Trump tweeted that Iran does not "understand reality."
"Any attack by Iran on anything American will be met with great and overwhelming force," he wrote. "In some areas, overwhelming will mean obliteration."
Also on Tuesday, U.S. national security advisor John Bolton, on a trip to Jerusalem, sparred with his Russian counterpart on the role Iran plays in the region.
As Bolton demanded that Iranian forces leave Syria, Russian envoy Nikolai Patrushev urged the U.S. to show "restraint" where Iran was concerned and said the Islamic Republic was actually a "stabilizing" influence in the war-ravaged country.
Bolton and Secretary of State Michael R. Pompeo, both consistent hawks on Iran, are in the Middle East attempting to drum up support for the U.S. position. Pompeo was dismissive of Iran's protest over sanctions, which he said was "childlike."
"Know that the United States will remain steadfast in undertaking the actions that the president laid out in this strategy to create stability throughout the Middle East, which includes the campaign we have, the economic campaign, the pressure campaign that we have on the Islamic Republic of Iran," Pompeo told reporters traveling with him.
The hard-line approach is reminiscent of Trump's initial stance toward North Korea, which gave way to a detente and two summits that served to lower tensions, but haven't led to any major progress. Iran, however, appears less disposed to meet with Trump.
"The main problem is there's no diplomatic off-ramp," said Thomas Wright, a senior fellow in the Project on International Order and Strategy at the Brookings Institution.
Trump will also talk about the Korea nuclear situation when he heads to Seoul on Saturday evening. He is scheduled to dine with South Korean President Moon Jae-in and hold additional meetings on Sunday before returning to Washington.
These talks come just days after Trump received a conciliatory birthday letter from North Korean leader Kim Jong Un aimed at restarting talks after the Hanoi summit fell apart in February.
But world leaders such as Moon and others, more familiar now with Trump's approach, understand that their best hope is to play a supporting role.
"The president, I don't think, views these gatherings or allies as a way to build international solidarity pressure on North Korea," said Michael Green, an Asia expert at Center for Strategic and International Studies. "I think he views the North Korean negotiations as a solo act."
Special correspondent Sabra Ayres in Moscow contributed to this report.
---