Border showdown: Trump and Beto O'Rourke hold dueling rallies on immigration in El Paso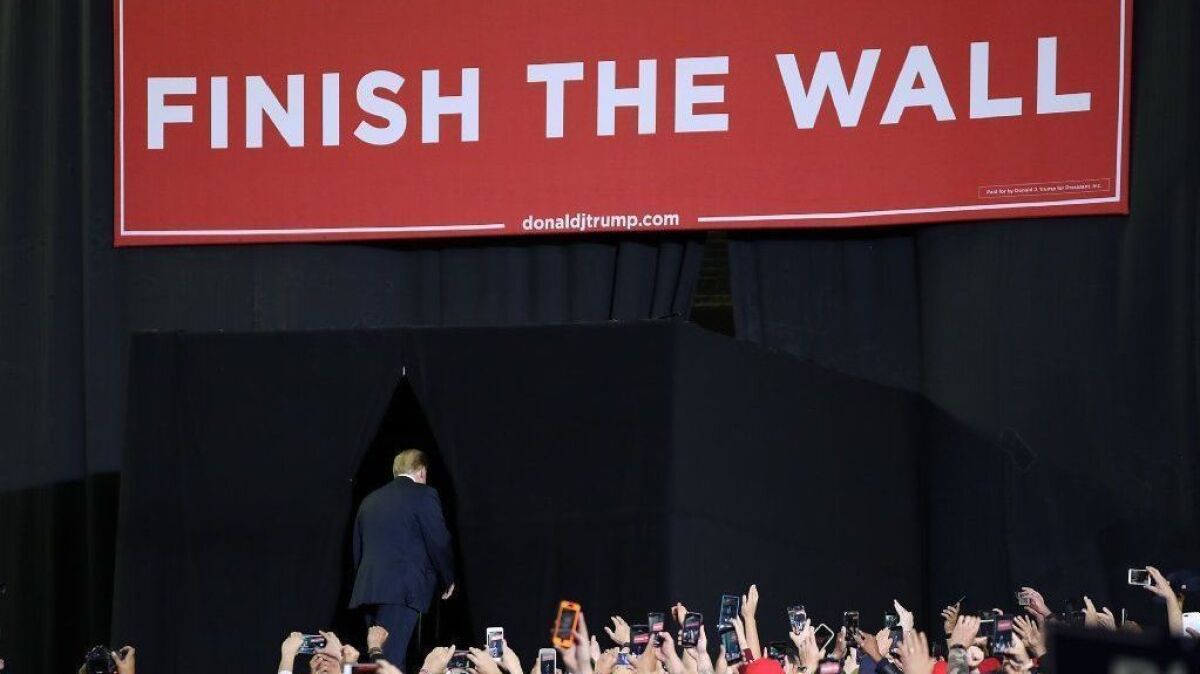 Reporting from El Paso —
President Trump falsely told a raucous rally in El Paso on Monday night that he is already building a wall on the adjacent border with Mexico, as a potential Democratic challenger assailed him at a large protest nearby and, in Washington, congressional negotiators announced a tentative funding deal without the billions he demanded for a wall.
Beneath banners reading "Finish the Wall," Trump hailed what he called a "big, beautiful wall right on the Rio Grande," though no such construction is known to be underway. When supporters launched into a chant of "Build the wall!" — standard at his rallies for years — Trump corrected them: "You mean finish the wall."
The president alluded to lawmakers' announcement of a deal, which came moments before he took the stage, but did not give it his blessing. Nor did he disparage it though one of his foremost confidants, Fox News host Sean Hannity, came on the air midway through the president's rally and condemned the reported agreement as "this garbage compromise."
Without the president and Congress agreeing to a border security funding bill by midnight Friday, the government could be partially shuttered again, just three weeks after a shutdown that at 35 days was the longest ever. The "agreement in principle" called for $1.375 billion for 55 miles of new barrier on the 2,000-mile border — less than a quarter of the $5.7 billion Trump demanded.
He told the crowd that he hadn't bothered to find out the particulars of the agreement because he was eager to take the stage. "I could have stayed in there and listened, or I could have come out to the people of El Paso, Texas," he said. "I chose you."
Outside the El Paso County Coliseum, thousands of protesters, bundled against the evening chill, marched along the Rio Grande to a nearby park. There, El Paso's former congressman and a possible Democratic 2020 presidential candidate, Beto O'Rourke, joined other locals who spoke of El Paso and neighboring Juarez, Mexico, as one community and expressed indignation over Trump's false characterization of their city as a violent one in last week's State of the Union address.
"With the eyes of the entire country upon us, all of us together are going to make our stand. Here in one of the safest cities in the United States of America — safe, not because of walls but in spite of walls," O'Rourke said, in the sort of rousing speech that brought nationwide attention to his Senate race last year, though he lost to Republican Sen. Ted Cruz.
"Let's own this moment and the future and show this country there's nothing to be afraid of when it comes to the U.S.-Mexico border," O'Rourke said to cheers. "Let's make sure our laws, our leaders and our language reflect our values."
Late Monday, the House-Senate committee bargaining over border security funding and trying to avert another shutdown reached an "agreement in principle," according to Sen. Richard C. Shelby (R-Ala.), chairman of the Senate Appropriations Committee. Talks had stalled on the weekend, Republicans said, over Democrats' demands to limit the detention of undocumented immigrants, many of them seeking asylum.
Should Congress pass a compromise, the onus would be on the president to accept it, or risk taking blame again for a partial federal shutdown. Before arriving in El Paso, Trump sought to preemptively shift blame to Democrats should the legislative effort ultimately fail. After the recent shutdown, polls showed the public put the blame squarely on him, and his approval rating slid.
With both his rally and the protest featuring O'Rourke receiving national coverage, the split-screen moment promised something of an audition of a hypothetical 2020 matchup, effectively creating a live debate between the president and a charismatic potential challenger on the issue that most animated Trump's followers in 2016 and probably will again in his reelection bid.
Before leaving the White House, the president signaled that he too saw the dueling rallies as an early competition, with his familiar emphasis on crowd sizes. "We have a line that's very long already," Trump told reporters at the White House, referring to people waiting to enter his El Paso venue. He added, "I understand our competitor's got a line too, but it's a tiny little line."
At his rally, Trump bragged that 10,000 supporters were inside the arena and 25,000 more were standing outside. According to the El Paso Fire Department, 6,500 people — the building's capacity — were allowed inside, while at least 10,000 attended the protest rally. Organizers, however, had a slightly lower estimate.
"We have 35,000 people tonight and he has 200 people, 300 people," Trump said. "Not too good. That may be the end of his presidential bid."
While the border visit was intended as an opportunity for Trump to promote his signature issue, he wandered widely in his remarks — attacking Democrats repeatedly, including on abortion and on a so-called Green New Deal environmental platform that some are advocating, and mocking Virginia Democrats for controversies that have roiled the state's government.
Trump's drumbeat on immigration has yet to pay political dividends beyond his own supporters, and it has further galvanized his opponents. His fear-mongering during campaign rallies last fall over caravans of immigrants failed to prevent a Democratic wave that cost Republicans a net 40 seats and their majority in the House.
And during his State of the Union address, his incorrect portrayal of El Paso — he said it had "extremely high rates of violent crime" and was "one of our nation's most dangerous cities" until the government built a "powerful barrier" there — touched a nerve among civic leaders and citizens.
The El Paso County Commissioners Court on Monday approved a resolution assailing the president and his administration for misinformation and lies about a "crisis situation" on the U.S.-Mexico border, and noting that the federal government said "no crisis exists" and that "fiscal year 2017 was the lowest year of illegal cross-border migration on record."
Yet Trump, at the rally, denounced his critics and media fact-checkers who disputed his claims that existing border fencing had slashed crime rates in El Paso. "They're full of crap when they say it doesn't make a difference," he said, suggesting that local officials tried to "pull the wool over everybody's eyes" by reporting low crime rates.
Lyda Ness-Garcia, a lawyer and founder of the Women's March of El Paso, said organizers of Monday night's protest were motivated to counteract Trump's "lies" about their city.
"There was a deep sense of anger in our community, from the left and the right. It's the demonization of our border. It's the misrepresentation that the wall made us safe when we were safe long before," she said.
Referring to the Mexican city just over the border, Garcia added: "We're connected to Juarez. People forget. We're not separate. We're one culture."
In truth, violent crime dropped in El Paso after a peak in 1993. It was at historic lows before Congress authorized a fence along the Rio Grande in 2006. Crime began to rise again over the next four years, after the fencing went up.
The city's Republican mayor, Dee Margo, admonished Trump after the State of the Union speech, saying during an appearance on CNN that the president's depiction of El Paso is "not factually correct."
Fernando Garcia, executive director of the Border Network for Human Rights, said organizers intended the march as a community celebration rather than an anti-Trump or pro-O'Rourke political event. "The administration, they didn't believe our community would react, that people would get upset about the lies," he said. "Our community spoke in numbers."
Garcia noted that residents had seen the fallout from the Trump administration's "zero tolerance" immigration policies firsthand, both in family separations and in asylum-seekers being turned away from border bridges and required to remain in Mexico while they await hearings.
In December, two Guatemalan migrant children died in Border Patrol custody in the El Paso area after seeking asylum.
"Trump has created policies and strategies that have created deep wounds in our region," Garcia said. "We are not a violent city. We are not criminals. We are part of America and we deserve respect from this president."
Although the protest event brought together roughly 50 local groups, O'Rourke's political star power generated significant media coverage.
"If you're Beto, there couldn't be a better, more visual contrast," said Jen Psaki, a former communications director to President Obama. "By leading a march, he gets back to his grass-roots origins and it allows him to stand toe to toe with the president of the United States and to echo a message that even local Republicans agree with. It gives him a platform and a megaphone at a beneficial time."
Not willing to cede the moment completely to O'Rourke, Julian Castro — a former mayor of San Antonio, an Obama Cabinet member and already a declared presidential candidate — went Monday to the border checkpoint where his grandmother entered the United States as a young girl. He filmed a video denouncing the president and calling Trump's visit to El Paso an effort "to create a circus of fear and paranoia" and "to tell lies about the border and about immigration."
Speaking directly into the camera, Castro added, "Don't take the bait."
---
Life is stressful. Our weekly mental wellness newsletter can help.
You may occasionally receive promotional content from the Los Angeles Times.