Trump says he will 'no longer deal' with British ambassador who called him 'insecure'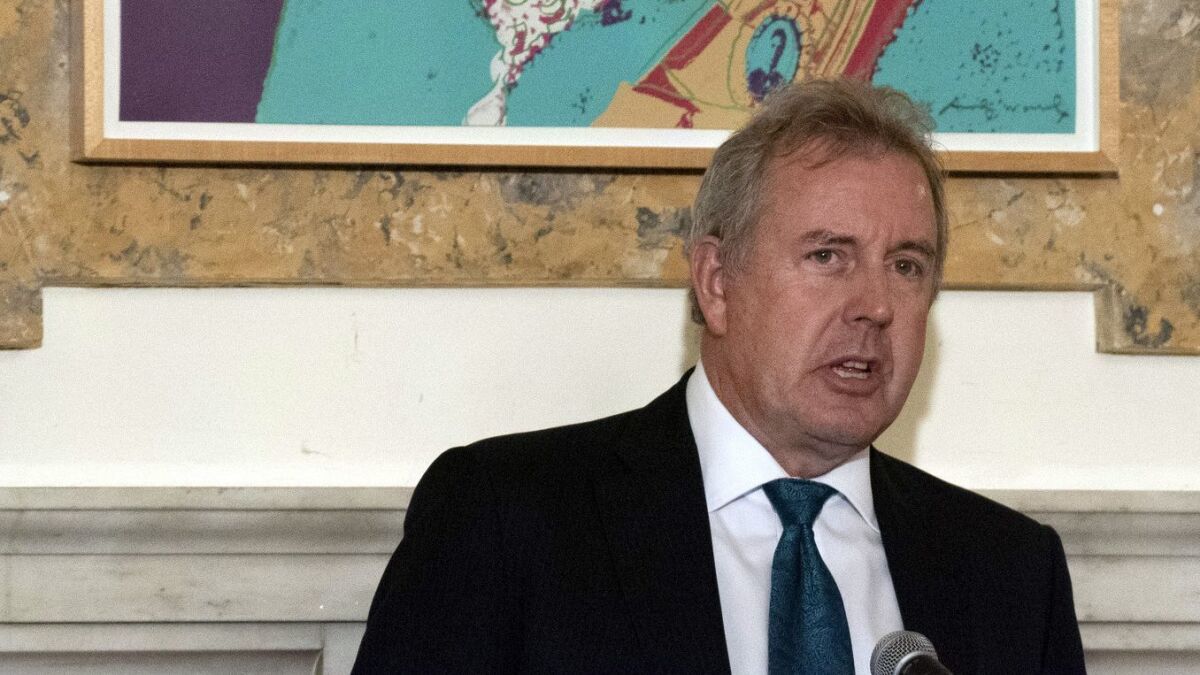 Reporting from Washington —
President Trump on Monday said he would no longer deal with Britain's ambassador to the United States, who in leaked memos called him and his administration "inept," "insecure" and "dysfunctional."
The declaration from Trump, made on Twitter, marked another fault line in the "special relationship" between the two countries that has seen several ups and downs since Trump took office and has been increasingly fraught with tension over Britain's messy exit from the European Union.
Trump has been furious since this weekend, when the Mail on Sunday, a British tabloid, published a trove of memos written in 2017 by Ambassador Kim Darroch.
But Trump's response Monday went beyond simply criticizing Darroch, who is set to leave his post at the end of this year.
"I have been very critical about the way the U.K. and Prime Minister Theresa May handled Brexit," Trump wrote. "What a mess she and her representatives have created. I told her how it should be done, but she decided to go another way. I do not know the Ambassador, but he is not liked or well...thought of within the U.S. We will no longer deal with him."
Many of Trump's aides have frequented events at the British Embassy during Darroch's tenure.
Trump added that "the good news for the wonderful United Kingdom" is that they will have a new prime minister soon.
"While I thoroughly enjoyed the magnificent State Visit last month, it was the Queen who I was most impressed with!" Trump added.
During his state visit to Britain last month, Trump praised May effusively, telling reporters that she had brought Brexit negotiations to "a very good point."
"I think she's done a very good job," he added.
British officials have not disputed the authenticity of the memos, but have said they reflected Darroch's personal views rather than official policy.
Still, the harsh assessment of Trump from America's closest ally is an unusual breach. Some diplomats from allied countries have expressed similar views in private but have generally left it to their superiors to flatter Trump in public for fear of upsetting relations with the superpower.
May resigned in June and her replacement as leader of the Conservative Party — and therefore prime minister — is scheduled to be chosen in the coming weeks.
Some in the British media have speculated that politics around Brexit may have spurred the leak in an effort to elevate Nigel Farage, who favors a swift exit from Europe. Farage heads the Brexit Party and is not on the ballot, but his influence within a coalition government could rise amid concerns over damage to the relationship with Trump.
Trump held only a brief meeting with Farage during his London trip, but earlier in his tenure had said Farage would make a good ambassador to the United States.
---
Life is stressful. Our weekly mental wellness newsletter can help.
You may occasionally receive promotional content from the Los Angeles Times.