On eve of gun control march, Trump announces proposed ban on 'bump stocks'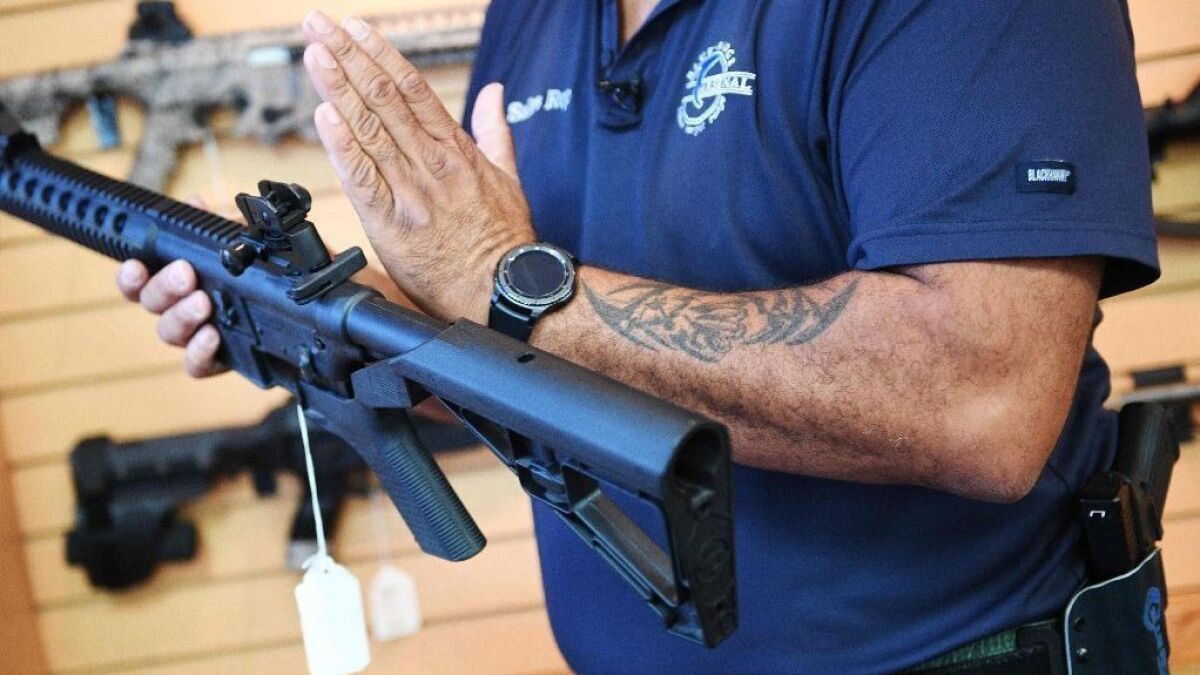 Reporting from Washington —
The Trump administration on Friday announced a new regulation that would outlaw "bump stocks," the mechanical device used by the Las Vegas shooter to make his rifles fire like more lethal automatic weapons.
President Trump announced the regulation in a Twitter message a day before the so-called March for Our Lives, which was organized by young people after the mass slayings at a Parkland, Fla., high school. Marches are planned for Washington and hundreds of other locales nationwide to call for stricter gun control measures.
Congress has held hearings since the Parkland shootings on Feb. 14, but Republican leaders have shown little interest in passing new laws.
Bump stocks use a semiautomatic rifle's recoil to allow the stock to slide back and forth with each shot, dramatically accelerating the rate of fire to as much as 800 bullets per minute.
Stephen Paddock used bump stocks in October in the rampage that killed 58 people and wounded hundreds of others in Las Vegas, the deadliest mass shooting in modern American history.
The Parkland killer reportedly did not use a bump stock.
"After the senseless attack in Las Vegas, this proposed rule is a critical step in our effort to reduce the threat of gun violence that is in keeping with the Constitution and the laws passed by Congress," Atty. Gen. Jeff Sessions said in a statement.
The Bureau of Alcohol, Tobacco, Firearms and Explosives published a new proposed rule on Friday, following Trump's instructions on Feb. 20. It will take effect after publication in the Federal Register and a 90-day comment period.
The ATF previously ruled that the devices don't fit the legal definition of "machine guns," which are illegal under federal laws, and that it could not restrict bump stocks without a new law from Congress. Manufacturers of the devices have letters from the ATF on their websites to reassure customers that the devices are legal. If the rule is made final, owners of bump stocks would be required to turn them in or destroy them, though manufacturers could sue to block enforcement.
In the proposed rule, the ATF says it has now concluded that the prior decision "does not reflect the best interpretation of the term 'machine gun'" under the law.
In his tweet, Trump castigated the Obama administration for that previous ATF ruling, in effect criticizing his predecessor for not limiting firearms after years in which Trump assailed Obama as opposing gun rights. "BAD IDEA," he wrote. "We will BAN all devices that turn legal weapons into illegal machine guns."
Twitter: @jtanfani
---
Life is stressful. Our weekly mental wellness newsletter can help.
You may occasionally receive promotional content from the Los Angeles Times.