As White House roils over Trump investigation, Republicans in Congress try to ignore the chaos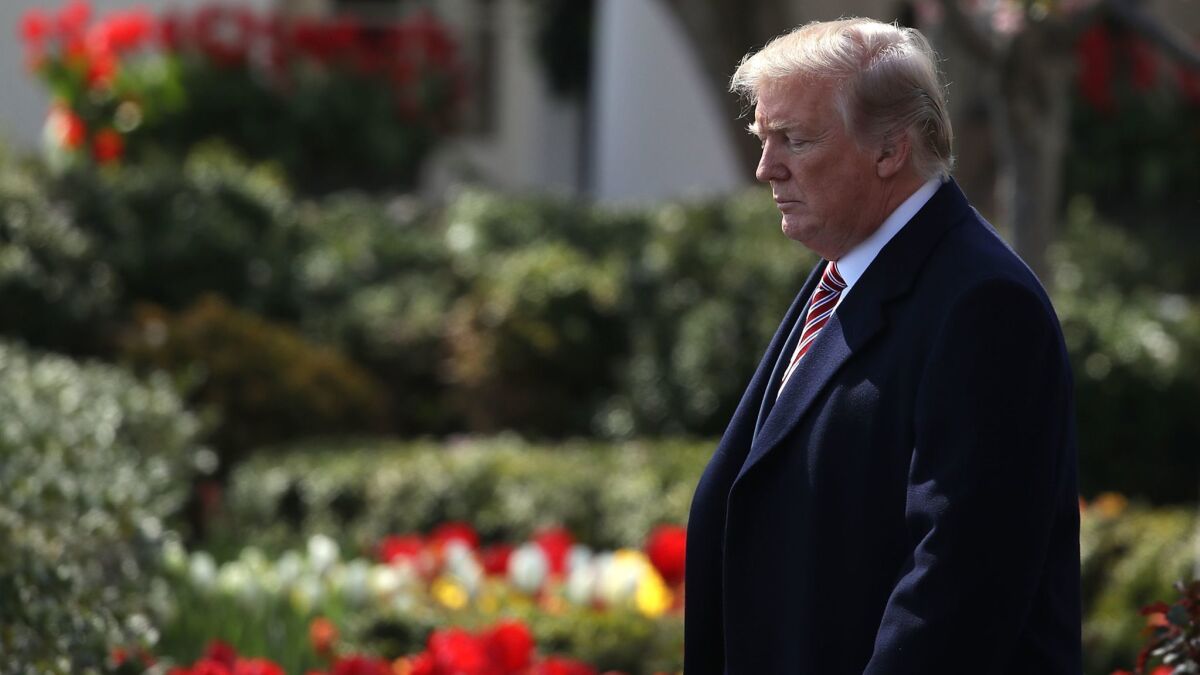 Reporting from Washington —
Facebook founder Mark Zuckerberg took the stand at a Capitol Hill hearing Tuesday afternoon to an almost audible reaction from Republican members of Congress: Finally, someone else's turn in the hot seat.
On Tuesday the usual strategy by congressional Republicans in dealing with President Trump — lobby privately, support publicly, criticize rarely — was tested again by the president's angry denunciations Monday night, after federal agents seized documents from his attorney's Manhattan office.
Throughout the morning and early afternoon, Democrats loudly demanded that Republicans publicly support legislation protecting special counsel Robert S. Mueller III from being fired at the behest of Trump, a move the president Monday suggested he was entertaining.
Republicans divided into two camps: a very small one inhabited by North Carolina Sen. Thom Tillis, one of the authors of the measure to protect Mueller, and a much larger one trying to brush the problem aside, as senators insisted confidently that the president would not move against Mueller but never explained why they were so confident.
"I don't think he's going to do it," Sen. Lindsey Graham of South Carolina told reporters as he ducked into an elevator and eagerly waited for the doors to close. "It'd be a bad decision. I don't think he's going to do it — unless there's a reason."
Among Republicans on Tuesday, rare was the stern warning to Trump — such as Iowa Sen. Charles E. Grassley's statement on the Fox Business channel that "it would be suicide for the president to want to talk about firing Mueller."
White House Press Secretary Sarah Huckabee Sanders said Justice Department lawyers had determined Trump could in fact fire Mueller — suggesting that, at minimum, the topic had come up.
Instead of addressing the Mueller investigation, Republican Senate leaders opened an early afternoon media conference with the usual handful of issues.
They complained about Democratic recalcitrance in approving Trump administration nominees, praised the economic impact of the December tax bill, expressed concern about the opioid epidemic's scythe through much of America. Trump's threatened move against Mueller came up only when Senate Majority Leader Mitch McConnell opened the floor for questions.
"It is still my view that Mueller should be allowed to finish his job; I think that is the view of most people in Congress," the Kentucky Republican said. "I haven't seen a clear indication yet that we need to pass something to keep him from being removed because I don't think that's going to happen."
Asked what gave him that confidence, McConnell replied, "You're asking a hypothetical."
What assurances have you been given? McConnell was asked.
"I'm not going to answer a hypothetical," the leader replied, frustration seeming to grow. "I'm telling you I think he'll be allowed to finish the job. He should be allowed to finish the job."
Minutes later, Democratic leaders came to the same bank of microphones off the Senate floor and blistered their across-the-aisle colleagues. They spoke about Mueller and nothing else.
"Our Republican colleagues must not continue ignoring the elephant in the room," insisted Democratic leader Charles E. Schumer of New York. "Let's not wait until it's too late."
"It seems increasingly to be no longer a question of 'if' but 'when' President Trump might take a reckless and irresponsible step," echoed Sen. Chris Coons, a Democrat from Delaware.
More than most other days, Tuesday seemed to tear at what had been a carefully calibrated Republican strategy. On paper, Republicans control the House, the Senate and the White House. In reality, it's uncommon for those three entities to dance in sync. Often, the city's public power struggles pit minority Democrats, congressional majority Republicans and the White House in a complicated calculus.
Their modes of operation are worlds apart: At one end of Pennsylvania Avenue, the president can explode at his Justice Department, vent at the special prosecutor, cancel a trip abroad to monitor an international crisis in Syria and lose another key aide, his homeland security advisor — all things that happened from Monday night into Tuesday.
But at the other end of Pennsylvania on Capitol Hill, icy discipline most often takes over, and Republican leaders focus the issues they believe are strongest for them this election year, such as the economy. They publicly ignore the president who has vastly complicated their lives even as they privately seek to influence him.
Politics dictates why Republicans have adopted an arms' distance approach to the Trump vs. Mueller conflict — and why Democrats are going out of their way to force them to choose a side.
Mueller remains popular among voters; a Quinnipiac poll released Tuesday found that nearly 7 in 10 Americans oppose Mueller's firing. Even among Republicans, 55% opposed Mueller's firing.
But to vociferously support Mueller means vociferously opposing Trump. The president remains intensely popular among Republicans, many of whom see the investigation as an attempt to push him from office. In the same Quinnipiac poll, 85% of Republicans supported Trump's actions as president; only 10% disapproved.
The bulk of Republican legislators appear to be betting that Trump won't act against Mueller and they will stay in the good graces of Republican voters. The danger: that Trump will move to fire Mueller and they will appear complicit for not acting to protect the special counsel.
Thus came a cacophony of similar responses from Republicans on Tuesday.
"I don't think it's necessary," Sen. John Cornyn of Texas said about protecting Mueller.
"I just don't think he's going to do it," Sen. Susan Collins of Maine said of Trump.
"I don't anticipate it happening, and I certainly would advise the president not to," said Sen. John Thune of South Dakota.
"I'm not worried," said Sen. Richard Burr of North Carolina.
Like Graham, he was spared further discussion as the elevator doors closed.
For more on politics from Cathleen Decker »
Twitter: @cathleendecker
Life is stressful. Our weekly mental wellness newsletter can help.
You may occasionally receive promotional content from the Los Angeles Times.