Trump says he's open to a sweeping immigration deal and is willing to 'take the heat' with his supporters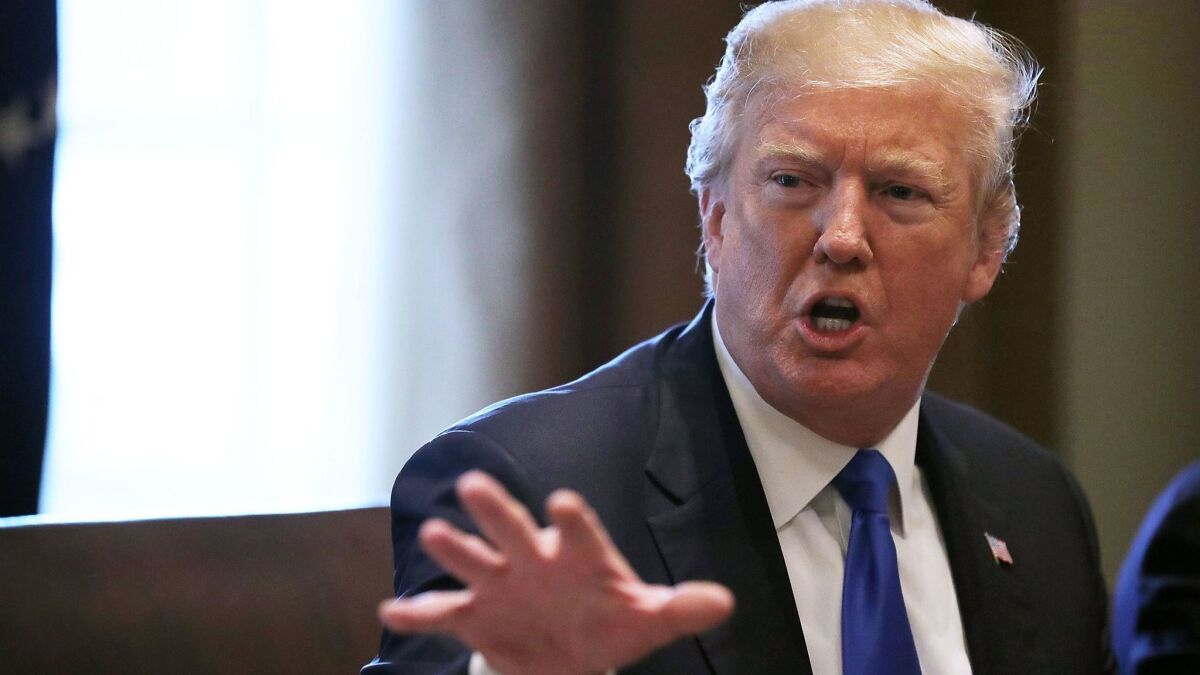 Reporting from Washington —
President Trump told lawmakers Tuesday he'd "take the heat" for a comprehensive immigration bill to address the roughly 11 million people in the country illegally — a measure that would test the support of his anti-immigration loyalists.
First, he said, Congress would have to come to a narrower agreement with the administration on border security and on the so-called Dreamers, an estimated 700,000 young people who were brought to the country illegally as children. Then, he said, they could push to deal with the status of the 11 million, he said.
"If you want to take it that further step, I'll take the heat. I don't care," Trump said, quipping, "My whole life has been heat."
Meanwhile, a federal judge in San Francisco issued an order Tuesday night temporarily blocking the Trump administration's decision to phase out the program protecting the Dreamers from deportation.
U.S. District Judge William Alsup granted a request by the state of California, the University of California and other plaintiffs to stop Trump from ending the Deferred Action for Childhood Arrivals program while their lawsuits proceed in the courts.
The decision requires the federal government to renew the protected status of Dreamers and process new applications for protection.
Trump's comments came during a free-wheeling exchange with 12 Republican and eight Democratic lawmakers at the White House that, extraordinarily, remained open to the news media for nearly an hour, giving reporters a rare fly-on-the-wall vantage to a normally closed meeting, and on one of the most divisive issues in politics.
Lawmakers several times tried to pin Trump down on points of immigration policy and legislative process, as the president — determinedly conciliatory, in contrast to the divisive stands that helped get him elected — sent mixed signals.
The unusual decision to let reporters remain to watch the president in the role of would-be bipartisan deal-maker led to widespread speculation that the White House was trying to counter ongoing attention to a new book, "Fire and Fury: Inside the Trump White House," that has prompted questions about his fitness for office. In any case, Republican spokesmen afterward did use the episode to that end.
Yet it was unclear that the meeting achieved any breakthrough, as both sides stood by their conflicting demands afterward. During the meeting, Trump said Congress should write a "bill of love." Such talk immediately drew derision from some allies who oppose any softening on immigration, as well as from Democrats and immigration advocates who distrust Trump.
"If we are going to be forced to swallow some kind of amnesty, it better be a good deal," said Rosemary Jenks, the head of government relations for Numbers USA, which advocates reduced immigration.
Jenks said she hopes Trump "remembers the promises he's been making voters over the last few months" to crack down on various immigration programs.
The White House meeting was called to help resolve differences over immigration issues, which threaten to stymie passage of a funding bill needed to keep the government operating beyond Jan. 19. Democrats, whose votes the majority Republicans need to pass a funding measure and avert a government shutdown, demand that it include language protecting Dreamers — immigrants brought to the country illegally as children — from deportation.
In the discussion, Democrats sought to reconcile Trump's professed support for protecting Dreamers with his demands, most of which they oppose, to add curbs on legal immigration and spend $18 billion to start work on his promised border wall.
The controversy has simmered since September, when Trump ordered an end by March to the Obama-era program that had allowed Dreamers to get two-year permits to stay legally, work and attend school. At that time he told Congress to come up with an alternative for DACA before about 700,000 immigrants face deportation once their permits begin expiring March 6.
To the evident surprise of lawmakers on Tuesday, the president veered from the DACA question to urge Congress to try to reach much broader immigration legislation. That prompted Democrats and Republicans to recount their failures of recent years, over months of work under Presidents George W. Bush and Obama, to provide a path to legal status or citizenship for millions in the country illegally, many of them for years.
Trump encouraged lawmakers to pass the more narrow bill on DACA first, but start "the next afternoon" on comprehensive immigration reform.
The unusual debate that reporters witnessed, and which later ran on cable television in full, provided a window into how a similar, closed-door White House meeting in September — between the president and the congressional leaders of both parties — could have ended with Democrats thinking they had a deal on DACA with Trump. Yet that deal unraveled in the backlash from the president's anti-immigrant supporters.
Trump subsequently ratcheted up his demands for a DACA bill, leading to the current impasse. He is insisting it include sweeping changes to legal immigration programs — to do more to favor skilled immigrants, limit the ability of citizens to sponsor foreign relatives for residency visas, and end a visa lottery system — and provide an $18-billion installment for a border wall.
Trump repeatedly expressed support for DACA in the meeting, but at times left lawmakers confused as to whether he stood by his conditions.
Reflecting the views of fellow Democrats, as well as a few Republicans, Sen. Dianne Feinstein of California encouraged Trump to support "a clean DACA bill" and save his immigration crackdown proposals for later, comprehensive legislation.
"What about a clean DACA bill now with a commitment that we go into a comprehensive immigration reform procedure?" Feinstein asked him.
"I have no problem," Trump replied. "We're going to do DACA and then we can start immediately on the phase two, which would be comprehensive."
"Would you be agreeable with that?" Feinstein asked.
When Trump said he would, Rep. Kevin McCarthy of California, the House Republican majority leader, jumped in to caution the agreeable president: "Mr. President, you need to be clear, though," he said, adding, "You have to have security" measures as well in the DACA bill.
Trump was noncommittal. When he turned to discussion of a broader immigration compromise, several Senate Republicans pressed upon him how necessary his support would be to overcome opposition, especially in their party.
Sen. Lindsey Graham of South Carolina recalled that he'd been working for more than a decade to find a pathway to citizenship for people long in the country illegally, and welcomed Trump's invitation to try again. In the last attempt, in 2013, a Democratic-controlled Senate voted by a 2-to-1 margin for a bipartisan immigration overhaul, but the Republican-controlled House refused to consider it.
"You created an opportunity here, Mr. President, and you need to close the deal," Graham said.
Sen. Charles Grassley of Iowa openly pressed upon Trump "the necessity of you working with us." And Sen. John Cornyn of Texas, the Senate's second-ranking Republican leader, reminded Trump that Congress' Republican leaders — Sen. Mitch McConnell of Kentucky and House Speaker Paul D. Ryan of Wisconsin — have said they will not bring an immigration bill to a vote "without your support, unless you would sign it."
Members of both parties say that only Trump, given his own anti-immigration stands and the unflinching support of his populist base, can provide the political cover that Republicans need to support measures protecting people who came to the country illegally.
Trump, in seeking to seem the flexible deal-maker, even acknowledged a border wall doesn't need to be 2,000 miles long because of "nature": "You have mountains and you have a river, you have a violent river."
Trump resisted efforts by McCarthy, the House Republican leader, to get him to commit to the specific elements in a bill he'd sign.
"I'll sign whatever immigration bill they send me," Trump said.
Twitter: @ByBrianBennett
---
UPDATES:
9:25 p.m.: The story was updated with a federal judge temporarily blocking the Trump administration from ending the Deferred Action for Childhood Arrivals program.
The story was originally published at 2:45 p.m.
---
Life is stressful. Our weekly mental wellness newsletter can help.
You may occasionally receive promotional content from the Los Angeles Times.