Spurned Trump turns the annual Super Bowl celebration into a culture war skirmish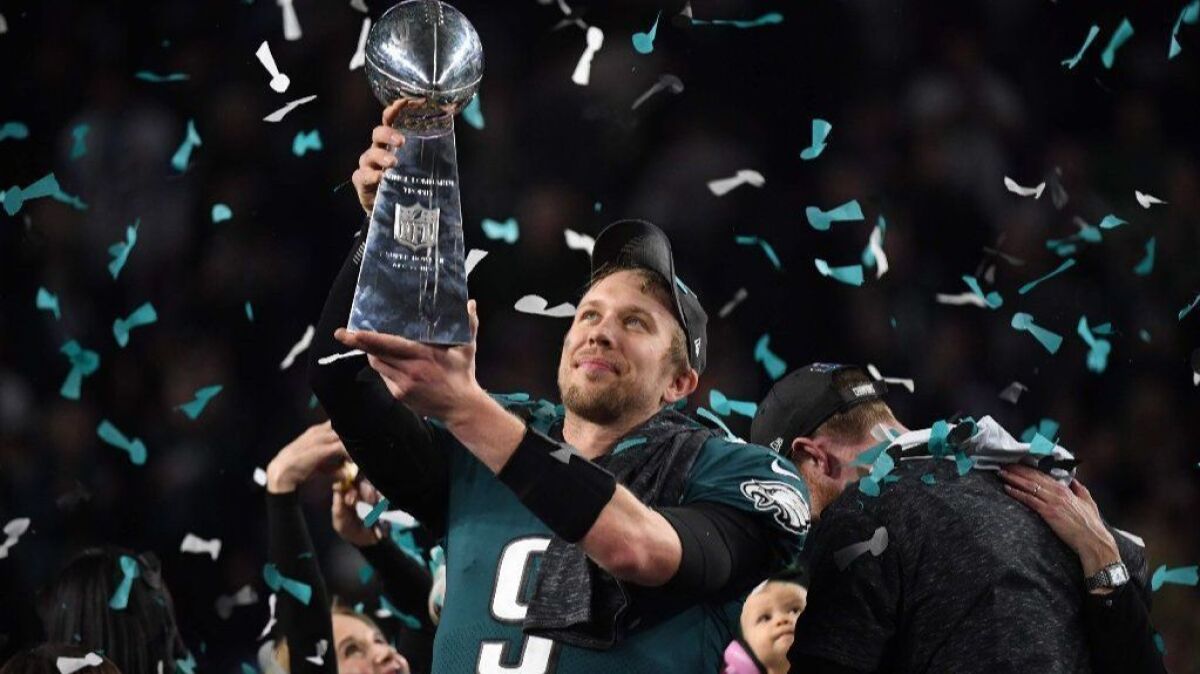 Reporting from Washington —
It was classic Donald Trump: The president, angry and embarrassed that most Philadelphia Eagles players planned to boycott the traditional White House victory celebration for Super Bowl champs, dramatically lashed back with his own punishing spin.
Not only did Trump disinvite the entire team late Monday, but he transformed the celebration on Tuesday to dramatically inflame the culture war he ignited two years ago — casting the mostly African American players as unpatriotic and ignoring their protests both of police brutality and of Trump's perceived divisiveness.
The president, in an early morning Twitter statement, said the White House would hold an alternative celebration of patriotism for the fans, "where we will proudly be playing the National Anthem and other wonderful music."
"NFL, no escaping to the Locker Rooms!" Trump added, referring to the league owners' new policy of requiring players to stand for the pregame playing of the national anthem or stay off the field. Though that policy is largely viewed as a response to the president's pressure, Trump made plain that he was not satisfied; he's called in the past for owners to force players to stand or be fired.
Later, at the fete on the South Lawn with military bands at the ready, Trump briefly opened the program before an audience that seemed to have fewer than the promised 1,000 Eagles fans, bolstered by a number of administration aides.
"I want to use this opportunity to explain why young Americans stand for the national anthem," Trump said. "Maybe it's about time that we understand. We stand to honor our military, and to honor our country and to remember the fallen heroes who never made it back home."
The president's reaction this week was more dramatic than his response to a similar snub last year by the 2017 National Basketball Assn. champion Golden State Warriors. That reflects not only his long-running fight with professional football players about the flag and the anthem, but also renewed tensions between Trump and the National Football League that date to the 1980s. Trump failed then both in acquiring an NFL team and in challenging the NFL commercially as a prominent owner in a new, rival sports league, the USFL, which subsequently folded.
Since the campaign, Trump has often used the NFL player protests to rally his supporters and distract from other controversies. Polls show a plurality of Americans, and large majorities of whites and Republicans, do not support the player protests.
As Trump was attacking the Eagles, a variety of other controversies swirled and vied for attention.
Former campaign chairman Paul Manafort was accused by federal prosecutors of witness tampering in his tax and money-laundering case. Trump's press secretary and lawyer were under fire for falsely saying Trump did not dictate the misleading statement last year about a meeting that Trump's son, son-in-law and Manafort had with a Russian lawyer promising "dirt" on rival Hillary Clinton during the 2016 campaign.
Trump himself faced new questions after his tweet Monday that he had the "absolute right to PARDON myself." And he was being assailed for ignoring a new study estimating that about 4,600 Americans died from the hurricanes last year in Puerto Rico, not 16 or 17 as he'd said in the past.
The Eagles' snub presented yet another controversy, but one Trump sought to turn to advantage.
"These cultural issues that stir controversy, they're winners for the president," said one Trump ally who speaks with the president and his top aides regularly and requested anonymity.
No Eagles players knelt in protest during the 2017 season. Torrey Smith, a former Eagles player, tweeted, "The President continues to spread the false narrative that players are anti-military."
Many pro athletes on championship teams, especially African Americans, have been conflicted about White House visits during the Trump presidency, or simply stayed away. The Warriors had their invitation for a visit with Trump rescinded after publicly equivocating about attending.
LeBron James of the NBA's Cleveland Cavaliers, arguably the league's most influential player, told reporters on Tuesday that "no matter who wins" the NBA Finals now underway between the Cavs and the Warriors, "no one wants to go anyway" to the White House. Warriors star guard Stephen Curry agreed.
Trump, on Twitter, noted that he'd hosted celebrations at the White House for other professional and college teams and sports, including NASCAR, the Chicago Cubs, Houston Astros, Pittsburgh Penguins, New England Patriots, the University of Alabama and Clemson University.
Trump decided late Monday, less than 24 hours before the planned Super Bowl tribute, to instead make it "a celebration of the American flag," as White House Press Secretary Sarah Huckabee Sanders called it in a statement Tuesday. Fewer than 10 players out of more than 70 who were eligible had been expected to attend, according to the Philadelphia Inquirer.
Sanders blamed the Eagles for botching the visit. She said 81 people from the team — including employees, coaches, managers and players — had accepted invitations to come, along with 1,000 fans. With only a small number of players expected, the team tried Friday to reschedule the event, Sanders said, to a time when Trump planned to be overseas.
The White House said that "despite sensing a lack of good faith" on the Eagles' part, it tried to work with the team "to change the event format that could accommodate a smaller group of players."
"Unfortunately, the Eagles offered to send only a tiny handful of representatives, while making clear that the great majority of players would not attend the event, despite planning to be in D.C. today," she said. "In other words, the vast majority of the Eagles team decided to abandon their fans."
In a statement, the NFL Players Assn. said it was "disappointed" with Trump's decision to disinvite the team, adding that it led to the cancellation of several "player-led community service events for young people in the Washington, D.C., area."
"The NFL players love their country, support our troops, give back to their communities and strive to make America a better place," the union said.
The Eagles ownership released a statement Monday night that did not mention Trump or the canceled visit, calling it "an inspiration" to watch "the entire Eagles community come together."
Individual players showed more frustration. The team's star tight end, Zach Ertz, tweeted angrily after Fox News, Trump's media ally, used file footage of Eagles players kneeling in prayer to falsely suggest they were kneeling in protest during the anthem.
"This can't be serious," Ertz wrote. "Praying before games with my teammates, well before the anthem, is being used for your propaganda?! Just sad, I feel like you guys should have to be better than this."
Fox News issued a rare correction on Twitter.
Some of Pennsylvania's Democratic lawmakers also weighed in. Sen. Bob Casey wrote on Twitter, "I'm skipping this political stunt at the White House and just invited the Eagles to Congress."
Follow the latest news of the Trump administration on Essential Washington »
noah.bierman@latimes.com | Twitter: @noahbierman
Special correspondents Eli Stokols and Eliza Fawcett contributed to this report.
---
UPDATES:
2:35 p.m.: This article was updated with details of White House celebration.
This article was originally published at 12:15 p.m.
Get our Essential Politics newsletter
The latest news, analysis and insights from our politics team.
You may occasionally receive promotional content from the Los Angeles Times.