Must Reads: Trump touts economic growth, but it hasn't lifted his support — or his party's election prospects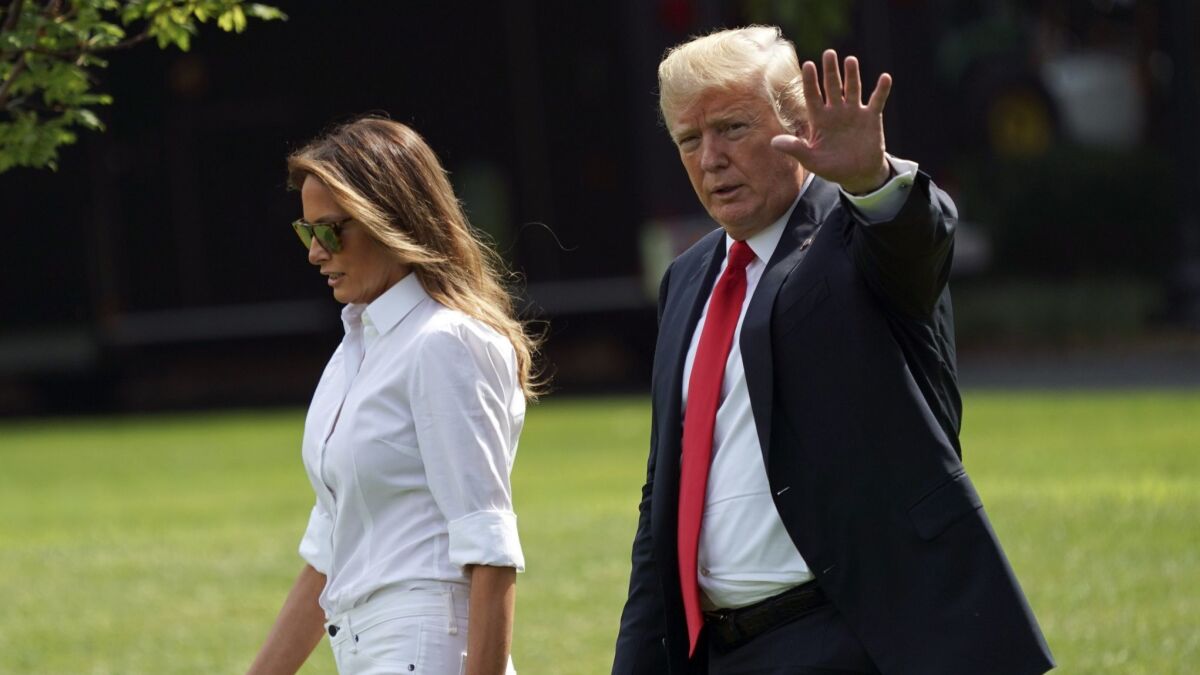 Reporting from Washington —
President Trump jauntily celebrated the strong growth numbers released on Friday, appearing in the sun-kissed Rose Garden to claim credit for a humming economy. Yet his own numbers — for the public's approval — remain unusually low for a president presiding over good times.
It's the paradox of his presidency: "If it were anybody but Donald J. Trump, the approval numbers would be astronomical," said Peter D. Hart, a Democratic pollster.
The disconnect reflects the current political moment, dominated by a polarizing president focused on pleasing his limited base of supporters on the right while — by his pugnacious conduct and ongoing scandals — further alienating most Americans regardless of whether they're pleased with his handling of the economy. And it's making it hard to predict what message voters may send in November.
"Donald Trump is a non-traditional president and he has severed the traditional tie between economic well-being and presidential job approval," said Whit Ayres, a Republican consultant and pollster.
"People are not evaluating Donald Trump based on the state of the economy," he added. "They're evaluating him based on his conduct and behavior in office. It appeals to Republicans and doesn't appeal to independents and Democrats. And no change in the economy will alter his job approval so long as that relationship exists."
The president's approval rating is of significant concern to his party: Largely because of Trump, Republicans face even more threatening political headwinds than is typical for the party in power as they head into November's midterm elections.
For nearly his entire presidency, Trump's approval rating hasn't fluctuated much outside a six-point range between 38% and 44%. It was 41% on Friday, according to the average of polling data by FiveThirtyEight, a website of statistical analyses, as the president stood on the South Lawn and credited Republicans' tax cuts and his regulatory rollbacks and tariffs for "an economic turnaround of historic proportions."
"If he did a lot more of what he did this morning in touting the strong economy, it would make it easier for Republican down-ballot candidates to win reelection or to be elected to open seats," Ayres said. "There is a very good story to tell. But it's hard to tell that story if the news is being drowned out by the latest controversy."
Trump has been focused on an economic message this week. He defended his tariffs on Thursday in Iowa and Illinois, where farmers have been hurt by retaliatory tariffs imposed by other nations, appearing at a newly reopened Illinois steel plant as evidence his policies are bearing economic fruit.
But Trump's week also included: Picking fights with what he calls "fake news," including by having a CNN reporter barred from an event after asking questions he didn't like. Divisive rhetoric about immigration at rally-like appearances, while his administration struggled to meet a court deadline for reuniting migrant children separated from their parents at the southern border. Plans to possibly yank security clearances from senior Obama and Bush administration officials, for criticizing Trump on television. And an ongoing drip of revelations related to criminal investigations of the president's campaign and former associates.
The cacophony of controversy surrounding Trump, Hart said, is what diminishes the impact of positive economic news for voters deciding about the president, and which direction they want the country to go. While Bill Clinton got credit for a strong economy even amid the Monica Lewinsky scandal because that was seen as "a one-off" for Clinton, Hart said, Trump is penalized because his personal foibles, brash behavior and governing chaos are unrelenting.
Trump's tweeting is "like antacid in the system," said Hart, who has recently conducted focus groups in a number of swing states.
"People are looking for someone or something that will make it all calm down. It's too much of a frenzy for people even if you're 100% with Donald Trump. People want more of a sense of regularity."
Throughout his presidency, Trump's impulsive tweeting and penchant for stirring controversy have distracted from coverage of Republican accomplishments, including tax cuts and the conservative remaking of the judiciary.
In Iowa on Thursday, Trump lauded the "Right to Try" law that allows terminally ill patients to participate in clinical trials and to receive experimental treatments not yet approved by the Food and Drug Administration. Yet when he signed the law on May 30, much of the media's focus was on the president's tweets of support for Roseanne Barr, after her own racially charged tweet led to cancellation of her television show.
Many Republican consultants would prefer the president use his massive megaphone to amplify the economic message. But Josh Holmes, a party strategist involved in efforts to maintain its Senate majority, said Trump's focus on controversial cultural issues such as immigration are not distractions but are critical in motivating the party's voters to turn out in November.
"The economy is still the core of Republican messaging, no matter what. It's what gets you over the top to majority status," Holmes said. "But you can't start that conversation until you solidify your base."
Trump's hard-line position on immigration and his tweets smearing the special counsel investigation into Russia's election interference as a witch hunt, "are very motivating" for the party's base of conservative loyalists, Holmes said.
"They react to very different stimulus than the country as a whole," he added.
What excites Trump's most ardent supporters, however, also animates Democrats. This week they opened up a double-digit advantage over Republicans on the polling question asking voters which party's congressional candidate they support.
"The challenge for Republicans is that the more we use Trump to motivate our base, we're doing the Democrats' job for them," said Alex Conant, a Republican consultant who was a spokesman for Florida Sen. Marco Rubio's 2016 presidential campaign.
According to Hart's June survey for NBC News and The Wall Street Journal, 63% of Democratic voters rated their interest level in the upcoming midterm elections as a nine or 10 out of 10, compared to just 47% of Republicans whose interest was that intense — a 16-point Democratic edge. Similar margins in 2006, 2010 and 2014 polling data turned out to be accurate predictors of an electoral wave in favor of the party out of power at the time.
But after late 2016 polling predicted a Clinton victory, many campaign observers are putting less stock in the numbers. That is especially true of a presidential approval rating that has come untethered from economic indices, and that may or may not be a harbinger of what's facing Republicans come November.
"You could see an electorate that is personally opposed to President Trump," Holmes said, "and yet thinks what he's doing on the economy is significantly better for them than what a Democratic Congress might deliver."
---
Life is stressful. Our weekly mental wellness newsletter can help.
You may occasionally receive promotional content from the Los Angeles Times.