Wine bar owners sue Trump over unfair competition from his Washington hotel
The owners of a Washington wine bar have sued President Trump, claiming unfair competition. (March 10, 2017)
Reporting from Washington —
The owners of a Washington wine bar have sued President Trump over what they claim is unfair competition, saying he is using the power of the presidency to lure business to his luxury hotel near the White House.
The action, filed in District of Columbia Superior Court late Wednesday, is the latest legal attempt to pressure Trump over the unprecedented potential conflicts presented by his worldwide business holdings — including the Trump International Hotel, in a former Post Office building that Trump is leasing from the federal government.
Trump's hotel and its restaurants are now a hot spot for lobbyists and foreign diplomats and others looking to buy favor with the Trump administration, according to the owners of Cork restaurant and their lawyers, who spoke to reporters Thursday.
"Look, we all know that Washington, D.C., is a company town," said Khalid Pitts, who co-owns the restaurant with his wife. "Why wouldn't they go to a place that most pleases the president of the United States?"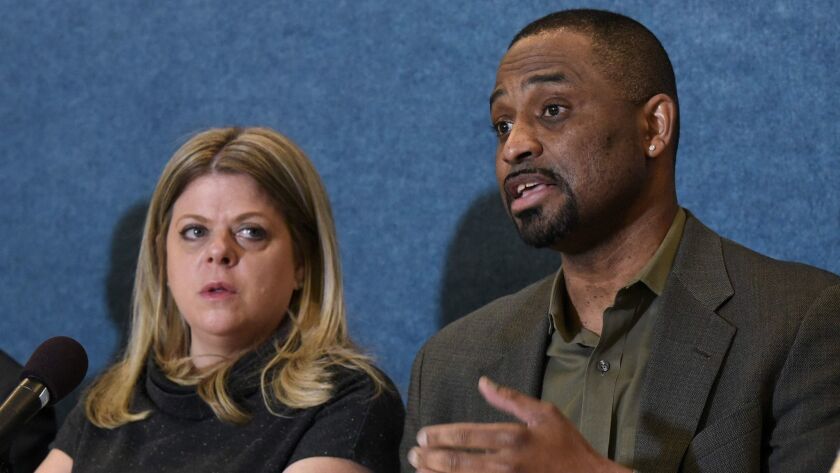 Pitts said that his restaurant, 1 ½ miles from Trump's hotel, has lost business recently, though he offered no specific examples. He also acknowledged that his 70-seat restaurant faces tough competition from newer eateries in his neighborhood, a hotspot in Washington's booming restaurant scene.
Before the election, the legal complaint says, the government of Azerbaijan had an event at Cork; after Trump won, the Azerbaijani embassy held a holiday party at Trump's hotel.
Pitts, a social activist and former candidate for city council in Washington, owns the business with his wife, Diane Gross, a Democratic lawyer who once worked as counsel for former Sen. Barbara Mikulski of Maryland.
The suit is not a political attack on Trump, they said. "This is about something that is patently unfair," Gross said.
The lawsuit is not seeking financial damages, but rather a court order requiring Trump to end the conflict.
Alan Garten, a lawyer for the Trump Organization, called the lawsuit "a publicity stunt completely lacking in merit." Michael Short, a White House spokesman, declined to comment.
Before taking office in January, Trump said he was stepping aside from his business and turning management over to his sons. But he has held on to the ownership. His lawyers say it would be unfair to expect Trump to sell off his worldwide real-estate holdings.
The lawsuit charges that the president is now in conflict with a clause in his lease that says federal officials may not participate in or benefit from the deal. Since his inauguration, in effect, Trump has become his own landlord.
The General Services Administration, which manages the property, has not yet addressed the question of whether it considers Trump is in violating the lease. Steven L. Schooner, a former government lawyer and ethics expert who is part of the legal team, accused the agency of "a total abdication of responsibility."
Noting that the lease calls for regular renegotiations over payments, Schooner said the GSA's employees are now in the "impossible position" of negotiating with the sons of the president — who appoints their agency head.
The GSA did not respond to a request for comment.
Another lawsuit contends that the hotel could invite violations of the emoluments clause of the Constitution, which forbids federal officials from accepting payments from foreign governments. Trump's lawyers said they would donate any "profits" from foreign governments to the treasury. But Schooner, calling that idea "nonsensical," says he hasn't heard of any such payments.
Twitter: @jtanfani
ALSO:
GOP leaders turn up the pressure on reluctant Republicans to support Obamacare replacement
Trump's travel ban contains a tool that could change how the U.S. conducts foreign policy
---
Get our Essential Politics newsletter
The latest news, analysis and insights from our politics teams from Sacramento to D.C.
You may occasionally receive promotional content from the Los Angeles Times.