Trump's tweet about lifting North Korea sanctions spawns confusion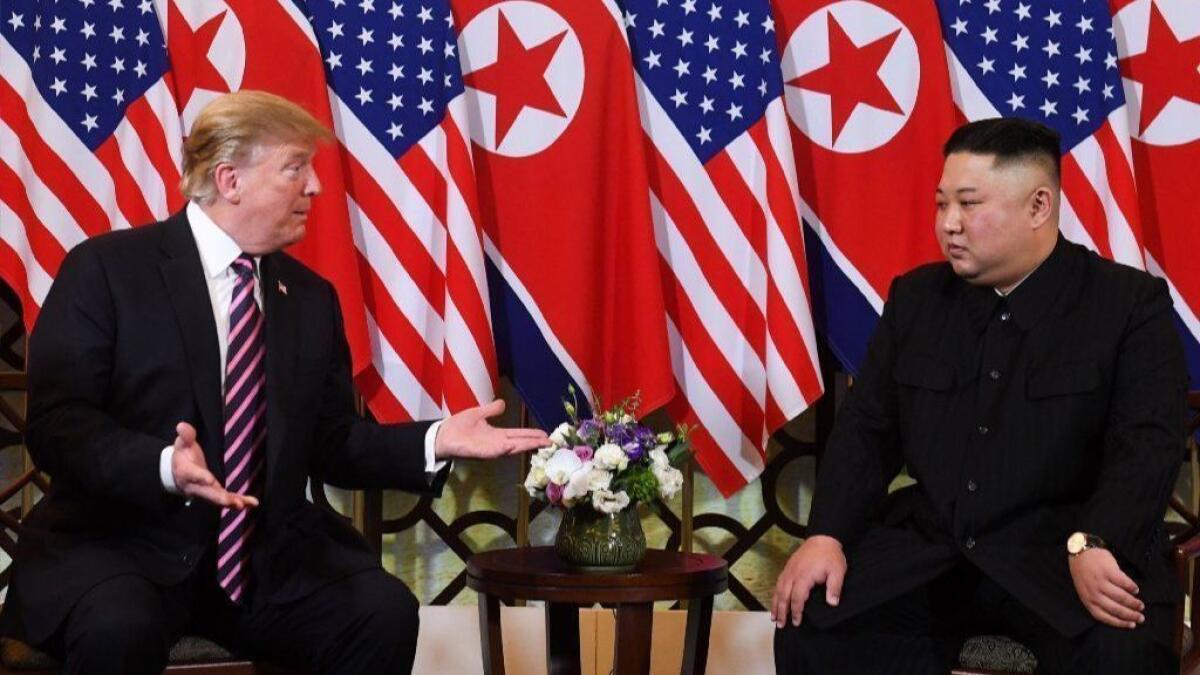 Reporting from Washington —
President Trump undermined his administration's sanctions aimed at forcing North Korea to end its nuclear program, surprising his staff and confusing the American public and the world with a tweet Friday afternoon seeming to lift some of them.
"It was announced today by the U.S. Treasury that additional large scale Sanctions would be added to those already existing Sanctions on North Korea," Trump wrote soon after arriving for the weekend at his Mar-a-Lago retreat in Palm Beach, Fla. "I have today ordered the withdrawal of those additional Sanctions!"
The president initially appeared to be referring to a pair of sanctions that his Treasury secretary announced Thursday against two Chinese shipping companies accused of helping North Korea evade sanctions. Secretary Steven T. Mnuchin issued a strong statement in Thursday's announcement, taking a hard line against North Korea that was greatly at odds with Trump's retreat and his spokeswoman's subsequent attempt at an explanation.
The confusion was compounded later in the day as officials familiar with the issue said Trump was probably referring to sanctions that were planned but not yet announced.
Press Secretary Sarah Huckabee Sanders issued a statement earlier in the day that did little to explain what was behind Trump's tweet. She reaffirmed Trump's personal relationship with North Korean Leader Kim Jong Un, with whom he has had two summits that failed to yield a deal on nuclear disarmament.
"President Trump likes Chairman Kim and he doesn't think these sanctions will be necessary," she said.
The president's precipitous and puzzling action, however, could go beyond simply erasing the day-old sanctions to undercut long-standing ones that Trump has said would stay in place until North Korea gave up its nuclear program. China and Russia, the two powers most crucial to North Korea's economy, are unlikely to fear violating the U.S.-backed sanctions after Trump seemed to lift penalties after the Treasury Department's finding of wrongdoing.
Mnuchin, in his statement a day earlier, said, "The United States and our like-minded partners remain committed to achieving the final, fully verified denuclearization of North Korea and believe that the full implementation of North Korea-related U.N. Security Council resolutions is crucial to a successful outcome."
"Treasury will continue to enforce our sanctions," he added, "and we are making it explicitly clear that shipping companies employing deceptive tactics to mask illicit trade with North Korea expose themselves to great risk."
National security advisor John Bolton had also tried to underscore the tough stance against North Korea signified by Thursday's sanctions move, tweeting after they were announced that they were "important actions."
"The maritime industry must do more to stop North Korea's illicit shipping practices," he wrote. "Everyone should take notice and review their own activities to ensure they are not involved in North Korea's sanctions evasion."
Trump often surprises his staff with his tweets, but the stakes get much higher when his bursts involve the U.S. relationship with North Korea, an outlaw nuclear nation that has been among the United States' foremost adversaries.
Trump's advisors could not immediately explain why he sent the tweet, which sanctions he was referring to or why he would allow sanctions to be announced if he planned on revoking them hours later.
It all made for a muddled message, not just to North Korea but also to allies, whose cooperation in upholding economic sanctions is critical, and the disarray once again suggested an administration at odds with its chief executive. Critics assumed Trump was speaking of sanctions just imposed, not prospective penalties.
"I've been working on sanctions policy for 15+ years. Don't recall ever seeing a president overrule a Treasury announcement AFTER it was announced," tweeted Mark Dubowitz, chief executive of the right-leaning Foundation for Defense of Democracies.
Sen. Chris Van Hollen (D-Md.) tweeted that Trump "is being played by Kim Jong Un — one of the world's most vicious dictators."
"Sidestepping his own Treasury Dept. and withdrawing sanctions against North Korea the same day they were announced defies logic," Van Hollen added. He urged Congress to act.
It was the second time in as many days that Trump unexpectedly made a foreign policy announcement on Twitter. On Thursday, he reversed half a century of American policy in the Middle East by tweeting that the United States would recognize Israeli sovereignty over the Golan Heights, territory seized from Syria in 1967.
Trump has been eager to strike a deal with Kim, lavishing him with praise and insisting on meeting in two summits despite calls from many foreign policy analysts to hold out until North Korea makes concessions.
Follow the latest news of the Trump administration on Essential Washington »
Get our Essential Politics newsletter
The latest news, analysis and insights from our politics team.
You may occasionally receive promotional content from the Los Angeles Times.