As Trump's legal storms converge in a New York courtroom, he rages against former FBI chief Comey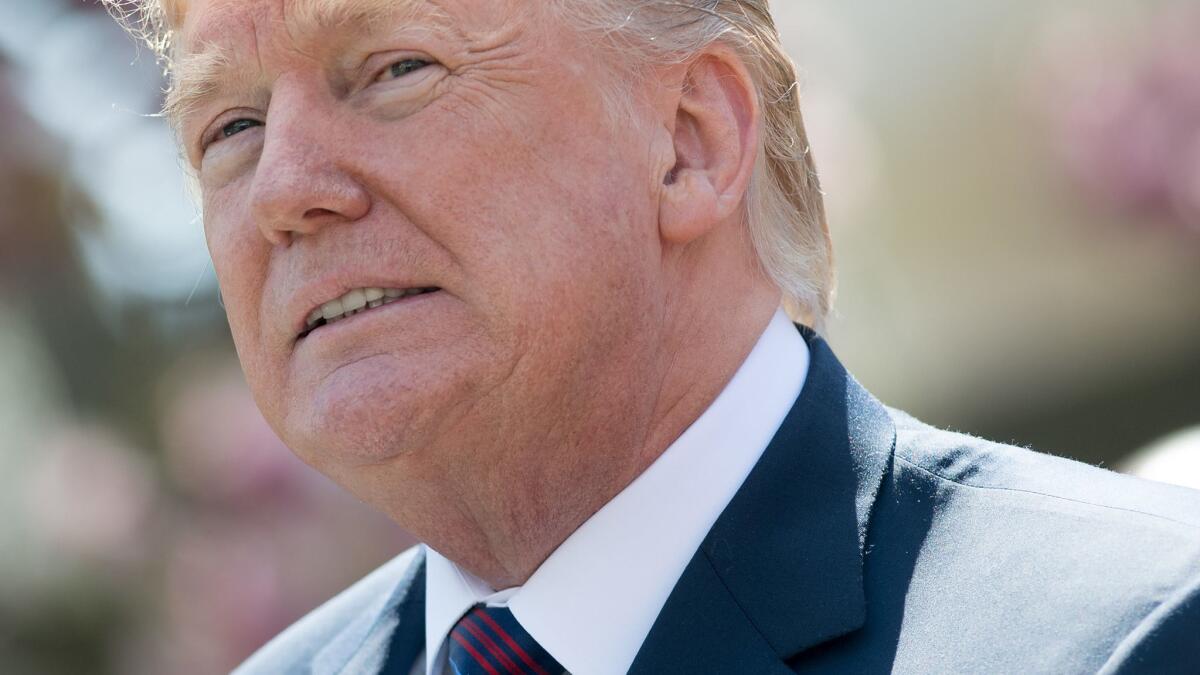 Reporting from Washington —
All of President Trump's most vexing legal problems seemed to converge in a federal courtroom in Manhattan on Friday.
His longtime personal lawyer, Michael Cohen, was fighting prosecutors' attempts to sift through records — which could include communications with the president himself — seized during court-authorized raids earlier in the week.
The U.S. attorney's office in Manhattan revealed in a court filing that Cohen faces a "months-long investigation" into "criminal conduct that largely centers on his personal business dealings." Prosecutors also disclosed that previous search warrants have allowed them to secretly examine Cohen's emails.
The case appears related to hush money paid to women who claim they had sexual affairs with Trump years ago, arrangements that could be considered illegal campaign expenditures because the money was delivered shortly before the election. However, the raids were launched using evidence passed along by special counsel Robert S. Mueller III, who is leading the investigation into Russian political interference in the 2016 presidential election.
As the investigations into Russian actions and the president's sex scandal collided, Trump raged against a tell-all book by former FBI Director James B. Comey, labeling him an "untruthful slime ball."
In tweets that began early Friday, Trump described Comey, whom he fired in May, as "a proven LEAKER & LIAR."
"It was my great honor to fire James Comey!" he declared.
White House Press Secretary Sarah Huckabee Sanders also blasted the former FBI director during a press briefing.
"Instead of being remembered as a dedicated servant in the pursuit of justice like so many of his other colleagues at the FBI, Comey will be forever known as a disgraced partisan hack," she said.
The day's events in court, however, seemed only to add evidence to parts of the picture that Comey painted of Trump. In his book, he described Trump's repeated demands for loyalty and said they gave him "flashbacks to my earlier career as a prosecutor against the Mob. The silent circle of assent. The boss in complete control. The loyalty oaths. The us-versus-them worldview."
All that, he wrote had contributed to "the forest fire that is the Trump presidency."
Friday's court hearing featured a bulging cast of characters who have contributed to the blaze, all of which centered on a longtime Trump aide and fixer who has given the president the absolute loyalty he demands.
In addition to prosecutors, there was the attorney representing the porn actress known as Stormy Daniels, Michael Avenatti. He was interested in whether any evidence collected in the raids involved his client. Daniels was paid $130,000 by Cohen weeks before the election to prevent her from sharing her story about sleeping with Trump.
The president had his own attorney present as well, the newly hired Joanna Hendon, who said Trump "has an acute interest in these proceedings." She asked the judge to delay a decision about how the seized materials could be handled until she had a chance to review the government's case.
And there was the attorney for Cohen, whose allegiance to Trump now faces a stern test.
The public version of the government's legal filing blacked out the specific charges Cohen is accused of, but noted that the investigation into his work has "proceeded independent from" Mueller's case. The searches of Cohen's office, home and hotel room were "the result of a months-long investigation" into alleged crimes that "have nothing to do with his work as an attorney," the government said, adding that he's "performing little to no legal work."
Cohen wants prosecutors to allow his lawyers to sift through the seized records to determine whether anything is the subject of attorney-client privilege.
Prosecutors said the argument doesn't have "any precedent or legal basis" and "would permit subjects or targets of an investigation, who have not yet been indicted, to delay government investigations into their criminal conduct."
They proposed using a "filter team," a standard practice in which a separate unit of government lawyers examine documents and determine what can appropriately be passed along to prosecutors preparing a case.
In their partially redacted court filing, prosecutors questioned how much of Cohen's correspondence would fall under attorney-client privilege. Partly that's because he's done little legal work, prosecutors said.
But, they noted, Trump's own words may have invited legal trouble as well. The president recently told reporters he was unaware of the $130,000 payment to Daniels. If so, Cohen might have trouble claiming he was acting on behalf of Trump as a client, meaning any communications involving the money may not be privileged, prosecutors suggested.
As if those dramatics were not enough, Trump's allies have cranked up their criticisms of the Justice Department and, particularly, Deputy Atty. Gen. Rod J. Rosenstein, who supervises Mueller. Rosenstein, a Republican appointed by Trump, has been a frequent target of the president's rage, which only increased this week when it became clear that he had approved the investigation of Cohen.
Former U.S. attorney Joseph DiGenova, whom the president almost hired as one of his personal lawyers last month, sharply denounced Rosenstein earlier this week:
"Rod Rosenstein is so incompetent, compromised and conflicted that he can no longer serve as the deputy attorney general," DiGenova told Sean Hannity on Fox News on Wednesday.
Rosenstein is also facing attacks from conservative House Republicans, who are demanding that the Department of Justice turn over sensitive documents related to the Russia investigation.
"If he is not going to do the job, he needs to go and find one that he will do," said Rep. Mark Meadows (R-N.C.), who leads the House Freedom Caucus.
Some of that pressure may have been alleviated when Rep. Devin Nunes (R-Tulare), the chair of the House Intelligence Committee and a sharp critic of the Russia investigation, announced that the Justice Department had been given access to additional records.
One of the records was an electronic communication detailing the beginning of the counterintelligence probe into Russian meddling during the campaign. Nunes said the information will help with his committee's "ongoing investigation of the Department of Justice and FBI."
Democrats have expressed growing alarm that Trump could oust Rosenstein as a way to exert more control over the Russia case.
"Let me be clear," Senate Minority Leader Chuck Schumer (D-N.Y.) said Thursday. "Firing Mr. Rosenstein would be as great an injury to our democracy as firing Mr. Mueller."
Some Republican senators have warned against more firings, saying that Trump would merely deepen the political peril that began last spring, when he fired Comey.
The former FBI director's book isn't being released until Tuesday, but portions have already leaked and ABC News released a partial transcript of an interview with Comey, which is scheduled for broadcast on Sunday night.
During the interview, Comey said Trump fixated on one accusation against him — repeatedly asking that Comey find a way to prove that the president never had prostitutes urinate on a hotel bed in Moscow, an unverified allegation that was included in a dossier of allegations against Trump.
Comey said he was stunned by the exchange with the president.
"I honestly never thought these words would come out of my mouth, but I don't know whether the current president of the United States was with prostitutes peeing on each other in Moscow in 2013," he said. "It's possible, but I don't know."
The New York Daily News contributed to this report.
Twitter: @chrismegerian
Get our Essential Politics newsletter
The latest news, analysis and insights from our politics team.
You may occasionally receive promotional content from the Los Angeles Times.