Louisiana flood victims praise Donald Trump for visiting damaged areas
Reporting from Central, La. —
Terry Phinney was not always a fan of Donald Trump's, but when the Republican presidential candidate arrived at his Baptist church to meet flood victims Friday, Phinney was impressed.
"It was a good little boost for folks who are tired," said Phinney, 42, a church maintenance supervisor whose father's home flooded.
More than 70,000 people have registered for assistance from the Federal Emergency Management Agency, and thousands of flood victims remained at about three dozen shelters across the region on Friday. Thirteen people died in the disaster.
During Trump's stop at the large, modern Greenwell Springs Baptist Church on the outskirts of Baton Rouge, he and running mate Mike Pence spoke with a small group of flood victims and volunteers, asking a few questions, Phinney said.
"I came here to help," Trump told victims, according to the Advocate newspaper.
Surrounding streets are piled with soggy furniture, insulation and drywall stripped from flooded homes and businesses, though the church was not damaged.
"He wanted to know percentages of homes damaged in the area, around about how many would have flood insurance," Phinney said, adding that the candidate appeared to be "educating himself" about the disaster.
About half of the Southern Baptist church's staff suffered flood damage, and the pastor estimated about the same percentage of the 1,300 regular attendees also were affected.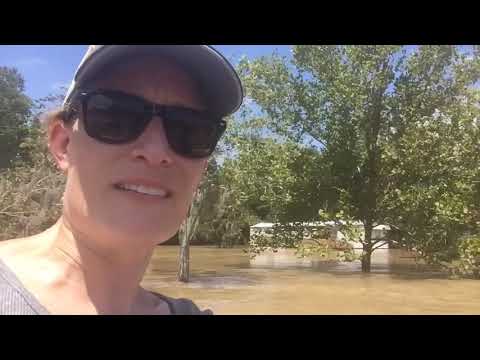 Across Louisiana, residents are returning to their flooded neighborhoods, anxious but hopeful their homes made it.
Phinney's 2-year-old son, Cooper, ran up to the candidates, and Pence rubbed his head. Afterward, Trump shook both Phinney's and his son's hands.
"I just appreciate his passion," Phinney said. "When he looked me in the eye and shook my hand, it felt real. The guy is down here for more than just a vote. I feel like this is legit. So he's got my vote."
The Rev. Tony Perkins, whose home flooded, invited Trump to draw attention to the disaster by visiting the area. In June, Perkins helped coordinate a meeting with the candidate and evangelical leaders.
Perkins, president of the conservative Washington, D.C.-based Family Research Council, took Trump to see flooded homes and introduced him to victims who shared their stories, including an elderly man rescued from the roof of the home where he was born.
As he met with victims, Perkins said Trump asked about recovery efforts. "He thinks in terms of not just what the government can do, but what people can do," Perkins said, including churches.
Pam West, 63, came to see Trump at the church after her nearby home flooded. Her Grand Marquis is packed with salvaged clothes and jewelry while she and her husband stay with a cousin. The couple had to be rescued by boat. They never had been impacted by flooding before and have no flood insurance.
She called Trump's visit "awesome. … Our own dear president is too busy at Martha's Vineyard to visit us," West said as she picked up a box of donated toiletries from a Samaritan's Purse truck parked outside. "I'm hoping a lot of people who were going to vote for Hillary will see he came and vote for him. He's our only hope."
The Rev. Bill Engelhart had been helping friends in Baton Rouge gut their flooded homes Friday, but paused to see Trump. "He really cares, and this is his way of showing it," Engelhart said. "It's something a president should do."
Obama has declared the area a federal disaster and dispatched Homeland Security Secretary Jeh Johnson and FEMA Administrator Craig Fugate to aid in the flood recovery.
Later Friday, Obama announced he also would visit the flood-damaged region.
ALSO
Donald Trump's embattled campaign chairman Paul Manafort resigns
New poll analysis finds a wasted summer for Donald Trump and a boost for Hillary Clinton
In a flooded Louisiana parish, a 3-mile journey down the river to answer the question: Did our house survive?
---
UPDATES:
12:55 p.m.: This article was updated with additional details, including that President Obama would visit the region.
12:30 p.m.: This article was updated throughout with details from Trump's visit.
This article was originally published at 8:35 a.m.
Get our Essential Politics newsletter
The latest news, analysis and insights from our politics team.
You may occasionally receive promotional content from the Los Angeles Times.