Mike Pence is caught between Donald Trump's political future and his own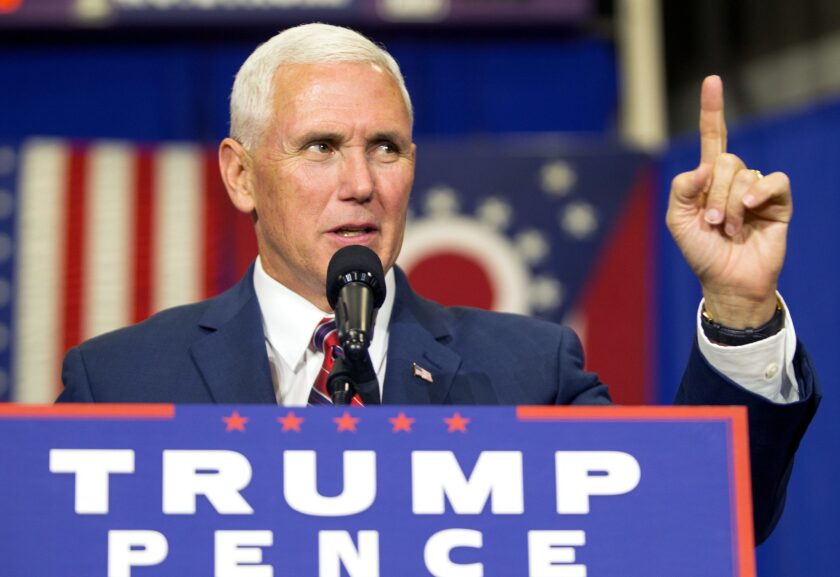 Reporting from Washington —
Gov. Mike Pence struggled uncomfortably this summer when he was forced to address Donald Trump's maligning of a Mexican American judge from Indiana, Pence's home state.
"If I wanted to comment on everything that's said in the presidential campaigns, I would have run for president," Pence said after giving Trump a brief rebuke for his remarks about federal Judge Gonzalo Curiel, who was presiding over lawsuits filed against the defunct Trump University real estate program. "I'm focused on the state of Indiana."
Pence relinquished the luxury of avoiding Trump's controversies five weeks later when he signed on as Trump's running mate, taking on a life of comparing Trump to Ronald Reagan and waxing about the strength of his broad shoulders. Others had made it clear that they could not or would not take the job.
Pence's competing impulses — to remain aloof from Trump's controversies and to defend him vigorously — are now colliding. The vice presidential nominee spent Saturday huddled with family and advisors, at the center of intense pressure on multiple fronts, after a 2005 recording was unearthed Friday that showed Trump bragging in vulgar terms about his ability to grope women.
Some in his party want Pence atop the ballot, replacing Trump. Others may never forgive him for joining on Trump. And Pence, who has been precariously balancing his own ambitions with Trump's since he became his running mate, is undoubtedly trying to preserve his own reputation without appearing disloyal to the man who remains the GOP's standard-bearer.
Election 2016 | Live coverage on Trail Guide | Sign up for the newsletter | The race to 270
"He jumped in with the devil and now he's in a huge predicament here," said Brian Howey, publisher of a website chronicling Indiana politics. "If the guy had any shred of integrity, he'd resign the ticket."
Pence has not reached that point. On Saturday, he issued a statement that leaves him room to maneuver and makes it clear that he would not defend Trump in the near term, as he has on so many other occasions in recent months. The statement, an unusually sharp admonishment from a presidential running mate, put the onus on Trump to rehabilitate himself during Sunday's debate.
"As a husband and father, I was offended by the words and actions described by Donald Trump in the 11-year-old video released yesterday. I do not condone his remarks and cannot defend them," Pence said. "I am grateful that he has expressed remorse and apologized to the American people. We pray for his family and look forward to the opportunity he has to show what is in his heart when he goes before the nation tomorrow night."
Pence was "beside himself," and his wife was furious at the revelations, according to the Associated Press, citing a person familiar with Pence's thinking.
The politics are particularly fraught for Pence, who rose to national prominence as a social conservative, with moral issues at the center of his political identity.
"My Christian faith is at the very heart of who I am," Pence said during Tuesday's vice presidential debate, rejecting the argument from his opponent, Virginia Sen. Tim Kaine, that political decisions should be kept at a greater distance from matters of personal faith, including abortion laws.
"With my wife at my side, we've followed a calling into public service," he added. "We've tried to keep faith with the values that we cherish."
The debate also showcased Pence's strategy of defending Trump.
At times, Pence has distanced himself from long-held positions, such as his support for trade agreements opposed by Trump, or his prior condemnation of Trump's call to ban all Muslims from entering the country.
At others, he has simply rewritten Trump's words or policies, insisting that Trump, who has repeatedly praised Russian President Vladimir Putin, regards him as a bully.
"He's not a polished politician," Pence said during the debate, insisting that Trump would not, as he once said, support laws to punish women who have abortions.
The strategy has been tricky for Pence, leaving him open to accusations that he has recast Trump in his own image or bolstered his brand at Trump's expense.
Trump has insisted on keeping himself at the center, saying after last week's debate performance was praised that "I'm getting a lot of credit" for choosing Pence.
"He's coming as close to the line as he can in defending Trump," said Rick Tyler, a former aide to Texas Sen. Ted Cruz's presidential campaign, referring to Saturday's statement. "But there's a point where you can't defend the absurd without diminishing yourself."
Tyler argued that Pence, in protecting himself, is helping the ticket in a situation that is difficult to defuse.
Howey said Pence would have faced a tough reelection campaign for governor this year after he supported a "religious freedom" law that business groups and other critics said allowed businesses to discriminate against gays and lesbians. Pence later signed a second bill intended to prevent discrimination, upsetting some social conservatives. But in joining Trump, he hardly found an easy way out.
"Mike Pence saw a chance to opt out of a reelection bid," Howey said. "He's in almost an impossible position here, and a totally predictable one."
Twitter: @noahbierman
Is there any practical way for Republicans to replace Trump at this point? Not really
Donald Trump has a default setting: What I did may be bad, but Bill Clinton has done even worse
A growing number of prominent Republicans withdraw support or condemn Trump — here's who is speaking up
---
Get our Essential Politics newsletter
The latest news, analysis and insights from our politics teams from Sacramento to D.C.
You may occasionally receive promotional content from the Los Angeles Times.