Trump answers Romney criticism: 'I won big, and he didn't'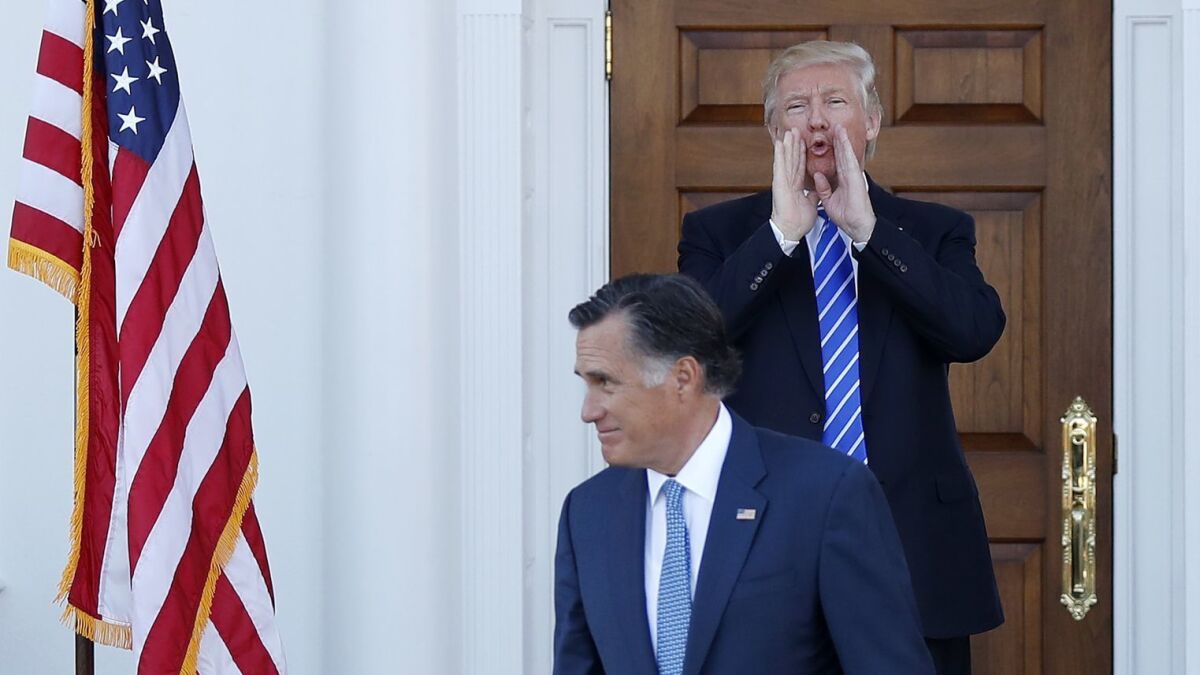 Reporting from WASHINGTON —
Sen.-elect Mitt Romney's scathing attack on President Trump — and the withering response it provoked — has rung in the new year by intensifying the debate about the future of the Republican Party.
In the war between old-guard Republicans and Trump's more populist GOP, Romney presented himself as a dissident leader, writing an op-ed article in the Washington Post that concluded, "the president has not risen to the mantle of the office."
But while some Senate Republicans privately share that view, few are likely to publicly follow Romney's lead in a party that has been remade in Trump's image over the last two years.
"I won big, and he didn't," Trump shot back on Twitter, ribbing Romney for losing his 2012 presidential bid to Barack Obama.
Indeed, despite political losses in 2018 and the perils of mounting legal challenges, Trump's hold on his party has tightened in the aftermath of the midterm election. Capitol Hill has been depleted of Republicans who showed any inclination to speak out or vote against the president and his agenda: Sen. John McCain died; Sens. Jeff Flake of Arizona and Bob Corker of Tennessee retired. The incoming class of GOP senators, including Kevin Cramer of North Dakota and Marsha Blackburn of Tennessee, were elected with big help from Trump's endorsement and appearances at rambunctious campaign rallies.
In the House, Democrats' sweep of the nation's suburban districts took its heaviest toll on the Republicans' already diminished centrist ranks: Democrats flipped all but 3 of the 25 House Republican districts that Hillary Clinton won in 2016.
The result is a congressional GOP that is smaller but more closely tied than ever to Trump. Polling shows his support among GOP voters remains solid. A December 2018 Wall Street Journal/NBC News poll found that 85% of Republicans approved of Trump — about the same share as in February 2017, right after he was inaugurated.
"There's really no data out there to indicate that the president's stranglehold on Republicans has softened much," said GOP pollster Neil Newhouse. "His base of support among GOPers remains strong."
Romney's article, however, signaled that even within his own party, the president is still vulnerable to pushback despite the departure of many of his leading Republican critics.
Blunt attacks of the sort Romney made are rare, but establishment Republicans have been more open about their disagreements with Trump since his decision last month to withdraw U.S. troops from Syria. They have been more candid about their anxieties over the departures of former Defense Secretary James N. Mattis and former White House Chief of Staff John F. Kelly, both of whom many Republican elected officials saw as steadying forces in an all-drama presidency.
Even some close Romney allies were shocked by the words of the usually cautious Republican, who had dialed back his past criticism of Trump as he campaigned to succeed retiring Sen. Orrin G. Hatch in 2018. He won with Trump's endorsement but, after this public attack, seems unlikely to return the favor in a Trump 2020 reelection campaign.
On Wednesday, Romney denied speculation that he was positioning himself to challenge Trump in 2020, but left open the possibility that he would endorse another GOP challenger.
"I haven't said who I'm endorsing in 2020; I'm going to wait and see," he said in a CNN interview. "I'm not running again. We'll see if someone else does in a Republican primary."
The op-ed landed with a bang in the capital on the eve of a new Congress being sworn in, including a Democratic majority in the House that will pose a dramatic new test of Trump's ability to cope with a legislature spring-loaded to confront rather than cooperate.
"Mitt Romney is positioning himself as the voice of the establishment wing of the Republican Party," said Ken Spain, former spokesman for the National Republican Congressional Committee. "The blue-collar, populist wing of the party is on the ascent under Trump, but Romney can still play a significant role within the GOP even though the constituency he embodies is shrinking."
In his op-ed, Romney described the administration tumult of December — with the departures of Mattis and Kelly — as a "deep descent" and part of why he concluded that "the president has not risen to the mantle of the office."
"With the nation so divided, resentful and angry, presidential leadership in qualities of character is indispensable," Romney wrote. "And it is in this province where the incumbent's shortfall has been most glaring."
Lanhee J. Chen, a Romney advisor in his 2012 presidential campaign, said Romney was simply "laying down a marker for what he intends to do in the Senate and what kind of senator he will be."
A big question is whether Romney's defiant words will translate into leadership in opposition to administration policies. Flake and Corker, especially after announcing their retirement, made similar arguments about Trump's failure to lead with a steady and unifying hand, although they continued to vote with Trump on major issues.
During the 2016 campaign, Sen. Susan Collins (R-Maine) published an op-ed of her own lambasting then-candidate Trump, for whom she did not vote. Collins — one of a cadre of potentially vulnerable Republicans up for reelection in 2020 — will be an especially telling measure of Trump's sway within the GOP over the next two years. Collins' home state went for Hillary Clinton by 3 percentage points in 2016. She voted for Trump's tax cut and the Supreme Court nomination of Brett M. Kavanaugh but against legislation to repeal the Affordable Care Act.
Also up for reelection in 2020 are GOP Sens. Cory Gardner of Colorado, a state Trump lost by almost 5 points in 2016; and Martha McSally of Arizona. She lost her bid in November to succeed Flake but was appointed by the state's governor to fill a vacant seat and will have to run again in 2020.
Trump allies' blunt response to Romney was a warning shot to would-be dissenters. Trump berated Romney on Twitter and, later, in comments to reporters.
"I wish Mitt could be more of a team player," he said to reporters. "I endorsed him and he thanked me profusely."
Republican National Committee Chairwoman Ronna McDaniel — a niece of the senator-elect's who stopped using her maiden name, Romney, during the 2016 presidential campaign — responded on Twitter: "For an incoming Republican freshman senator to attack [Trump] as their first act feeds into what the Democrats want and is disappointing and unproductive."
Sen. Rand Paul (R-Ky.), an erstwhile Trump critic-turned golfing buddy and ally, held a news conference call to denounce Romney as a grandstander whose attacks on the president hurt all Republicans.
"It's a minority opinion," said Paul, who has been at odds with his own party and Trump on many occasions. "I don't think it serves any useful purpose for Republican senators to be out there attacking the character of the president."
Times staff writer Noah Bierman contributed to this report.
Twitter: @hookjan
---
Life is stressful. Our weekly mental wellness newsletter can help.
You may occasionally receive promotional content from the Los Angeles Times.