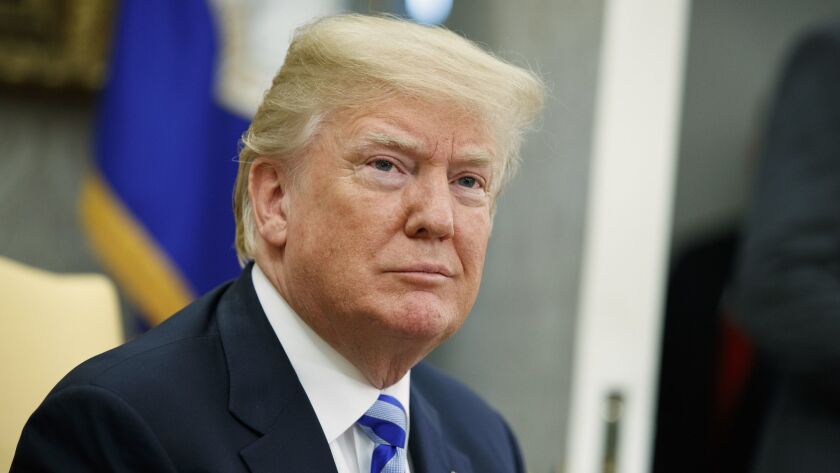 Reporting from Washington —
President Trump said Sunday that he will demand an investigation into whether federal law enforcement "infiltrated or surveilled" his presidential campaign "for political purposes," escalating an already extraordinary clash between a president and his Justice Department over the Russia probe.
The Justice Department quickly responded, saying Inspector General Michael E. Horowitz would expand an ongoing internal review to determine "whether there was any impropriety or political motivation" in the counterintelligence investigation that began during the 2016 presidential race.
"If anyone did infiltrate or surveil participants in a presidential campaign for inappropriate purposes, we need to know about it and take appropriate action," Deputy Atty. Gen. Rod Rosenstein said in a statement.
At issue is whether the FBI misused a confidential informant who reportedly met with three Trump campaign aides as agents began probing suspicious Russian contacts. The New York Times and the Washington Post reported that the informant was a retired American professor in England who had worked for both the FBI and the CIA. He has not been publicly identified.
The FBI regularly relies on confidential informants to infiltrate organized crime, terrorist groups and other potential targets. The use of one against members of the Trump campaign has become the latest flashpoint in the high-stakes political battle over the Russia investigation.
The dispute could lead to heightened conflict between the White House and the Justice Department over an investigation that began as a counterintelligence probe, partly because of suspicious contacts between several of Trump's campaign aides and Russian authorities. It later became a wide-ranging criminal investigation led by special counsel Robert S. Mueller III.
The White House did not respond to questions as to whether the expansion of the inspector general's review would satisfy Trump's concerns.
"I hereby demand, and will do so officially tomorrow, that the Department of Justice look into whether or not the FBI/DOJ infiltrated or surveilled the Trump Campaign for Political Purposes - and if any such demands or requests were made by people within the Obama Administration!" the president tweeted Sunday.
Trump's demand marked a shift from his near-daily complaints about Mueller's effort to determine whether anyone from Trump's campaign conspired with Moscow during the 2016 election — an investigation the president called "the world's most expensive witch hunt" on Sunday.
Whether he now intends to exercise his executive authority over the Justice Department to undermine the investigation is less clear, but critics raised caution flags.
"This is just direct interference in an investigation that centers around the administration," said Julian Zelizer, a Princeton University history professor. "This is basically a campaign of intimidation."
Follow the latest news of the Trump administration on Essential Washington »
Trump could order the FBI to provide Congress with more records involving the informant, as Republicans have sought, or ask Justice Department prosecutors to open a new investigation into what Trump and his supporters call improprieties in the Mueller probe.
Horowitz announced in March that he had launched an internal investigation at the request of Atty. Gen. Jeff Sessions and congressional Republicans.
His focus was whether Justice Department and FBI officials abused their authority by relying on intelligence compiled by Christopher Steele, a former British spy paid by Democrats, to obtain a surveillance warrant on Carter Page, a former Trump campaign advisor who was under suspicion for Russian contacts.
Page is one of the three former Trump aides who reportedly met with the FBI informant. The other two were Sam Clovis, then a campaign aide, and George Papadopoulos, a foreign policy advisor. Clovis has not been accused of wrongdoing; Papadopoulos has pleaded guilty to lying to the FBI and is cooperating with Mueller's team.
Republicans and conservative commentators claim the FBI improperly infiltrated or spied on the Trump campaign for partisan purposes. Rep. Devin Nunes (R-Tulare), chairman of the House Intelligence Committee and an ardent Trump supporter, has demanded more information from the Justice Department.
"If they ran a spy ring or an informant ring, and they were paying people within the Trump campaign, if any of that is true, that is an absolute red line," Nunes said Sunday on Fox News. "You can't do this to political campaigns."
FBI Director Christopher A. Wray warned last week about potentially putting confidential informants at risk by disclosing their identities.
"The day that we can't protect human sources is the day the American people start becoming less safe," he testified to the Senate Appropriations Committee.
Rudolph W. Giuliani, who represents Trump in the Russia investigation, told CNN last week that neither he nor Trump knows for certain if there was a spy on the campaign.
"I don't know for sure, nor does the president, if there really was one," he said, although he said they had been told of "some kind of infiltration."
Trump has warned in the past that he may try to exert more influence at the Justice Department "because what's going on is a disgrace."
David Kris, a former assistant attorney general for national security and a co-founder of Culper Partners consulting firm, said Trump's latest demand could "threaten to corrode the foundations of our democracy."
"Our system of separated powers is designed to deal with tension between the executive and legislative branches of government," he said. "But it is not well designed for this, a schism within the executive branch in which the president and his proxies in Congress work together to attack the FBI and DOJ."
Rep. Adam B. Schiff (D-Burbank), the top Democrat on the House Intelligence Committee, called Trump's demand "an abuse of power and an effort to distract from his growing legal problems."
The use of an informant is the latest grievance that Trump and his allies have raised to undercut public faith in the Justice Department, starting with his complaint during and since the campaign that the FBI should have prosecuted Democratic nominee Hillary Clinton for using a private computer server when she was secretary of State.
Trump also has capitalized on a Republican memo, drafted by Nunes, that claimed law enforcement improperly obtained the surveillance warrant on Page. The FBI called the conclusions inaccurate, and Democrats said the Foreign Intelligence Surveillance Court was adequately informed that some of the information in the warrant application came from sources with political motivations.
In the year since Mueller took over the probe, his team has obtained guilty verdicts from five individuals, mostly for lying to investigators. They also have charged Trump's former campaign manager, Paul Manafort, with numerous financial crimes unrelated to the campaign and have indicted 13 Russians on charges of meddling in the U.S. election.
Twitter: @chrismegerian
---