Sarah Huckabee Sanders, Trump's White House press secretary, is stepping down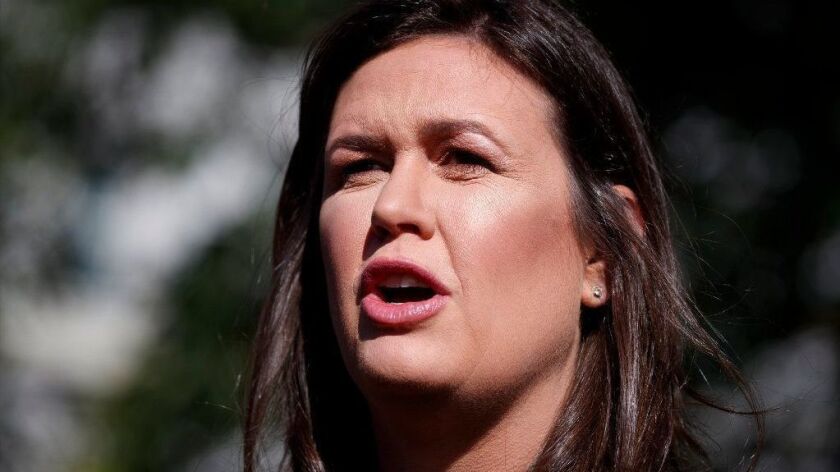 Reporting from Washington —
White House Press Secretary Sarah Huckabee Sanders, one of the most visible faces of the Trump administration, plans to leave her job at the end of the month, President Trump announced Thursday in a Twitter message in which he also urged her to run for governor of Arkansas.
Sanders, 36, has been with Trump since the campaign, which she joined after managing the unsuccessful run for the nomination by her father, former Arkansas Gov. Mike Huckabee. She was initially hired as principal deputy press secretary in the White House and elevated to the top job in July 2017, after her predecessor, Sean Spicer, left.
Sanders came under frequent attack for defending Trump's repeated falsehoods and misleading the press.
Her credibility took a serious blow after she admitted to special counsel Robert S. Mueller III's office that her public assertions that many FBI workers had expressed support for Trump's firing of former FBI director James B. Comey were fabricated.
When Mueller's report on his investigation became public, she called her remarks a "slip of the tongue."
She has not held a formal press briefing in 94 days, a modern record. Her job has also been made difficult by Trump's propensity for making his own announcements, including her departure.
"After 3 1/2 years, our wonderful Sarah Huckabee Sanders will be leaving the White House at the end of the month and going home to the Great State of Arkansas," Trump tweeted Thursday. "She is a very special person with extraordinary talents, who has done an incredible job! I hope she decides to run for governor of Arkansas — she would be fantastic. Sarah, thank you for a job well done!"
Trump did not name a successor for Sanders, underscoring the sense of turmoil in the press office that has been beset by turnover.
The administration also has no official communications director. Bill Shine, the sixth person to hold that title, resigned in March. Anthony Scaramucci famously led the communications staff for 11 days in 2017.
As Sanders has all but given up holding formal news briefings, she has continued to appear on cable news — often Fox News — defending the president. She also engages in relatively short and less formal encounters with reporters as she leaves the broadcast tents situated on the White House lawn.
She is among a small cadre of advisors who regularly travels with Trump and sits with him during meetings with foreign leaders and White House visitors.
Trump called her to the stage Thursday in the middle of an event on criminal justice reform in the White House East Room.
Trump, who values people who he views as tough and aggressive defenders, paid her the ultimate compliment, calling her a "warrior."
"We've been through a lot together," he said, calling Sanders a "special person" and a "very fine person."
He also repeated that he's encouraging her to run for governor in Arkansas in 2022.
Sanders thanked and hugged the president for what she called "the honor of a lifetime" and promised "to be one of the most outspoken and loyal supporters of the president and his agenda" after returning home to Arkansas.
"I've loved every minute, even the hard minutes," she said. "I've loved it. I love the president."
Sanders grew up working in her father's political campaigns but had never faced the kind of fame and scrutiny she encountered in Trump's White House. In a recent interview with The Times, she spoke about the struggle to forge an identity while being associated with a well-known political family.
"Everybody assumes you think like everybody else in your family," Sanders said. "But you're just kind of boxed into that."
Sanders' prominence made her a target of Trump's critics. She won sympathy after last year's White House Correspondents Assn. Dinner at which comedian Michelle Wolf said of Sanders: "Like she burns facts, and then she uses that ash to create a perfect smoky eye."
"Like maybe she's born with it, maybe it's lies. It's probably lies," she said, as Sanders looked on uncomfortably from her seat at the head table a few feet away.
She also sparked debate last year when the Red Hen, a Virginia restaurant, asked her to leave because of her association with Trump.
Times staff writer Eli Stokols contributed to this report.
---
For reporting and exclusive analysis from bureau chief John Myers, get our California Politics newsletter.
You may occasionally receive promotional content from the Los Angeles Times.